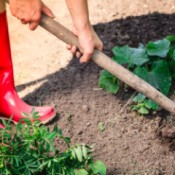 When I was in my early 50s, I began to question the lifestyle my husband and I were living. I longed for a simpler lifestyle: I knew I wanted less stress, I knew I was tired of working for someone else, and I felt there had to be a way to achieve my goal of quitting the corporate world for good. Quitting was going to be easy, but the more difficult task was finding the ways I could maintain my goal once I did quit.
The question of "What are you willing to change in your life to achieve your goal?" kept filtering through my mind, and I realized the answer was not using the words "give up" interchangeably with the word "change" in that phrase until I was able to understand the difference.
The most reasonable and surest way to achieve my goal was to just quit, and then deal with the aftermath in a very pro-active way. Yes, it was a "guts" move that many people wouldn't be able to handle, but with my husband's support and the knowledge that I would be the one handling "the aftermath," I quit, and then never looked back with regret. That doesn't mean it was easy, but my goal of making this work for both of us was tantamount to everything else.
After taking the first two weeks to just rest, recuperate and think, I began listing all the changes on paper that needed to be made, which included carefully guarding the resources that my husband continued to bring into our lives as well as finding new venues of producing income or additional resources based on what we already had.
Some decisions were just plain easy, such as canceling a standing weekly appointment at the beauty salon for hair and a manicure or eating out numerous nights a week because there was no time to fix meals, but even then, I knew this was only the tip of the iceberg.
The first major decision was to sell our home, which was way too big and costly for the two of us. Two people who want a simpler lifestyle don't need or want an executive home with four bedrooms, four bathrooms, a three-and-a-half car garage, etc. (You know your house is too big for you when two of the bathrooms are regularly dusted rather than cleaned because of non-use!)
The 3,000+ sq. ft. house sold relatively quickly, and then came the task of finding a smaller house. When I found that much smaller house still within convenient driving distance of my husband's employment, then began the monumental task of downsizing our possessions to fit our new abode, which was slightly more than 1,200 sq. ft. That was perhaps the most sizeable job of all, and required several garage and consignment sales. (You know you have too many clothes when your yearly wardrobe requires two full-sized walk-in closets!)
After we moved came the adjustment period of being content and happy in a smaller home, and that did take some getting used to. My husband could care less what type of house we lived in, but I had initial difficulty because nothing "fit" properly according to my former lifestyle. This was a mental change I needed to make, and through home improvement projects and fixing what didn't work for me such as non-functioning closets and antiquated storage cupboards, within the first year, I grew to love that much smaller and unpretentious home. As I worked through the process of making each room or space as functional and comfortable as possible for the least amount of expended money, I found I still had too many possessions. (A smaller home means fewer possessions, which means less to clean and take care of! I established the rule that I had to be able to see all three walls of any cupboard or closet to avoid clutter or unnecessary stuff.)
Simultaneously, I began to tackle the financial problems of not having a significant savings program, but having an ample amount of credit card debt. This portion of downsizing our lives required constant attention, but I discovered some wonderful surprises that seemed so obvious in hindsight.
For example, the more time I spent in the kitchen making our meals without the aid of convenience foods, the more we skipped eating out and the less I was spending on groceries. The more time I spent in formulating grocery lists according to what was on sale, and establishing and then using a price book, the more funds were available out of the grocery budget for using on eliminating credit card debt.
The biggest and most important life lesson I learned was that I could waste our resources by not being careful how I used them. I found that if I minded the pennies, the dollars would take care of themselves. I cut out all the extraneous spending I could because I wanted to make sure I didn't have to re-enter the job market again.
I established a small kitchen garden to supplement our fresh vegetable, fruit and herb needs, and loved the small brick patio and bench area we built together for free under a shade tree near the garden. (Nothing beat enjoying an early morning cup of coffee while sitting on that bench just looking at a beautiful growing garden!)
I realized I only needed two pair of jeans - one for everyday and a good pair. I needed only a couple pair of shoes, one casual jacket and one dressier coat, etc. (You find you don't need two or three dressy evening outfits if your daily lifestyle dictates jeans and tennies!)
I realized I didn't need magazine subscriptions or daily newspapers because with the internet and a television, I could meet my needs without unnecessary costs. (You will love how little you then have to recycle, too!)
I realized that I didn't need to buy coffee or soda when I was out shopping but could reward myself quite nicely with a cup of coffee at home once I was done.
I realized that if I saved daily change instead of carrying it in my purse and then spending it, I could control the amount of money dribbling out of my hands. Each month, I would then roll the change and bank it in our savings account. (This later translated to saving all change plus $1 bills for both of us and if you don't think that doesn't amount to some sizeable savings, then just try saving it for one week to see what is getting away from you!)
I realized that if you pay yourself first into a savings account or better yet, do so through a payroll deduction direct deposit into your savings account, within six months, you will have a sizeable balance. (You can then maximize this account to also serve as your emergency funds account, but roll over into a longer-term, more productive interest bearing account when it gets beyond what you need for an emergency fund so that your money will work for you!)
I realized that we didn't need two vehicles if I planned my errands and "need to do" trips to coincide with weekends or times that my husband's vehicle was available to me. (Eliminating one vehicle also eliminates payments, fuel, licensing, taxes, etc.!)
I realized that we were more than content to provide our own entertainment at a much less expensive cost if we availed ourselves of what was offered at a much reduced rate or even free within our own community. (The symphony orchestra didn't fold because we were no longer dues-paying members!)
I realized we didn't need more than one credit card, and that no credit cards should ever be carrying a balance. I realized that paying cash for everyday expenses such as gasoline are way more frugal and cost effective than having to write out checks, expend postage, etc., to get a credit card bill paid.
I realized that if I could contain the outflow of money on credit cards as well as daily living expenses, I could much better control how much of that money stayed in my pocket, thereby lessening expenses each month. (Credit cards breed carelessness in me when it comes to handling money and yet cold, hard cash in my hand is likely to stay in my hand!)
I realized we didn't need to be spending up to one thousand dollars on gifts and holiday functions each year for friends and family members, but with careful planning and an attentive eye towards sales throughout the year, we could meet those needs just as nicely at a fraction of the cost.
I realized that every bit of information I needed to acquire on a simpler, more frugal lifestyle could probably be found on the internet. (You will be amazed at the wealth of information to be found on the internet, and how much you can learn to make a simpler, more frugal lifestyle a reality for your family. I am not talking about an austere lifestyle - just one that is more satisfying, more fulfilling, and not necessarily based on how much money you can spend to achieve your goals.)
Through downsizing our lifestyle, we were also able for the first time to meet and then exceed the ten percent tithe. And by reading and researching ways to get the credit card debt under control, we have finally realized that dream. (There are numerous sites on the web for strategic debt reduction and if you haven't availed yourself of these incredibly useful and free sites, I strongly recommend it. When you understand how important this step is and how easily it can be accomplished with today's internet sites that formulate your "plan of attack" on debt, you will have half the battle won! It is very possible for middle-income families to strategically reduce their debt load by thousands of dollars every year.)
Today, our lifestyle is very simple, very frugal but not stingy towards us or the things we want to do. Our expectations of what we "need" in this life are separated out from our "wants", and we know the difference. We are now devoid of undue stress and compromises in our life, and we are happier than we have ever been. We have a financial plan we can live within comfortably while meeting our expectations and know our future is as secure as we can make it. We look forward to each new day as a gift from God to be enjoyed and counted as a blessing.
And I personally would do it all over again in a heartbeat for the benefits we have received from this adventure!
Ronsan from Southwest Missouri
Do you have a frugal story to share with the ThriftyFun community? Submit your essay here: http://www.thriftyfun.com/post_myfrugallife.ldml
By guest (Guest Post)
June 12, 2006
0

found this helpful
Top Comment
This is so much my life! I talk to people around me and you would think that I was some kind of alien being for giving up everything we had to have a simpler life.
I walked away from my career (with my husband's support) a little over a year ago. It has been tough re-learning to live a normal lifestyle. We went from having expensive luxury vehicles to having two Hyundai accents. Which I absolutely adore, since it reminds me of my old Ford Escort back in the 80's that I loved dearly!
Thank you for letting me know that there really are others out there that feel the same way as I do....that having to kill yourself at a job and live on two paychecks is just not worth it!!!! Life is too short for that!
February 14, 2012
1

found this helpful
Top Comment
When I quit working and went on disability: I enlarged my garden, keep it up totally be myself, can and freeze the extra produce, do all the cooking, dishes and baking, do all the grocery shopping, balance the checkbooks, pay all the bills, take care of the tax stuff, assess, and do all errands, am waiting for repairmen (phone, appliance, etc), do all the laundry and cleaning, take care of the pets, get up early while my husband sleeps to make his breakfast and pack his lunch, take care of doctor's appointments, do most of the yard work, do the mending, make gifts, gas the vehicles, clean the carpets, hold yard sales, scrimp and save, and do a million small things that save us money.
Our savings accounts, investments, and IRAs have never been in better shape. I've talked to my husband about looking for a part time job, but he wants me right where I am--making his life easier by staying home and taking care of what needs to be done.
He simply doesn't feel as stressed as he used to be when things got overlooked because we were both so busy. I've worked since I was 14 years old, 10-12 hour days for decades, and do not feel guilty for being home now.
October 7, 2010
0

found this helpful
This is a beautiful, inspiring story. Thank you for sharing. :)
February 13, 2012
0

found this helpful
Why the comments about this lady leaving her hubby with all the bills? A few years back I took an early retirement, my income went way down. My hubby encouraged it! I, like this lady, watch every penny, garden, and take care of our home. My husband loves the homecooked meals, and the fact I am happier being a homemaker.
February 13, 2012
0

found this helpful
My Daughter was a basket case as a stay-at-home Mom with a mentally challenged now 16 year old son and 11 year old brother. My Daughter is happier in the workplace and loves her job. She loves her boys but her husband is the one with more control and patience with the kids. Her husband is lucky enough to have a work schedule that allows him the flexibility to take care of things such as emergencies. Her husband does most of the cooking which he loves.
My Daughter brings home more money, works more hours and gets way more help out of her husband since going back to work. When my Son-In-Law worked long hours he didn't have much of a relationship with his sons. Now it warms my heart to see them together. My Daughter has a much better relationship with her boys and she seems much more relaxed and less stressed.
If a woman chooses to quite her job and do nothing I'd say she is freeloading. Same for the man. But I "sorta" do understand where some of the men are coming from. I've seen too many women staying home after their kids have entered school, doing nothing but crafts and/or contributing little in the way of home maintenance.
More women need to take more responsibility when it comes to yard work, home repairs, etc. Being married is a supposed to be a joint effort and too many men and women aren't pulling their weight which is reason for the high divorce rate.
February 14, 2012
0

found this helpful
Nice story. You have definitely demonstrated your knowledge of need and want. Most people never learn the difference. Hopefully your story will encourage others!
November 29, 2015
0

found this helpful
I don't understand why people burden themselves with tithes if they are already strapped! No one owes a percent of what they have to anyone else - that should be completely voluntary! I'd love to donate to a lot of worthy causes, but if I can't afford to, I don't. It's a simple matter of keeping a roof over your head, keeping the lights and heat on, and food on the table. After that, maybe, you can think about donating to others.
May 23, 2016
0

found this helpful
So very true! This woman sounds like she is showing off how much she had and now she is doing nothing remarkably frugal unlike any other person. It took her 50 years to figure out how to cut expenses?????
August 26, 2016
0

found this helpful
Mine has retired 5 years ago and still is around. I work fulltime, so some men are lucky too.
May 15, 2017
1

found this helpful
This lady was just sharing what works for her and that is what I take from her sharing create your own post outlining your experience. God has blessed her and her husband. Your answer came across as a bit negative. If credit cards work for you that's Great we can all learn something from someone's journey to a simple life.
Read More Comments