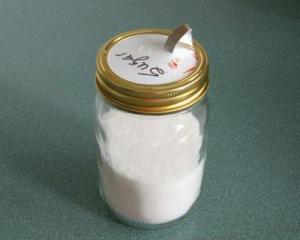 When finished with an empty cardboard salt container, cut the whole round top piece off and measure to fit a canning jar ring. Trace and cut with the flat part with scissors to fit a pint canning jar. Fill the jar with sugar, then cut a second one from a second empty salt container for non-dairy coffee creamer. The pour spouts make for easy access to your sugar and creamer.
*If desired, half pint jars can be used instead of pint jars.
Source: my grandmother
By Monica from Cortez, CO
By Monica
Ad
---
07/21/2010 Flag
Very clever, unique and frugal idea! Thanks for sharing it! :-)
By Litter Gitter 150 558 08/21/2010 Flag
I fiinally emptied a salt box and made a top for a jar. We love it!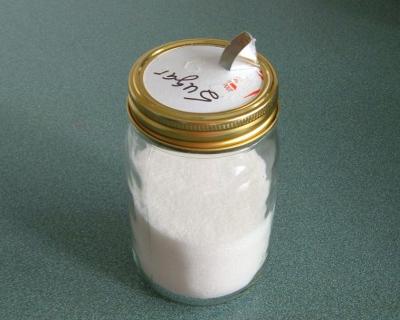 08/22/2010 Flag
Hate Litter,
God Bless you for posting a picture and seeing, rather than reading about it, makes me want to just go ahead and make one for the remaining salt I have and then use it for something else once it's gone! Why wait, eh? ;-)
By Ann Winberg 306 239 07/23/2011 Flag
Excellent-a thinking! My kind of recycling and one I am sure going to pass on. Thanks.
By Elizabeth 200 07/23/2011 Flag
What a neat idea. Can't wait to do this. Thanks!
Love canning jars, but if you'd rather have plastic, re-using Parmesan cheese containers works for this type of thing, as well.
By Sheila 3 162 07/23/2011 Flag
Awesome idea! When I get some empty boxes, this idea will be used in our camper!
Also cut the bottom out of the empty salt box to the same size and place it over the existing spout cut-out and replace the screw top of the canning jar. That will make it safe for travel and none of the contents will spill if the spout accidentally opens. =D
By Trish Mastriano 1 117 07/24/2011 Flag
What an excellent idea! Thanks so much for sharing with us! Generally, I put the box of salt directly into a canning jar as I do with a lot of products. I like to see at a glance what I have & how much. This will make dispensing items so much easier. Now, I have to call upon the neighbors to save their salt boxes for me! lol
God Bless.
Trish in CT