Adding the right caption to your family Christmas card can really help make it memorable for the recipient. Use these ideas to make this year's Christmas card a great one. This is a guide about Christmas card caption ideas.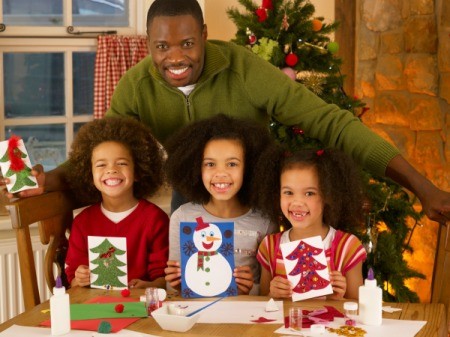 I need a caption for our Xmas photo. I have several photos of my 3 boys holding the letters of JOY, but I could not get them to stand in order to actually spell J O Y. I am attaching just a sample photo, but I have several combinations. I do have individual photos of them that I can use, but was hoping to find a funny caption for the mixed up spellings. Thanks in advance for any suggestions! Happy Holidays!
By Sandy2010-1968 from Boston, MA
---
Most Recent Answer
October 17, 2012
Realized I never posted the final card - hope you enjoy it!
Sandy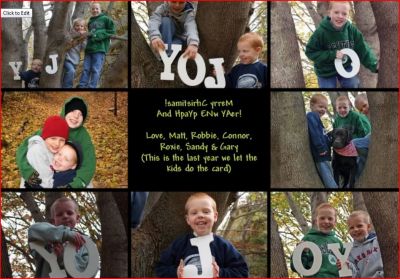 ---
By Tracy C. 8 5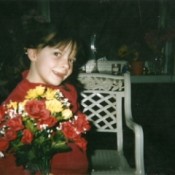 Get a box large enough to fit your baby in it. Wrap the box and put a ribbon on it. Place the baby in the box and put a bow on top of his or her head. You take the picture outside in the snow, or under your tree. It can be used with older children as well, just use a bigger box. It works for pets too. The pictures make cute cards!
By Tracy C. from Brockville, Ontario
By Brandi 1
I need a cute caption for our Christmas card this year. I have a cute picture of my son sitting with his elbows on his knees and his chin in his hands. It looks like he is pouting. I may add an additional picture of him smiling also. Any ideas?

By Brandi from MS
---
Most Recent Answer
November 26, 2012 Flag
"I give up! Santa's not coming!" for the pouty face, & "ok! ok! ok! I believe!" for the shot with the smile.
---
By Milena Lewis 16 1
I'm trying to come up with a witty saying for our Christmas card. I have a very cute picture in his little construction hat while using his hammer. Not, very Christmas-y, but so cute. I'm currently pregnant and was trying to think of somehow working that in. I know there are a lot of witty people out there, please help.
By Milena
---
Most Recent Answer
November 13, 2010
Is this your son you are talking about? How about.I want to help Santa build toys for the children of the world.
---
By Abby Kunz 2 1
I am needing a caption/phrase for my daughter's Christmas card picture. She is 18 months old. I made a "fake" Santa with just his legs and boots sticking out from under the Christmas tree. I have 1 picture of her making a face in front of Santa and a 2nd picture where she has on a Santa hat with a grin and Santa in the background. My plan is to put it on the card as a before and after type shot. I need a caption that would go with these photos. Does anyone have any ideas?

Abby from Illinois
---
Most Recent Answer
By Mary Lou 14 765 Flag
December 3, 2007
OOOPS,(under the first picture) Looks like I get to be Santa this year! Toys for everybody!(under second picture)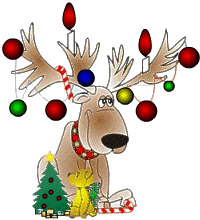 ---
We took several family Christmas pictures and in every picture my husband, my 8 year old, and I are smiling, but also in every picture my 4 year old is making a silly face. I would love for someone to help me come up with a Christmas card saying to match my silly 4 year old. Thanks.
By Meridith
---
Most Recent Answer
December 13, 2011
Have a Holly, Jolly Christmas!
Try as he/she might, little ___________ couldn't contain his/her excitement about Christmas!
---
We took a picture of my husband and I kissing and my two boys are giving an annoying look to the camera. We need a caption for the photo.
By Kathy
---
Most Recent Answer
---
By Kris 1
We vacationed at the beach and the kids were all buried in the sand. Any Christmas Caption ideas to go with the picture?
By Kris M.
---
Most Recent Answer
December 13, 2011
This is our idea of a White Christmas! The children are all tucked in the sand while visions of sugarplums dance in their heads!
---
By Kelly B 1
I need some suggestions for a caption for our photo Christmas cards this year. Our picture is of me, my husband, and our two daughters (8 and 14) on the beach, jumping up and having excited expressions on our faces. My brother edited the photo to add Santa hats. I was thinking, "We just found out we're on the nice list" or "So excited that Santa's on his way", but those seem boring. Please help.
By Kelly B from Cleveland, OH
---
Most Recent Answer
thr522587 Flag
December 7, 2010
My personal thought is to use the lovely sounding original photo without the Santa hats with a caption like, "We are joyous for our gift of the real reason for this season!"
---
I have a photo of my husband and I at a wedding, but we are wearing Christmas colors. It looks like it would make a great pic for a Christmas card, but we're listening and looking serious. Any funny ideas? Help would be greatly appreciated!
By Joy
---
Most Recent Answer
I have a picture of my 3 grown children shooting guns on a recent trip to Texas. I want a cute saying to go on my Christmas card.
By Tammie from Warren, RI