Craft: No Sew Tutu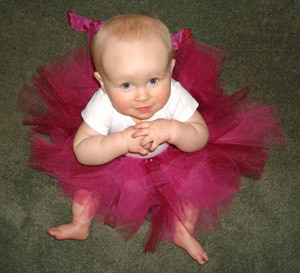 Take 2 feet of ribbon and 6 yards of tulle cut into 3 by 12 inch strips. Fold in half to 6 inches and loop around ribbon. These sell for $30, I made for $5.85.
By Amy from Wheaton, IL
Feedback
Read feedback for this post below. Click here to post feedback.

By
08/29/2009
First you have a gorgeous model. I have made a couple tutus myself. If you use Elastic instead of Ribbon they last longer and you don't even have to sew just use staples. I also double the tulle to make it puffier!

By
03/14/2009
I have a teenager who loves tutus. Help me figure out how to make an adult size one with several layers. They are sold at stores for big bucks but I know I can make one for much less and customize it in the school colors.

By
03/07/2009
My first thought oh what an adorable flower! She is a cutie and looks like a precious one. A very nice photo. Thank you for tip.

By
03/07/2009
Be honest Amy, you wanted to show off your beautiful little girl. Don't blame you , and "sewing" tip isn't bad either. lesley uk

By
03/06/2009
She is so cute! and your photo shot taken looking down at her makes her look like a flower, much like anne geddes pictures she takes, great shot, pretty tutu too.
Post Feedback
Add your voice to the conversation.
Related Guides
Related Posts