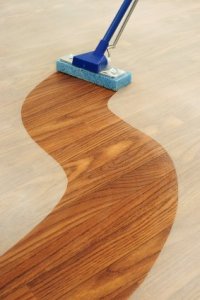 If you have a wood floor it's something you certainly like to keep cleaned and well shined. Save time and money by making your own wood floor cleaner. This is a guide about homemade wood floor cleaner.
Ad
---
Solutions: Homemade Wood Floor Cleaner Recipes
Read and rate the best solutions below by giving them a "thumbs up".
The best cleaning solutions for wooden floors I've ever used is white vinegar and a warm water. The floors will shine!
By sooners from Baldwin, NY
Give a "thumbs up" to the solution that worked the best! Do you have a better solution? Click here to share it!
Questions
Here are questions related to Homemade Wood Floor Cleaner Recipes.
I have a Bissell Flip It and can no longer find the hardwood floor cleaner to use in it. I would like to make something compatible to use in it.

By Linda from Pottstown, PA
AnswerWas this interesting? Yes No
Ad
---
---
Most Recent Answer
Archives
Thrifty Fun has been around so long that many of our pages have been reset several times. Archives are older versions of the page and the comments that were provided then.

Any ideas on a homemade hardwood floor cleaner (shiner)? The store bought (Orange-Glo) works great but is so expensive. My entire house is hardwood floors.

Vinnie from Saugerties, NY
Answers:
RE: Homemade Hardwood Floor Cleaner
I have used cold tea before on my hardwood floors and they came out really nice. Just boil your water with two or three large teabags and let it cool off, then wash your floor with that. It's something about the tanic acid in the tea that helps the floors. I do not remember who told me to try this but, I'm glad I did. (06/29/2006)

By Megan's mom
RE: Homemade Hardwood Floor Cleaner
When we built our home, I talked to the salesman in the Janitorial Supply store and asked him how to keep my floors looking their best. He said that after mopping the floor (I add Mr. Clean which removes the scuff marks and dirt really fast), to use a wide (mine is 24") dust mop and spray dust off on it and then dust the whole floor. It leaves it shiny. This is all I have done to my floors now for 14 years and they still look great. (07/02/2006)

By eletha
RE: Homemade Hardwood Floor Cleaner
Make a pot of tea and use it to clean your hardwood, will remove minor scratches and gives them a shine. A bit of lemon added will give a nice scent and help with the cleaning. (08/04/2006)

By Gail K
RE: Homemade Hardwood Floor Cleaner
I was wondering, could you use the tea and boiling water method to clean and polish a worn wooden hall floor? I've taken over cleaning the local hall and try to keep cost down, any suggestions would be helpful. Thank you. (10/26/2006)

RE: Homemade Hardwood Floor Cleaner
For my hardwood parquet floors, I use a natural cleaning solution: for a bucket of water, add a couple of tablespoons of Castile liquid soap (I use almond or tea tree scent) and a couple of "glug-glugs" of white vinegar. Use to damp mop the floor. The soap cuts through any grease or dirt, and the vinegar disinfects. (01/03/2007)

By Kitty Vixen
RE: Homemade Hardwood Floor Cleaner
I own a cleaning business and we make most of our own products. We use a mixture of vinegar, alcohol and water with a hint of lemon. If you have pets the alcohol disinfects and prevents cats or dogs from spraying again. The lemon gives it a fresh sent and the vinegar is a fast drying agent. Works great for all floor types, even tile, linoleum. etc. Vist our website at www.HouseCleaningProfessionals.com - we would love to hear about your homemade solutions. Thanks (07/23/2008)

By Jennifer
RE: Homemade Hardwood Floor Cleaner
I use a few drops of essential oil in a vinegar, lemon, water, mixture. Smells great when it dries and it can be used to clean almost everything (08/26/2008)

By kilko
Does anyone have a homemade recipe for hardwood floor cleaner? I have real hardwood floors, not the laminate floors.

Karen from LA
Feedback:
RE: Homemade Hardwood Floor Cleaner
Tea does not work. (03/01/2009)

By Patrick