Videos
Watch and rate the videos below.
Making a Flower Pot Bird Bath
This short video show you the steps to making a bird bath with flower pots. View the full project here:
Flower Pot Bird Bath
Solutions: Flower Pot Bird Bath
Read and rate the best solutions below by giving them a "thumbs up".
I really wanted to have a bird bath in our yard, but every time I found one that I liked it was so expensive. I decided to try and make my own using stacked flower pots and saucers.
Approximate Time: 2 hours
Supplies:
3 flower pots (small, medium, and large)
1-2 saucers
white primer
spray paint, any colors
E6000 glue
clear coat
Instructions:
Spray all of the pots and saucers with primer. Let dry. Apply a second coat if necessary.
Spray the pots and saucers whatever colors you have chosen. Apply as many thin coats as necessary to achieve the desired coverage and color. As I was painting my pots I found that I liked the varying coverage, it had almost a weathered look to it, so I did not continue painting to achieve a perfectly uniform color. Allow to dry.
Once all pieces are dry, apply glue to the bottom edge of the largest pot, then stack the medium sized pot onto it. Apply glue to the medium pot and stack the small pot onto it. Allow these to dry according to the package instructions for the glue.
Apply glue to the bottom edge of the small pot and center the large saucer onto it. I chose to not glue the small saucer on (so the I could clean both saucers easier), so I balanced it on the edge of the large saucer and used a rock to support it. Allow glue to dry.
After all of the glue has thoroughly dried and the bird bath is strong enough to be moved, you can spray it with a few layers of clear coat. It is now ready to go outside for the birds to enjoy!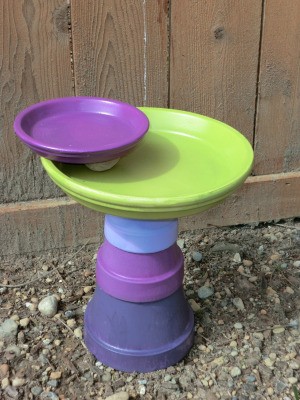 By Laurel from Port Orchard, WA
This decorative little bird bath can work as a place to keep stamps, paperclips, safety pins, or even potpourri. It also seems very popular as a Barbie or dollhouse decoration. A small clay pot, clay dish, paint, glue, and wooden birds are the only materials you need to make this a simple and cost-effective craft.
Approximate Time: 10-15 minutes, without drying time
Supplies:
clay pot - 2 inches tall
clay dish - 1 and 1/2 inches wide
wood or plastic birds - 1/2 to 1 inch in size
dark or forest green paint
white paint
yellow paint
blue paint
paintbrush
craft glue
varnish/sealer (optional)
Instructions:
Turn the clay pot upside down and paint it a dark green.
Turn the dish upside down and paint the sides and bottom white.
Paint the lower sides on the dish dark green, as shown in the "Step 1" picture.
Let the paint dry. Use second coat if needed.
Flip the clay dish over so that it's facing up again. Paint the bottom and lower sides of the inner dish blue and the upper sides of the inner dish dark green, as shown in the "Step 2" picture. Mix a little white with the blue paint to lighten it up before using. Let dry.
Make a small yellow dot on the painted clay pot. Surround the yellow dot with 5-6 small white dots, making a small flower. Repeat decoration across pot, as shown in the "Step 3" picture. Let dry.
You can leave the pot as is, or use a clear varnish coat to help protect your artwork. If you add varnish, let it dry completely before beginning to glue.
Glue the dish to the pot, as shown in the finished project picture. Glue the birds to the side of the dish and let everything dry.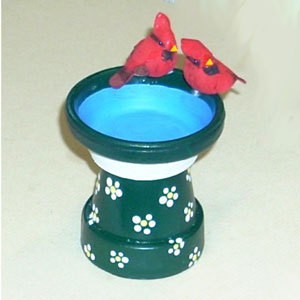 Notes:
Depending on what you plan on using the mini birdbath for, you can leave the inside of the bath green, or paint it blue. For example, if you plan on filling the birdbath with blue potpourri, then you probably don't need to paint it. If you plan on putting it in front of a dollhouse, then you probably should paint it. But in the end, the choice is all yours, because this is your little work of art!
Share Your Feedback:
Once you try any of the above solutions, be sure to come back and give a "thumbs up" to the solution that worked the best for you. Do you have a better solution? Click "Share a Solution" above!
Questions
Here are questions related to Flower Pot Bird Bath.
Bird Safe Paint and Glue for Making a Birdbath
Can the person who posted how to make a terra cotta fountain describe what type of paint will hold up outside and not cause any health issues for birds. Also the same question for the glue she used. Or if anyone can help me with these questions I would be grateful.
Thank you.
By Mikey
---
Most Recent Answer

By jay9yo
08/16/2012
I am not the poster, but it seems reasonable that you might leave the inside of the saucers unpainted; it would still look cute!