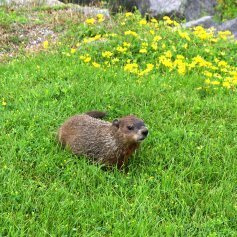 Groundhogs, also known as woodchucks, can be a real nuisance in your yard. That can destroy your garden and their holes can ruin your lawn. This is a guide about getting rid of groundhogs.
Solutions
Read and rate the best solutions below by giving them a "thumbs up".
Here's what we do to drive groundhogs away from structures (house, shed, propane tank, etc.): Dump dirty kitty litter into the hole. The groundhog leaves the area for sweeter smelling options and no critter is harmed! Try it!
By Katz
Share Your Feedback: Once you try any of the above solutions, be sure to come back and give a "thumbs up" to the one that worked the best for you. Do you have a better solution? Click "Share a Solution" above!
Questions
Here are questions related to Getting Rid of Groundhogs.
I am looking for a home remedy to get rid of groundhogs. They ate all my parsley and lettuce. I've tried the things that they sell at the store; it didn't work. I hope someone can help me. Thank you.
By Rocco
---
Most Recent Answer

By Dottie Baltz06/28/2011
I've dealt with groundhogs/woodchucks for years, and the only thing that worked for me was to remove them from the property like the previous poster stated, then I made sure where they were living was covered with chicken wire, so no new ones could move back in.

They usually eat within a short distance of where they are living, so I'd suggest figuring out where that is, then set up a live trap in front of the hole they have dug. Generally they are living under a shed, garage, porch, deck, something like that where they can dig under it pretty easily.

Once you are sure that you've caught them all, staple chicken wire to the base of each outbuilding on your property, lift the sod in front of it, about a foot, then lay the chicken wire under the sod. This will prevent them from digging close to the building.

I have never found peppers or repellants to work, and you have to be careful what you use around food crops.

Fencing your garden would work, if you can prevent them from digging under the fence. Good luck!

My neighbor has a wood pile on pallets that this very large ground hog lives under. This ground hog is eating my flowers all the time. He especially likes marigolds. I need to get rid of it with out a whole lot of expense.
By Kathy P
---
Most Recent Answer

By Deanj07/04/2012
Well you could trap the critter in a hav a heart trap and relocate him to another location. They sell them at hardware stores and the trap needed for a ground hog would cost about $50. Or maybe getting rid of the pile of pallets may also help. Of course someone will suggest mothballs that are useless.
How do I deter a pair of groundhogs that are living under my shed? I don't want to trap and release them, nor do I want anyone to kill them. Is there anything I can throw down into their hole to make them relocate?
By kimmcg from NJ
---
Most Recent Answer

By Marlene06/17/2009
We have used this method and it works, hope you have a cat or know someone that does! After locating their holes, they may have 3 holes,dump a box of used kitty litter in the hole and cover with something heavy like a patio block. The critters will move on to better digs.
Will throwing mothballs down the hole chase them out?
By Herb from Highspire, PA
---
Most Recent Answer

By MOOSKIELITTLE04/24/2012
Put a T-post in the ground tie on a string and something that will bang against the post when the wind blows, like a tin can or pop can- moles and shrews don't like vibrations.

I found that out from an elderly man at a nursing home who used to farm ground all over Bee, Nebraska he was a very successful farmer. he said that when he was a kid his dad gave him a penny for each mole hole he could rid the mole from. Back in the olden days a penny could buy a 3 pieces of candy!
I have a fenced-in garden, but still the woodchucks are finding their way into my garden by climbing over the fence. Does anyone have any suggestions for keeping these animals away from my vegetables? I would hate to give up gardening because of these critters.
By Emily R.
How would I get rid of a groundhog that lives in my basement?
By Trina N
---
Most Recent Answer

By Linda L.04/16/2013
Mouse or rat poison, perhaps?
How can I get rid of ground hogs? I have a family of 4 under my shed.
By Denise
---
Most Recent Answer

By Marie Brack06/30/2012
I haven't actually tried this, but I've heard that some wild critters will move away if you play loud obnoxious music near them. Of course it may also be hard on you and your neighbors, and unless there is a way to block up entrances, they may return.
Archives
Thrifty Fun has been around so long that many of our pages have been reset several times. Archives are older versions of the page and the feedback that was provided then.
Does anyone have a way to get rid of groundhogs from the garden? Is there a solution I can mix to keep them out? HELP! They're eating up all my garden! Karen from Clemmons, NC
---
RE: Getting Rid of Groundhogs
My mom used the same remedy for both gophers/rodents and dandelions. She poked a sharp stick in the area, and poured in an equal amount of milk and kerosene. The milk keeps the kerosene from being volital but doesn't keep it from being a strong deterrent for the rodents. Dandelions don't like it either. Good Luck!(06/02/2008)
By Sandra A
RE: Getting Rid of Groundhogs
Go to your local dog groomer and ask for them to save the hair that they shave off. Sprinkle the perimeter of the garden and in various places within the perimeter, even down in their holes. this is effective with lots of wild animals that love destroying your hard earned garden. (06/02/2008)
By Agatha
RE: Getting Rid of Groundhogs
You could buy a haveahart trap. Bait it with cucumbers or other veggies. When one is caught take it off to a wooded area a distance from the house and release it. (06/02/2008)
By Harry
RE: Getting Rid of Groundhogs
I have the same problem, plus they dig holes in the yard and gardens for their tunnels. Used cat litter works. I dump it down their holes. So does anything sharp, like broken glass. My garden is fenced and I use landscape tarp to hinder growth of weeds. A co-worker told me she got rid of a few groundhogs by coring a cucumber and filling it with rat poison and putting it near their hole.(05/31/2008)
By Jane from PA
How does one get rid of groundhogs?
Sheila from Flint, Michigan
---
RE: Getting Rid of Groundhogs
I use fox urine. You can buy it at a hunting/camping store. I soak cotton balls in it and drop it in their hole. I also sprinkle it in the dirt around the perimeter of my fence. I have gone as far as taking dog hair and feces and soaking those, too. Groundhogs are persistent. Beware, use double gloves when handling the fox urine and don't get it on your clothes, it reeks and won't come out. (08/07/2008)
RE: Getting Rid of Groundhogs
You probably have grubs in yard. They live underground as do groundhogs. The groundhogs love to eat these little grubs. You can put some grub killer over your yard. You can buy grub killer at Walmart, Home Depot, Lowe's, etc. (08/07/2008)
RE: Getting Rid of Groundhogs
Soak a diaper or the like with ammonia and stick in the hole. (08/10/2008)
By Julie in Trout Valley, IL