My Frugal Life: Ten Reasons to Embrace the Frugal/Thrifty Lifestyle
As of August, I am debt free and I am very thankful for this. I just want to say a big thank-you to all of you, because I have really benefited from your frugal wisdom which you have freely shared in your posts.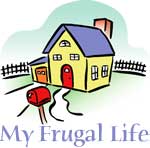 However as I was working on my October budget I wondered about the wisdom of continuing on this frugal/thrift path, after all I am now debt free which was the goal. As I began to reflect on this I formulated several reasons and I wanted to share with all of you my top ten. I hope they will also inspire you.
To maintain my debt free status. I was $78,000 in debt so it took hard work and discipline to get out of debt, and I know if I return to my old spend-waste lifestyle I will end up back in debt.
So I will be able to pay every bill, every month on time, which equates to avoiding receiving letters or telephone calls from bill collectors. Although I am debt free, I still pay bills (electric, water, cell phone, etc)
To avoid paying interest, as living a thrifty lifestyle allows me to save up and pay cash for items. When I analyzed one of my past debts, my monthly payments was $135.00. Guess how much of that monthly payment was going to interest? This is an easy question as it is multiple choice. Answer A is of my $135.00 payment $40.00 went to interest. Answer B is of my $135.00 payment $81.00 went to interest. Answer C is of my $135.00 payment $119.00 went to interest. Now guess is it A, B, or C? If you guessed "C" then you guessed correctly. I was paying 88% or $119.00 of my monthly $135.00 payment toward interest! Isn't that just craziness!
So I am able to give 12% of my gross income to my church and charity. Oh, it feels so good to be able to give.
So I can be an example to my family, friends, and coworkers that a debt free lifestyle is possible if one lives frugally. Also, so I can be financially independent from my parents and siblings.
So that I can save/invest 15% of my gross income toward retirement.
So that I can have peace of mind related to my finances and avoid the depression which would come each month on payday as I watched every dollar from my paycheck go towards bills.
So I do not have to work overtime or a second job to pay my bills. Several of my coworkers are deeply in debt and thus are working two and sometimes three jobs to just pay the minimum payments on their bills. Their job performance is poor due to their fatigue. It is really sad.
So I can develop a heart of thanksgiving and contentment, as compared to much of the world I am abundantly blessed with what I already have.
So that every day I can sit on my loveseat and hold my miniature dachshund in my lap and tell him "WE'RE DEBT FREE!" Before you ask "Well does he understand what you talking about?," let me assure you that he does understand. Similar to how over the last several months I have nagged him because he refused to get a job to help us become debt free. (smile)
By Lovejoy123 from Dallas, TX
Do you have a frugal story to share with the ThriftyFun community? Submit your essay here: http://www.thriftyfun.com/post_myfrugallife.ldml
Add your voice! Click below to comment. ThriftyFun is powered by your wisdom!
Add your voice! Click below to comment. ThriftyFun is powered by your wisdom!
Related Content
In This Guide
Categories
Guides
More
Categories