This is Rosie. She adopted my husband and I when she was a very young puppy. We believe she is a German Shepherd/Mini Pin mix. Rosie was a feral dog at one point, and it took me a while to win her trust. I got to know her through giving her dog cookies, then I started leaving dinner for her out on our front porch. She became the 5:30 puppy!
I love photography, and for the time being don't get around as well as I used to, so I practice taking pictures of our dogs. I actually had taken several different shots of Rosie as she was sleeping. I just love the way her face looks in this picture, it was taken mid morning. Rosie will be 7 years old this summer.
By CaroleeRose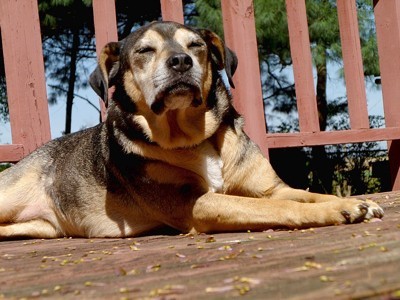 Add your voice! Click below to comment. ThriftyFun is powered by your wisdom!
April 22, 2011
0

found this helpful
What a lovely girl Rosie is!
Bless you for taking her in.
April 22, 2011
0

found this helpful
I love that look that dogs get when they are sunning! Too cute!
April 22, 2011
0

found this helpful
She looks like she might be "seeing into the future, and who knows, maybe she can. She's a very pretty doggie, and we wish the two of you many happy years together. She chose you, and vice versa.
Pookarina
Add your voice! Click below to comment. ThriftyFun is powered by your wisdom!
Rosie is a 7 year old German Shepherd/Mini Pin. Rosie was a feral puppy that adopted us when she was around 4 months old.
I won her over with dog cookies and for a short while she was known as the 5 PM puppy because she always showed up at 5 PM for the food I left out on our front porch. One day, she came inside and stayed.
She loves to play with Emma (her little sister from another mother) in the backyard. They play extremely rough and I could watch them for hours. Rosie really loves attacking the hose and chasing the squirrels and chipmunks in our backyard.
When Rosie first came to us, I had a very difficult time trying to stop her from chewing. She chewed on doors, walls and carpeting. We bought her a crate but she fought us tooth and nail about it and would literally plant all four paws against the door. I was very frustrated with her and more so since none of any of my dog tricks that I suggest to friends worked with her.
Desperate times meant I needed help. I'm lucky enough to be blessed with a dear friend who travels around the world, helping people with their pets as an animal communicator. Some people believe, some don't, but my friend was on Ripley's Believe It Or Not and is well known.
I asked my friend to speak to Rosie about not chewing. I was told all Rosie wanted was green toys, that were only for her and she quit chewing. Well, my friend had never, ever been wrong before and has always helped me with my dogs and cats so off I went and bought a bunch of green dog toys.
I had always thought dogs were color blind but I was told green and that's what I bought her. Well, to make a long story short, Rosie never chewed any thing again. I was sort of surprised but like I said, my friend has never been wrong, not once and we've been friends a long time.
I love the picture I'm submitting just for the fact the whole circumstance was hilarious. Late one night, I was in my kitchen on my laptop and came across the cutest video of a very young puppy that was sleeping. The puppy starting barking in its sleep and woke Rosie up from being asleep.
Rosie went crazy. For the next 3 days, all she did was search the entire house, yard and garage for a puppy she had no doubt that I smuggled in and was hiding from her. It truly was very interesting to observe and my voice actually got hoarse from me telling her over and over again that there was no puppy.
By Pritchard C.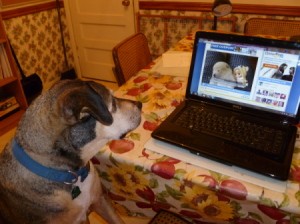 October 6, 2011
0

found this helpful
Rosie sounds like a lovely dog. How lucky for you that you have this friend who is so good with pets! I thought you meant natural, environmentally friendly toys when you first wrote "green". It's interesting that the color would make such a difference to a dog. The story about her looking for the puppy is so sweet! Good luck with Rosie & thanks for sharing her story!
October 7, 2011
0

found this helpful
What a darling story! Thanks for sharing.
October 7, 2011
0

found this helpful
That is so cute. Dogs are so smart.
October 7, 2011
0

found this helpful
Cute story. Thanks for sharing.