Our new little MinPin mix. Any ideas what he might be mixed with? We think he is about 10 weeks old. We rescued him from a shelter in Mississippi.

Katie from New York
Ad
---
Recent Answers
Here are the recent answer to this question.

By kalajo11/10/2011
I bought this little guy from a animal rescue about a month ago. They said he was min pin mixed with a hound. They were unsure of what kind of hound. Does anyone have any idea what he may be mixed with and about how big he will get?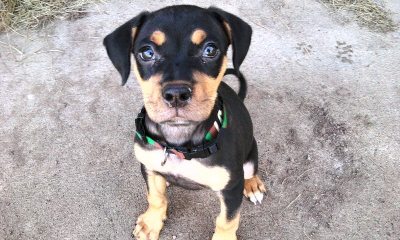 By suzy8507/17/2010
Your little guy looks like he could a Min Pin Beagle cross. He is so adorable!
And brittany your little Jack Russel Mini Pin cross (Mini Jack) looks identical to mine!


By Mandy10/17/2009
Here is Boone as a puppy..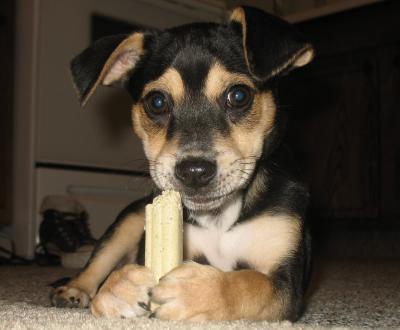 By Mandy10/17/2009
Your dog looks almost JUST like mine! Boone is almost 2 years old and 20lbs. I have been trying to figure out what mix he was since I got him at 2 months old!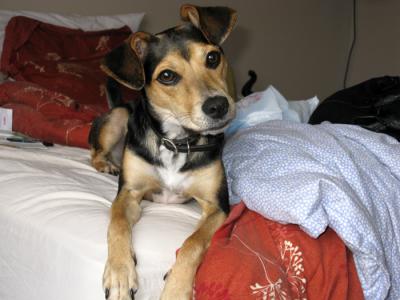 By casey (Guest Post)02/26/2009
He looks identical to our dog who we think and have been told is min pin- rat terrier. He loves to dig so it's a dead give away on the rat terrier part.

By Brittany (Guest Post)02/04/2009
It looks just like the puppies my dogs had The Mom is a Jack Russell and the dad is a Min Pin. The only difference is the colors are a lttle lighter in your puppy.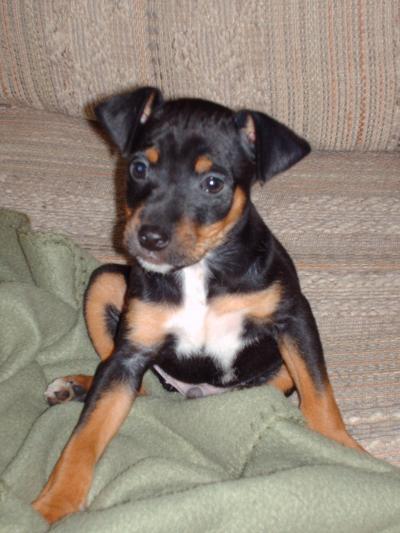 By keydama94 (Guest Post)01/26/2009
Your puppy looks a lot like a miniature pincher/chihuahua mix I seen at the pet store!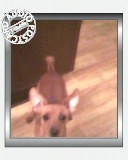 By sammi (Guest Post)01/17/2009
Omg that is the cutest puppy I've ever seen including my dog.

By jklovsdogs (Guest Post)01/10/2009
He looks alot like our Buddy. I know for sure that Buddy's mom is a chihauau and the dad was a min pin. These dogs were our neighbors dogs that mated and produced the litter we got Buddy from.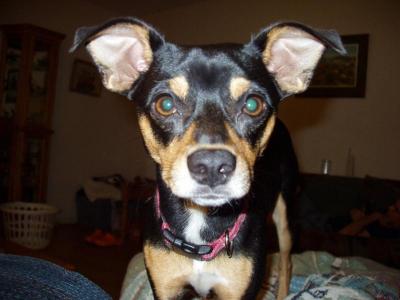 By Christie. (Guest Post)12/03/2008
Not sure. We also recently rescued a min pin mix, and we also can't really tell what she is mixed with. She is chocolate color, almost like a lab. But She is now 8 mos and hasn't grown a lot, med size. Very well behaved whatever she is. Good luck!

By maye (Guest Post)10/20/2008
I think he's a pure breed, if not chihuahua.

By mallory (Guest Post)09/01/2008
I have a puppy that look just like that he is 11 weeks and is mixed with mini doberman.

By alex (Guest Post)08/04/2008
Your dog is mixed with a jack russel.

By Antonia (Guest Post)07/28/2008
Mother is a min pin, previous owner claims the father is a jack russell. We aren't sure, I think he's a chihuahua/ min pin mix. What do you think?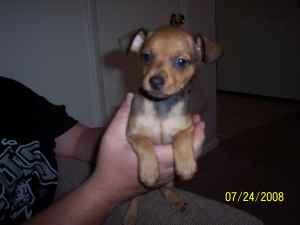 By s. Lutz (Guest Post)06/23/2008
I got him at animal control(just in time)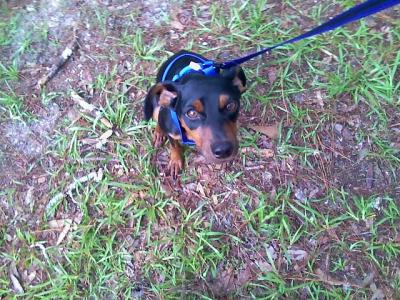 By Julie (Guest Post)06/16/2008
It's mixed with terrier

By (Guest Post)04/06/2008
Looks like he's mixed with rottweiler. I saw a pic online of a miniature pinscher rottweiler mix and it looked like him. If you google, "miniature pinscher rottweiler mix" you'll see what I mean.

By bob (Guest Post)03/26/2008
beagle miniature pincher mix - meagle

By don s (Guest Post)09/16/2007
mine looks like all min pin ...but he is 23 lbs at 2 yrs old...any idea what kind of mix he is?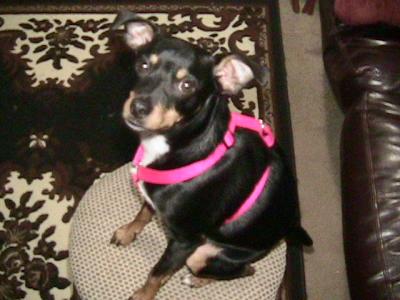 By Dog lover (Guest Post)08/27/2007
Here's another pic of my yorkie/chihuahua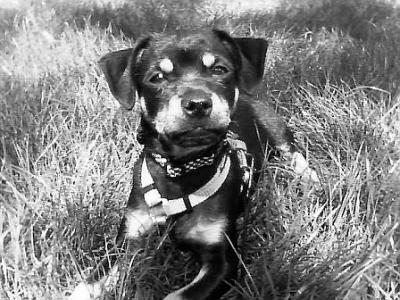 By dog lover (Guest Post)08/27/2007
He looks a lot like my 11 week old puppy, who is a yorkie/chihuahua mix. They almost look identical!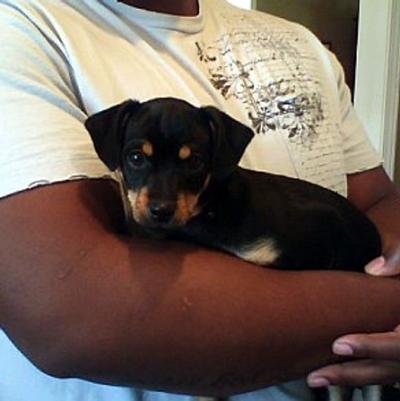 By April (Guest Post)08/20/2007
Your puppy looks just like my 8 week old female puppy. Her mother is a beagle and the mother's owner didn't know the father's breed. I saw her and thought.. her color looks pincher or rott. Her paws are too small to be Rott, so I certainly think your puppy is a mix of Beagle. Very cute.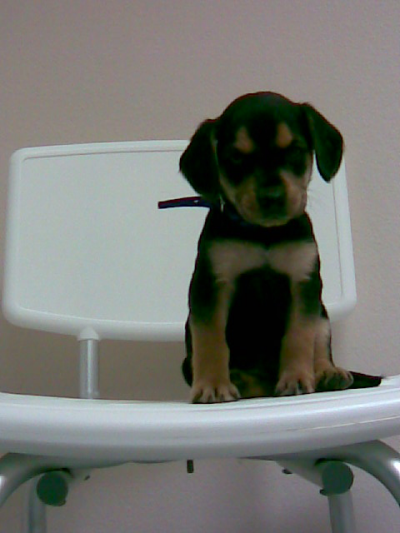 By Julia (Guest Post)08/06/2007
it looks like a beagle. My friend has a min pin beagle mix, and your dog looks just like his.

By Brittany (Guest Post)07/18/2007
he might be mixed with a type of terrier he looks like it when i first saw him

By Bas (Guest Post)12/27/2006
He looks very much like mine http://www.thriftyfun.com/tf13991753.tip.html

By Bas (Guest Post)12/27/2006
He looks very much like mine http://www.thriftyfun.com/tf13991753.tip.html

By Katie (Guest Post)09/05/2006
Updated picture...maybe not a minpin at all?!? This is our little guy at 8 months. He is about 20 lbs.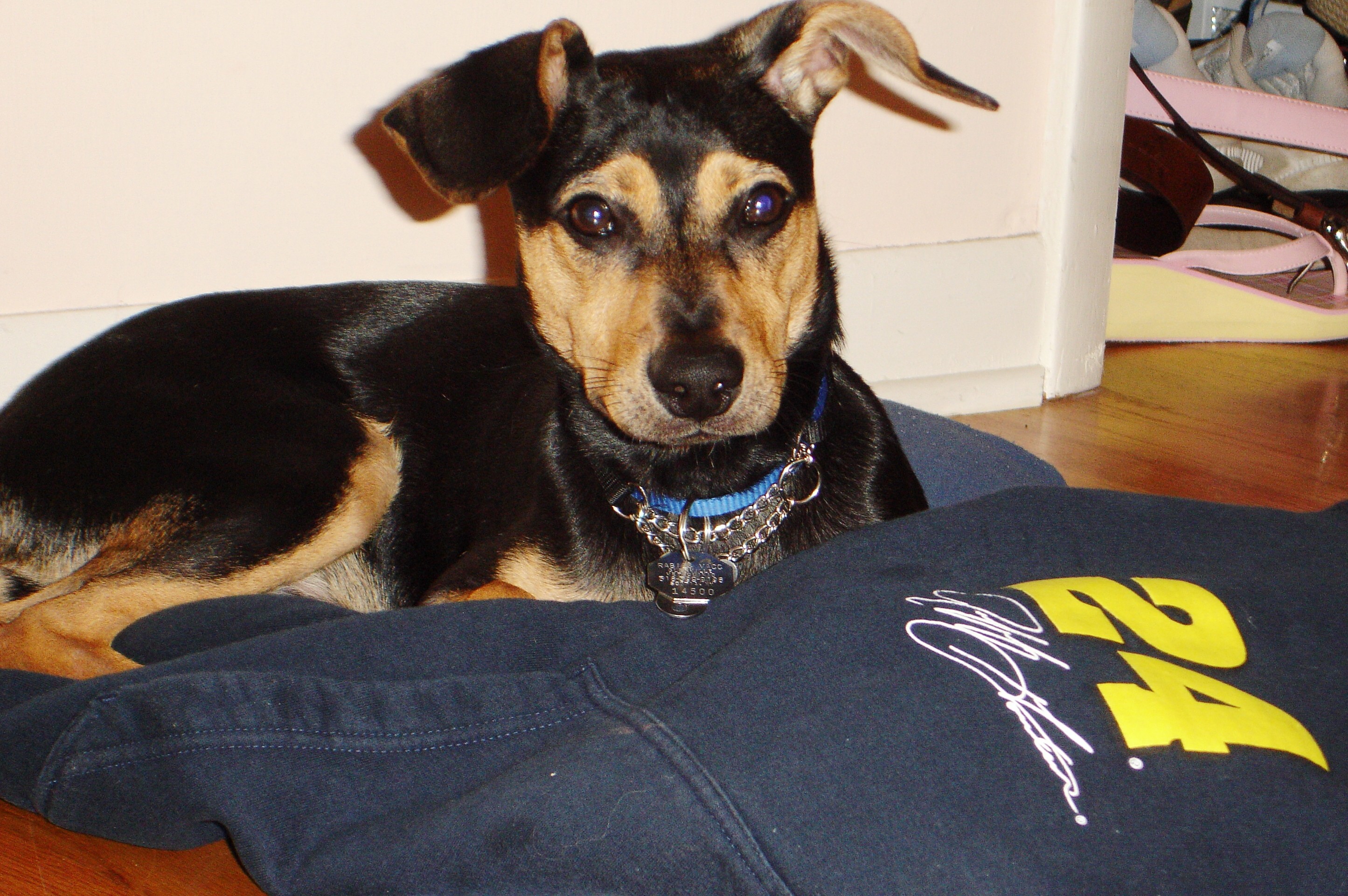 By Jon (Guest Post)09/01/2006
That is for sure a mix with a chihuahua i had that same problem but the opposite i knew that the mom was chihuahua but i didnt know the fathers breed.
your dog is a spitting image of my pup.Please email me with some pictures of your dog if possible so i can see what he will look like in his later months.
Jon AT electric-life.com

thank you

By Kimber (Guest Post)07/25/2006
Looks dachsaund. He's got the floppy ears like them. I have a min pin rat terrier mix who also has floppy ears, but they are a little smaller. That's my best guess. An adorable puppy no matter what though!!!!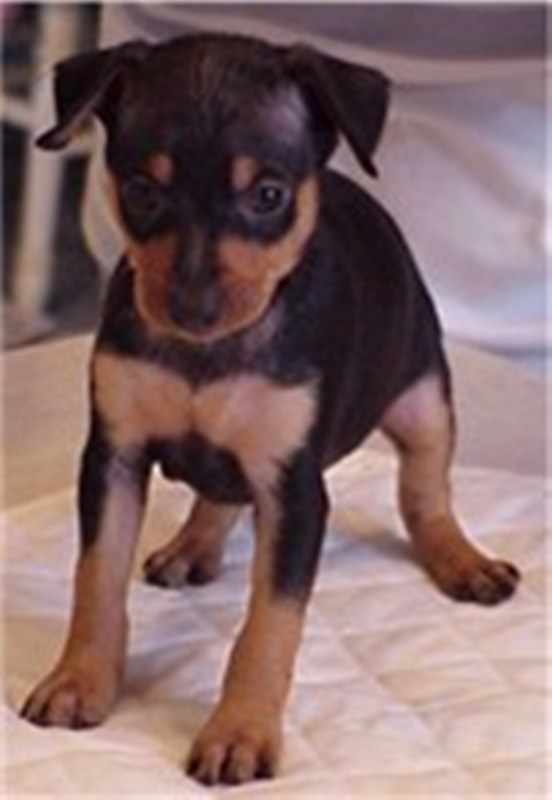 By evi (Guest Post)06/08/2006
it looks like a mini pinscher w/ chihuahua mix. just like my puppy.

By Me (Guest Post)03/28/2006
Adorable!

By Brenda Chavis (Guest Post)03/27/2006
He looks like he has a bit of Feist. Head and ear shape.
They are great dogs also.

By Cheryl (Guest Post)03/27/2006
Looks like he has some beagle in him. Good luck with him, he is adorable.


By Patty (Guest Post)03/27/2006
He looks all MinPin to me!!
Answer This Question
Add your voice to the conversation. Click here to answer this question.