What is This Plant?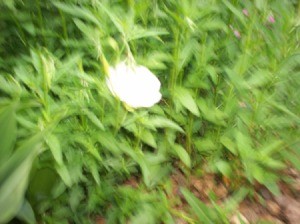 The picture did not come out well, it is a delicate tissue substance looking plant that had stems of drooping pods before blooming on a stem with leaves with brown splotches. The flower is yellow in the middle and has what holly hocks have in the center. I am not sure if it is a weed or a flower, as it is taking over, and I vaguely remember planting something like that, but plant so many things I am not fully certain.
By Linda
Answers: What is This Plant?
Read answers for this question below.
"Guest" was absolutely correct, turns out it is Mexican Evening Primrose. Funny how I finally found out for sure, I recalled I had saved all the plastic tabs that come w/ the plants when I planted last year. I tell you, if you have a huge area and want a long flowering ground cover it will spread like wildfire and squeeze out all weeds. Linda H. Bellevue, N.E
Answer This Question
Add your voice to the conversation. Click here to answer this question.