I would like to introduce Yoshi the Shiranian. Does anyone know about these babies? He is a Pomeranian mixed with Shih Tzu.

Cookie
By Cookie
Ad
---
Recent Answers
Here are the recent answer to this question.

By jka901/11/2015
I have my Pomerania mix shihtzu male is 8.0 and female is 7.0 full grown they are great doggies and smart.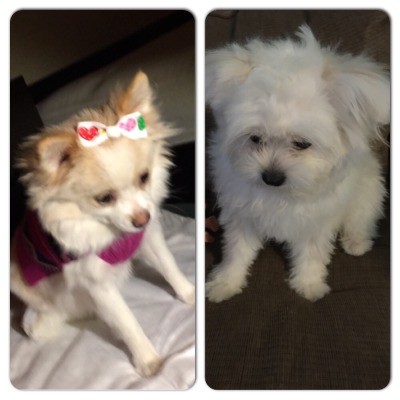 By judie anderson11/12/2014
I have breed my pomeranian poodle with my daughters shitzu. I charged 325 and 350 6 years ago. They are wonderful dogs.

By crystal_greenday0709/29/2013
This is my baby girl Lola, she is very energetic and lives attention. She loves being loved and is very playful. She's 12 weeks old.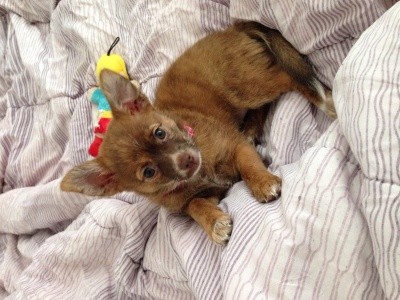 By kevyboy4609/10/2013
We had the same dog and she shed quite a bit so we keep her hair cut short. Pixie looks beautiful we are looking for a new dog like yours as we just lost our. Enjoy your pup.

By Louise Mae Angeles M.07/19/2013
I have my shih-pom last 2 months and she weighed about 1.5 lbs. Now she weighed about 3.3 lbs. Her name is Pixie. I'm just wondering does my dog will shed her hair or not? I want her to have longer hair like shih tzu. Her face was more of a shihtzu than a pom, but her body I dont know yet. She is almost 4 months. She is so stubborn, but a very lovable one.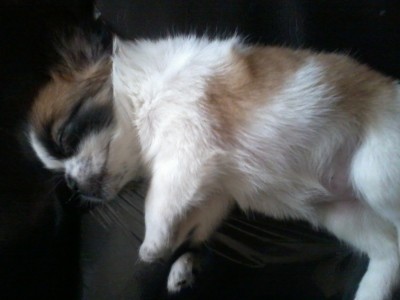 By Siegling02/01/2012
My daughter and roommate adopted 2 shiranians, Snooki (12 wks) and Aspen (9 wks). They are so cuddly and very smart. They seem to be able to adapt to any situation.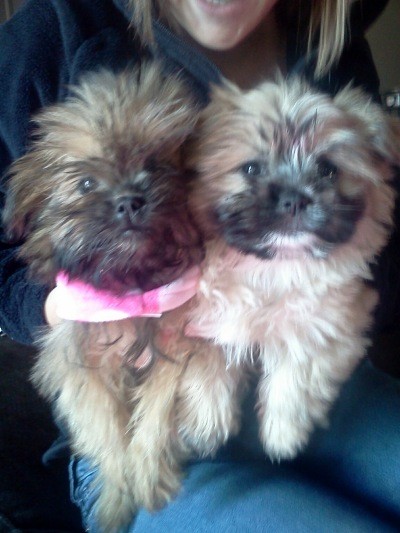 By freebz01/11/2012
Hi. I have a shitzu cross Pomeranian, other wise known as a shira-nian. She's called pixie! My girl is very well behaved! She wants a lot of attention all the time (which I don't mind) my friend has two but they are no good with other dogs as they can get quite aggressive. If you have any questions let me know.
I couldn't put a picture on as I am on my mobile :(

By Debbie [1]02/06/2011
Here's a picture of our little Shih-Tzu/Pom, Roxie. She's so funny, absolutely fearless, and smart as a whip. She'll attack my Collies, playing. She knows just how to bite the flabby skin on their lips. The collie puppy with her, is her best bud, Lily.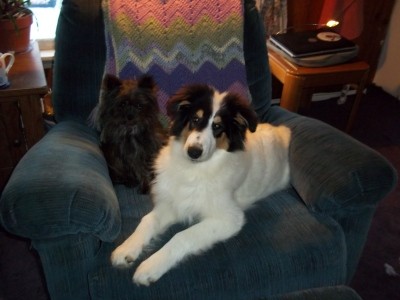 By colleentran10/28/2009
I have a wonderful new friend named Miss Marley. She is 10 months old who is so cute, affectionate and smart. Her best friend (besides me) is my Toy Fox Terrier, Oreo. Marley is so loved, I hope to breed her one day, and keep a pup. I truly love this shitzu/pom hybrid. After looking over a lot of pictures. I can surely say. This breed is like a box of chocolates. You never know what your going to get!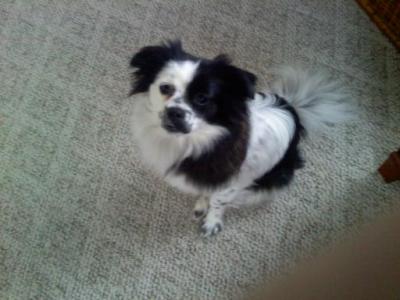 By Porscha08/12/2009
How much did you buy them for? I have 4 puppies born yesterday and the only price I've found was $500.00 which seems a little much. Both the parents are purebred and quite small.

By Kim (Guest Post)02/26/2009
Yes, we had one who passed last week at nearly 19 years old. We are broken hearted. He was the best and had my heart. Baci was a sturdy little dog, loyal and kind. He was fabulous with our grandchildren--even as babies. He was loved and loved us back.

By Terri (Guest Post)01/20/2009
I was enjoying these pics and just wanted to add my beautiful dog Abby. I could never ask for a better dog. She is the BEST!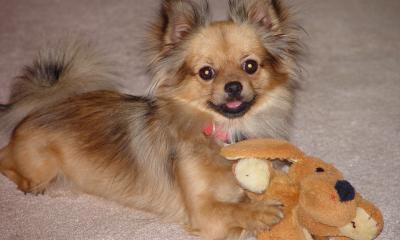 By Steph (Guest Post)01/06/2009
This is Gus, my shiranian. He just recently turned one this year. He is great and the most adorable thing I have ever seen!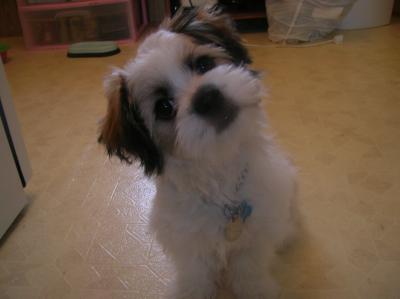 By Silvia01/03/2009
This is sami. She is 7 months old. she is so good and we love her.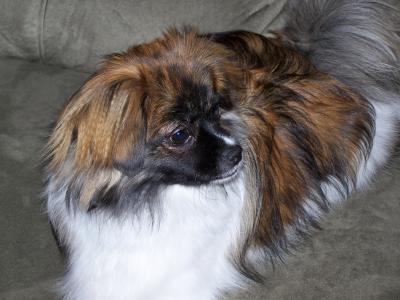 By Kristen Hyde (Guest Post)12/28/2008
This is Baxter. He is precious! We got him when he was six weeks old. He is now five months old and as energetic as ever! He will be about 5lbs full grown.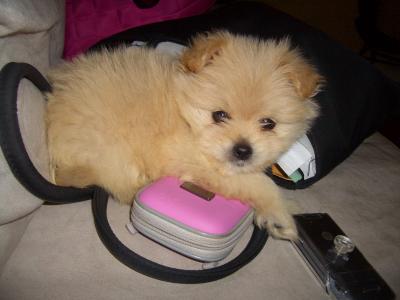 By tia (Guest Post)12/19/2008
this is my dog GIR she is a Shiranian to, is'nt she cute!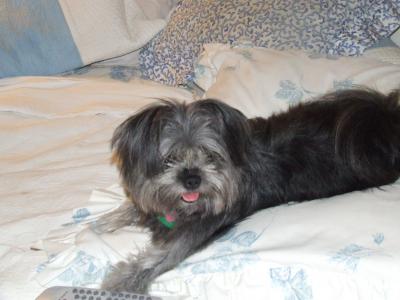 By Angie N. (Guest Post)12/16/2008
This is my little 1 yr old partner in crime, Gringo. I also like to call him G-Man. He is a living, breathing stuffed animal. He is such a blessing to my life and i adore him!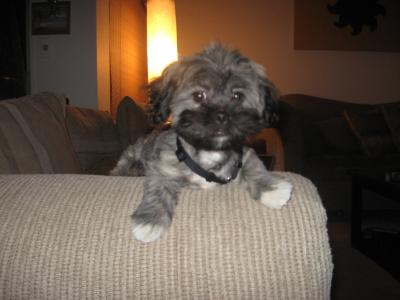 By Jenna (Guest Post)12/03/2008
I just got a little Shih-Pom this weekend. He's 6 weeks old and the cutest little guy ever! He gets way too much attention.. To me, he looks more Pom than Shih Tzu. I'm hoping he won't be much of a shedder as he gets older. He will be about 5 lbs. I still haven't decided on a name. Any suggestions, let me know! Thanks

By Jenna (Guest Post)12/03/2008
I just got a little Shih-Pom this weekend. He's 6 weeks old and the cutest little guy ever! He gets way too much attention.. To me, he looks more Pom than Shih Tzu.. I'm hoping he won't be much of a shedder as he gets older. He will be about 5 lbs. I still haven't decided on a name. Any suggesions, let me know! Thanks

By Sara (Guest Post)11/07/2008
This was my little puppy Sadie. She unfortunately was only with us for 2 months, but she was such a sweetie! Sadie was 4 months old when she passed away from injuries she sustained when another dog attacked her at the park. She was extremely affectionate, loved to sit on our shoulders and our laps and loved to play. I can honestly say that Shih poms are an amazingly sweet and smart breed! Sadie had graduated "Puppy Fundamental" classes the day before she passed away and was scheduled to begin "beyond basic" classes the next week. I love that little fluff ball and will miss her dearly. When we're ready for another puppy, there is no doubt that it will be another Shih Pom.

By jenny (Guest Post)10/17/2008
This is Rupert my pom shih tzu mix puppy! He is the smartest dog I have ever met. I love him! He's a sweetie.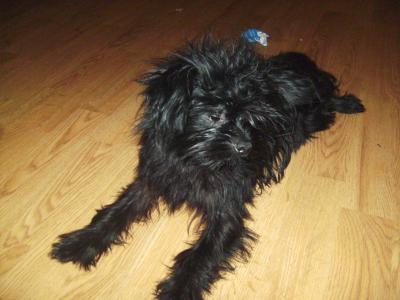 By Leah. (Guest Post)10/13/2008
Been browsing and had to add my pom shih-tzu, Tobie. She is almost a year old. One of the best dogs I have ever owned. Wouldn't trade her for anything.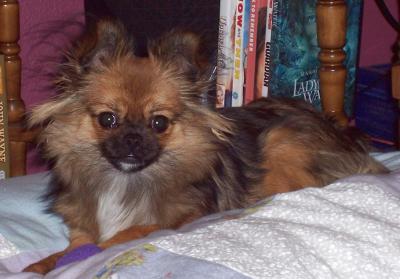 By Tara (Guest Post)05/16/2008
Here is my pom/ shih tzu mix!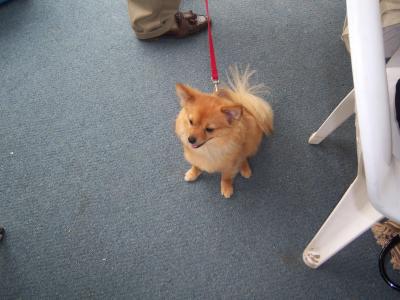 By Brittney (Guest Post)05/12/2008
This is Sadie. Almost 5 months old. I call her Sadie, Sadie baby, puppy dog, or teddy bear. She is the cutest thing. She is just like a walking teddy bear.

By John Gruber (Guest Post)04/10/2008
What causes a 5 year old Pom Shih Tzu Mix to shake and breathe rapidly? This has happened 3 times now about once a week, and lasts about 15-20 minutes each time.

By raven (Guest Post)03/29/2008
I have a Pomeranian shitzu and she is 7 1/2 years old. her name is peanut and she is the best dog. we had her as a puppy in 2000 and her b-day is June 1st. she acts like a human sometimes that we 4get that shes a dog. I call her peanut,baby pb&j, and I always say hey cutie. I love her more than life and she always cheers me up when she walks her her cute chubby butt in my room. lmao. |=)
By jackie [1]01/24/2008
this is mee mee her real name is meshu we call her mee meee for short she likes it . she was about 10 weeks old when this pic was taken, she is now 15 weeks old , we almostlost her the day after we got her she went into a dibettic coma , but with all the love and taking care of her shes better now ,she weights about 1.5 lbs she wont get much bigger than that and she is spoiled rotten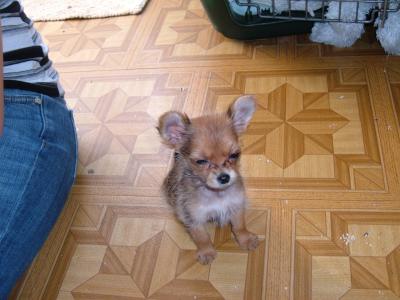 By Armywife1104 (Guest Post)11/05/2007
I have a shih tzu/pom mix, I call him my pom-a-blank. lol His name is PVT Ted E. Bear (and yes he posed in the picture on his own)

By Valerie (Guest Post)10/27/2007
Hi, I have a Shih-Tzu & Pomeranian mix - I call him a Shiteranian :) His name is Sampson (or Sammy for short)

I was told he'd be 10 lbs but he is almost 4 years old and up to 23 lbs.

Here he is with my min-pin, Alexis.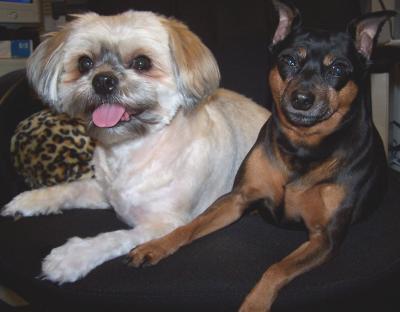 By Tammy [3]10/24/2007
Here's a picture of my Shih Tzu/Yorkie mix (Tipper) kissing my grandson (Kade). I can't believe how much Tipper looks like Yoshi!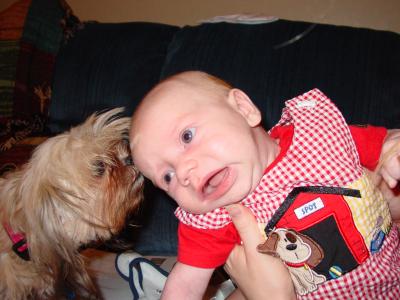 By Annie Rios Hill [12]10/23/2007
Your little one is a cutie. He looks sweet.
This is our mix.
We have a ShihPoo
his name is Honey. He is sweet very playful.
He barks like a wildman when he runs out to
backyard he runs out and is barking LOUD on the
way. Probably to let outside know he is headed out.
Honey is a sweet baby about 10 months old and
has won our hearts.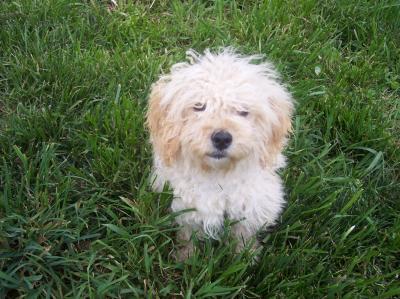 Answer This Question
Add your voice to the conversation. Click here to answer this question.