Puppy Training - Paris Rain (Toy Poodle)
My tip is on training. No matter how young you get your pup, start taking her/him out every hour on the hour. I did crate training.
My puppy's name is Paris Rain, she is a toy poodle and the runt of the litter she is 9 wks old and 1 lb 6 oz. I acquired her from a breeder. Paris is my spoiled lil pup brat.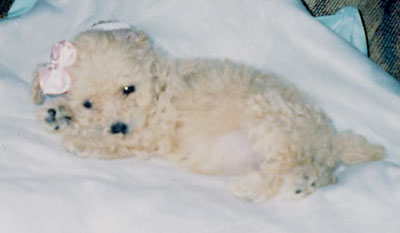 Nia
Feedback
Read feedback for this post below. Click here to post feedback.

By Leah (Guest Post)
09/02/2008
OMG I love your puppy. I want one so bad but I have to wait a year :(

They are so cute and fluffy :D

By sarah (Guest Post)
08/24/2008
I was thinking of naming my toy poodle puppy Paris,too. I don't know what the last name should be.

By Nicole (Guest Post)
01/24/2006
I have a teacup poodle, Lady, She is only 11wks old and 1.5 lbs. She will pee on the puppy pads, but she poops everwhere else! I really want to her to get the puppy pad thing down. it's difficult to take her out alot where I live. Any ideas???

By (Guest Post)
12/20/2005
romeo is 9 moths really bad and spoiled,but a very loyal pet.i treat him like hes my son.and he loves taking pics.paris is soooo adorable!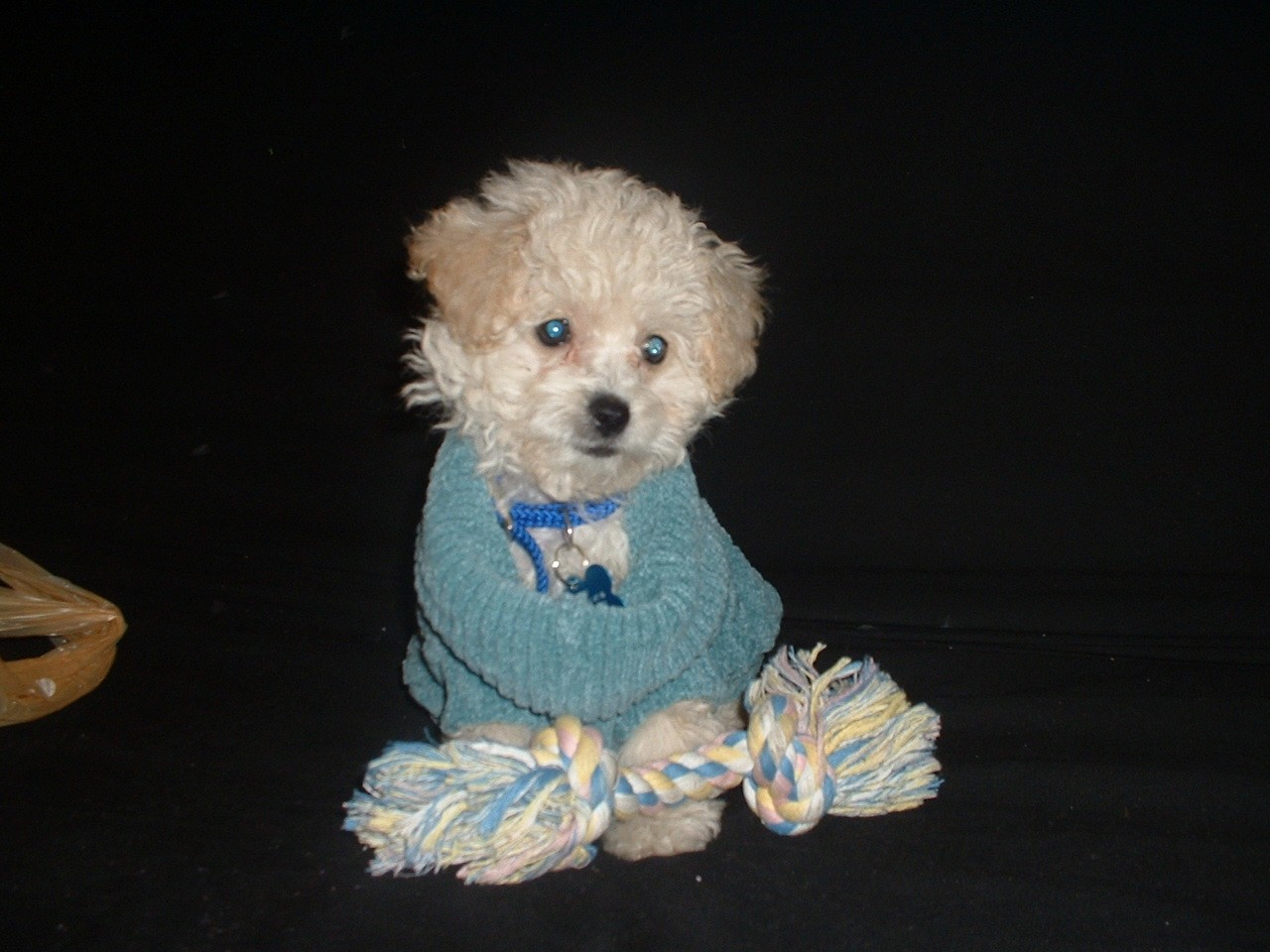 By Stephanie (Guest Post)
12/07/2005
what is the best way to treat your puppy when you first get it when it does good things. i heard no treats till older


By Olivia (Guest Post)
10/13/2005
I have a gorgeous male toy poodle and his name is Indy. Unfortunately Indy has not been well for about 2 months now, he is nearly one years old. I know he has a damaged neck and it acts up on him sometimes, i am not saying it dosnt hurt him but i had to leave him in the vets and he discovered that when Indy falls over he yelps just to be picked up and not cause he is in pain. It all makes so much sense to me know cause when i see him fall over i automatically run to him and craddle him and make a fuss, but the vet said he did fall over and he did nothing and turned his back and within a second he was on his feet playing again. He really is a character i love him so much.""

By heather (Guest Post)
07/08/2005
I too have a toy poodle. Her name is Molly and she is the sweetest little girl. She looks a lot like your Paris Rain. Molly is now 1 year old and so smart. She knows all sorts of tricks and stunts. My only problem is with puppy training. She is usually good...she either goes outside or on those "puppy pads". Those are quite good for her...she is so small--only 6 pounds! However, Molly will "hold it" all day -- I can take her out for a walk and she will be so stubborn. Then, when she is excited--all lets loose!! Thank goodness for hardwood floors. Still, it is very aggravating. Any tips?

By Liz From Ontario (Guest Post)
05/13/2005
she is so beautiful!
Our dog is now 7, and we still use the crate when we go out. He knows he's safe in there.

By Reilly4 (Guest Post)
05/12/2005
She is sooo adorable!
I had a toy poodle and a minature poodle when I was younger.
They were great Dogs!
I saw Paris Rain and it bought tears to my eyes!
Mine were spoiled to! ENJOY HER!!
Tucker

Post Feedback
Add your voice to the conversation.