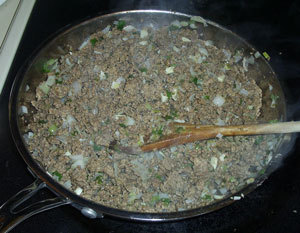 Hamburger can be browned quickly, easily and goes with a wide range of dishes. Use these helpful tips to make cooking ground beef that much easier. This is a guide about cooking ground beef.
Ad
---
Solutions: Cooking Ground Beef
Read and rate the best solutions below by giving them a "thumbs up".
To help save time in the kitchen when I know it is going to be a busy week, I will buy a large amount of lean ground beef at Costco or Sam's. I purchase, say, a 5 1/2 pound package. I bring it home and cook it in a large pot with diced onion and garlic and season it up with black pepper and salt. After the meat is cooked through, I drain it in a colander then add it back to the pan to let it cool down a bit. I then weigh the meat on my kitchen scale to get 1-2 lbs. of cooked meat, put it in freezer bags, and label.
Now all I have to do the rest of the week is pull out a package of the already cooked meat and thaw a bit in the microwave. Add it to a pan along with taco seasonings, spaghetti sauce ingredients, sloppy joe ingredients etc.- whatever your family is wanting for dinner that night. You can even use it to make one of the boxed hamburger helper dinners. Dinner is done in a fraction of the time.
I realized that I start all my ground beef recipes basically the same way with onion and garlic. It just made sense to go ahead and cook it all ahead of time instead of freezing the raw meat.
By KimbrD from Corinth, TX
When using ground beef cooked for a soup, spaghetti or tacos etc., drain hamburger through a colander before adding to your soup recipe. This takes away the extra fat and tastes great, even in chili.
By 123helen from Senoia, GA
When cooking ground beef for a recipe, I simply place the raw ground beef in a microwave steamer basket, then put the basket onto a microwaveable bowl. I microwave the ground beef until done and the grease from the ground beef drains from the steamer basket into the bowl. I have instant grease-free ground beef with no mess or hassle!
By Shirley
My frugal tip is for cooking, but it's also a healthy one. Buy the cheap ground beef and BOIL it! The fat will rise to the top! Just don't pour the water (and grease) down your sink. Just for fun, set the whole pot (after it has cooled down) into the fridge over night then see how much disgusting FAT you are NOT putting into your body and arteries. The ground beef will absorb the flavors of the food you are using it in!
Trust me, you and your friends won't know the difference and it'll save ya from a heart attack (hopefully) in the future! Please let me know how ya'll like it!
Tootles,
By Sheila from Olive Branch, MS
By Sheila from Olive Branch, MS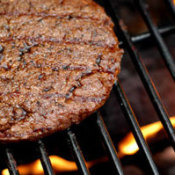 With the recent recall of fresh and frozen ground beef, it's more important then ever to cook ground beef safely. Although the product(s) being recalled should be returned to the point of purchase, consumers preparing other ground beef products should heed the following advice.
Consumers should only eat ground beef patties that have been cooked to a safe temperature of 160 °F. When a ground beef patty is cooked to 160 °F throughout, it can be safe and juicy, regardless of color.
The only way to be sure a ground beef patty is cooked to a high enough temperature to kill harmful bacteria is to use an accurate food thermometer.
Color is not a reliable indicator that ground beef patties have been cooked to a temperature high enough to kill harmful bacteria such as E. coli O157:H7.
Eating a pink or red ground beef patty without first verifying that the safe temperature of 160 °F has been reached is a significant risk factor for foodborne illness.
Thermometer use to ensure proper cooking temperature is especially important for those who cook or serve ground beef patties to people most at risk for foodborne illness because E. coli O157:H7 can lead to serious illness or even death. Those most at risk include young children, seniors, and those with compromised immune systems.
E. coli O157:H7 is a potentially deadly bacterium that can cause bloody diarrhea and dehydration. The very young, seniors and persons with compromised immune systems are the most susceptible to foodborne illness.
Source: USDA.gov
Read More About the Recent Recall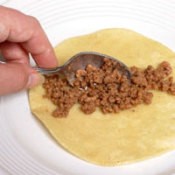 Biscuit Cutter
When fixing casseroles, taco filling, sauces or anything requiring cooked ground beef, use an old fashioned biscuit cutter to mince the beef while it's browning. This prevents lumps.
By Sandra
Pastry Blender
I use my pie crust maker with the four metal pieces on the bottom to take the lumps out of hamburger. Really good for chili and sauce.
By Gen
Use Vinegar
If you pour in a couple of tablespoons of white vinegar, the meat will crumble easier.
By Suzi Homemaker
Use A Fork
I just mash it with a fork while it's cooking.
By Jannie
Rinse After Cooking To Remove Grease
I use the potato masher. Works well. I also add about 3/4 cup water to the pan, and pour off the grease with the water when the meat is cooked. Pour through a colander into a bowl, and then rinse the cooked meat with hot water while still in the colander/bowl. This removes most of the grease. Drain and use the meat. I pour the greasy water in an out-of-the- way corner of my yard.
By Jean
After draining the fat from ground meat, place the meat on a brown paper bag lined with paper towels. Fold the bag over and squeeze. It's amazing the amount of fat that comes out!

Jen
Give a "thumbs up" to the solution that worked the best! Do you have a better solution? Click here to share it!
Questions
Here are questions related to Cooking Ground Beef.
Can you cook ground beef in a crock pot?
By Alan from Buffalo, NY
AnswerWas this interesting? Yes No
Ad
---
---
Most Recent Answer
By Cindy 3 287 02/13/20110 people found this helpful
Hi Alan. I cook ground beef in the crock pot a lot! The only thing I wouldn't recommend ground beef in the crock pot for is a dish that needs the beef to stand alone and look skillet browned. (It can look a little gray from the crock pot if not smothered in sauce or gravy or broth, but it does get cooked fully, regardless.)

I often cook up 3 - 5 pounds of raw ground beef in the crock pot with a small amount (just enough to cover) of beef broth. When fully cooked I strain it and divide it into 1 pound portions to freeze for later menus like spaghetti, Sloppy Joes, skillet meals, soups, etc. It's a great time saver and there is no loss of flavor.

If the grayish color bothers you (and you don't mind washing an extra skillet :-) lightly brown the raw ground beef on the stove top before tossing it into the crock pot and all will be well. Happy Eats!
---
Archives
Thrifty Fun has been around so long that many of our pages have been reset several times. Archives are older versions of the page and the comments that were provided then.
Does anyone know if it's possible to cook ground beef in a crockpot? To save time and money I usually buy large packs of ground beef, cook it up, add seasonings, and then put single-dinner amounts into freezer bags. Right now it's just too hot to stand over stove to do all this cooking. I'd much rather put the ground beef into the crock to cook outside, but I don't know if it will do the job. Anyone try this before?
Trix from Toronto Canada
---
RE: Cooking Ground Beef in a Crockpot
Of course you can. Just mix it well a couple of times during the day or you may have meatloaf. Drain it really well in a colander. (08/10/2006)
RE: Cooking Ground Beef in a Crockpot
You can cook hamburger in the crock pot, also, you can add the seasonings and onions, and make your hamburger dish. We make meatloaf like this, also. (08/10/2006)
By Glinda
RE: Cooking Ground Beef in a Crockpot
I use my crock pot everyday that I work. I have cooked ground beef in the crock pot in the large quantities that you are asking about. I did not have a problem with the meat looking "pale"; it looks quite normal. I use ground turkey mixed with ground sirloin (1/2 and 1/2), as well as alone, in the crock pot. Who cares what it looks like? It still tastes the same. Has the same nutritional value.
I also drain my meats. And have cooked all sorts of meat in my crock pot, pork chops, chicken breasts, chocolate cake (wait that's not meat). Good luck. (08/10/2006)

By especielle
RE: Cooking Ground Beef in a Crockpot
This is my chili recipe that I always make in the crockpot. My hubby does not like kidney beans so I use pork and beans. Don't let the tomato soup throw you off. Give it a try, tastes great You already have the ground beef cooked so you are ready to go, no need to thaw it out, just put in the crock pot frozen with the other ingredients and stir in an hour or so.

Crockpot Chili
1 lb. ground beef, browned
1/2c onions, diced
1 clove garlic, minced
1 tbs chili powder
1 can of pork and beans
1 can of tomato soup
1/2 cup water
4 oz. green chilies (optional)
In the morning put everything in the crockpot give it a good stir and put on low for 5-6 hours. This is the original recipe. I usually add, diced green or red peppers and celery (whateaver I have on hand) Can be doubled and freezes well.
You can also make your favorite meatloaf recipe in the crockpot, form it into a loaf and cook on low for 5-6 hours. I line my crockpot with tinfoil so it is easier to remove from the crockpot. (08/11/2006)
By PICO
RE: Cooking Ground Beef in a Crockpot
I don't care for frozen, cooked hamburger so what I do to save time is freeze (maybe a pound or less) in a freezer bag and "squash" it down into a large patty. When you need it, take it out and it thaws in a short amount of time, or I put it in a frying/saucepan with a lid and cook it. It takes very little time (microwave would work also to thaw), drain, and make my dish. Tastes a whole lot better for the little effort taken. (08/11/2006)

By
RE: Cooking Ground Beef in a Crockpot
I prefer to freeze my hamburger raw, but my Mother-in-Law always cooks her ground beef in her crock pot first and then she lets it cool enough to get rid of the grease before putting into containers/bags for the freezer. (08/13/2006)

By nikkiev
RE: Cooking Ground Beef in a Crockpot
The key to cooking ground beef in the crockpot is to add water. I usually add one to three cups of water depending on how much ground beef I am cooking. The water steams the beef so it doesn't get clumpy, it ends up nice and crumbly. When the beef is cooked, I drain it in a colander and rinse it in really hot water to remove whatever grease is clinging to the meat. Then I separate it into individual freezer bags after it has cooled some, and then freeze. I have cooked up to 10 lbs of ground beef at a time this way. It's perfect. (02/25/2008)

By Rachael
RE: Cooking Ground Beef in a Crockpot
I use non fat ground beef such as 97% fat free and 7% fat. I never had any problems cooking this in the crock pot. Just add water so this won't burn. I included a website for great recipes to use. a-crock-cook.com/ground-beef-crock-pot-recipes.html (09/26/2009)

By Raeb22
What temperature do you use to cook ground beef in a crockpot?
By KM from Lacrorse, WI
---
RE: Cooking Ground Beef in a Crockpot
I've used both temperatures with no problem. (04/07/2010)
By WildIrish