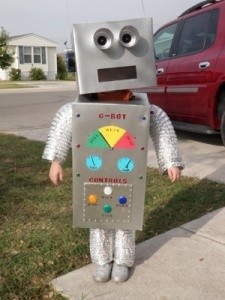 The body and head are made from cardboard boxes then wrapped with art paper to make the silver chrome paint more metallic. Head has a construction helmet (we duct taped the helmet in), making the inside fitted to head.
Eyes are plastic cups painted silver with lights inserted, mouth cut out covered with a black stocking, ears are cardboard cut outs with a blue reflector with coat hangers and a green foam ball tip.
On the Body: Meter on the front made from scrapbook paper cut to triangles (to form half circle) Gauges are just circles. We used clock hands as the working parts of the Gauges and meter. These are attached with brads painted silver.
Lights on the body are LED and chain connected with a push button at left shoulder. (You could also just small reflectors.) Meter lights are chain wired and connected to the emergency switch on the back. The battery pack is 6, 9 volt batteries with 20 feet of wire.
The control panel is made with a piece of cardboard and art paper. Spray painted silver and attached to robot with silver painted brads (to mimic rivets) the buttons are reflectors. The words on the robot are all scrapbooking letter stickers.
The arms and legs are silver dryer vent hoses. The arms are connected with silver duct tape on the inside arm holes. Legs are sewn to old shorts with fishing line. Shoes were canvas slip on shoes. We found ours at family dollar and they light up. We spray painted them silver also. If you find white you could just dye them. We looked for silver mittens but could not locate them in TX, that would a great added feature.
By John
Ad
---
Feedback Forum
Feedback about this article is posted here. Want to contribute? Click above to post feedback.

By mara [5]11/09/2010
Adorable. Thank you for sharing.

By Samantha11/09/2010
This is really good well done!

By Mae Bartlett [1]11/01/2010
This is the best costume by far I bet your son just loved getting around in it. I hope you win for your creativity, so clever.


By John [1]10/28/2010
No, I'm not an engineer or an art teacher/artist. I am a stay at home Dad that love to build and fix things. As my wife says, I am very creative with my hands

By John [1]10/27/2010
Here is the back.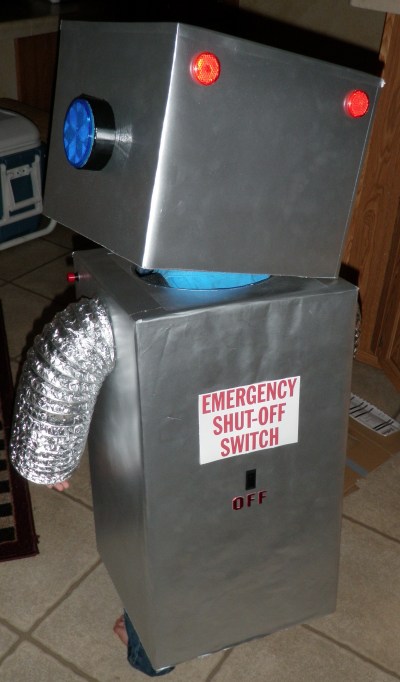 By John [1]10/27/2010
Here is a better pictures of the front.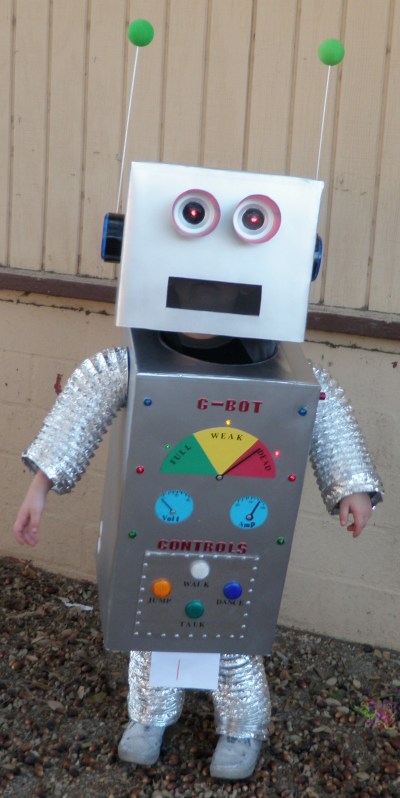 By JACKLYN10/27/2010
Wow, great! So cute. ;)

By susan winship [4]10/26/2010
Are you an engineer or an art teacher/artist? This is the best made/cleverest Halloween costume I've seen. Your son is a a lucky boy, you did a great job. Thanks for showing us.

By Stacey Silva [52]10/26/2010
That is absolutely awesome! So creative, beautiful, I just love it! That's the best robot costume I've ever seen! Even with working lights, wow!

By John [1]10/26/2010
Thank you all it was fun making it for Gavin. To answer the question about being able to see he is able to see even in the dark of hours. The best thing about him in this costume is he really assumes the rule of robot i.e. walking and talking like one he is a very smart 4 year old.

By Sharon [20]10/26/2010
Fabulous!

By Lee Taylor [10]10/26/2010
This is brilliant! Bravo!

By Lisa [2]10/25/2010
Excellent costume --I love your creativity! My only concern is how well your little mechanical friend can see while trick-or-treating in the dark . . . but I assume a grown up will be with him (?her?). Big thumbs up!
Post Feedback
Add your voice to the conversation. Click here to share feedback.