Father's Day Craft Ideas
I'm looking for a fathers day project that a 5 year old girl and a 12 year old boy would enjoy doing together. For Mother's Day we did the stepping stones and they turned out great but I'm stuck for dad. Any ideas?
Irishmcfly from Pasco, WA
By irishmcfly
Answers: Father's Day Craft Ideas
Read answers for this question below.
camp fire logs
RECIPE INGREDIENTS:
2 pound cakes
2 1/2 cups chocolate frosting
1 cup plus 2 tablespoons white frosting
12 to 15 glazed chocolate doughnut holes
Confectioners' sugar
Red and orange decorators' gel
Red, orange, and yellow fruit leather
Scissors
1. With a knife, shave the square edges off the cakes to give them a log shape. Next, mix 1/4 cup of chocolate frosting into 1 cup of white to make a light tan. Place one log on a platter (a dab of frosting on the bottom will help hold it in place). Frost it with the chocolate and tan frostings as shown. To create bark and tree rings, scrape the tines of a fork across the chocolate frosting, then scratch a spiral into each tan end.

2. Pour the doughnut holes into a bowl and sprinkle them with confectioners' sugar. Arrange 10 doughnut-hole embers in a single layer next to the frosted log, sticking them in place with frosting.

3. For the branch stub, cut a 1-inch slice from one end of the second log and trim it into a 2-inch circle; set the piece aside. Frost the bottom of the log and set it in place as shown. Use frosting to stick the stub to the second log. Create bark and rings again.

4. For flames, take a piece of fruit leather and, with the backing still in place, lightly wet half (lengthwise) of the fruit side with water. Fold it in half lengthwise and press to seal. Cut out flame shapes with scissors as shown, then remove the backing.

5. Slice 2 doughnut holes in half. Put a dollop of the remaining white frosting onto the cut surface, then set a flame on top. Squeeze decorators' gel over the decorated doughnut holes, then set them on the platter. Use any remaining doughnut holes to fill in the gaps between the logs. Decorate them with more flames and gel, if desired.

source...familyfun.com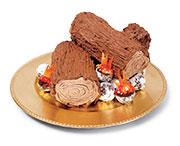 tee time cake

RECIPE INGREDIENTS:
1 cooled 9- by 13-inch sheet cake
green frosting
white frosting
blue decorators' gel
light brown sugar
1 cup of shredded coconut
6 drops of green food coloring
chopsticks
spearmint candy leaves
pretzel sticks
1 piece of paper
green decorating sugar
3-inch strip of fruit leather
mini jawbreaker or white Tic Tac or jelly bean
1. Bake and cool a 9- by 13-inch sheet cake. Dig out 3 shallow trenches (for the sand traps and pond) near the edges, as shown.

2. Cover the rest of the cake with grassy green frosting, but coat the trenches with plain white frosting. For the pond, top the white frosting with blue decorators' gel, spreading it with a rubber spatula or the back of a spoon.

3. Coat the sand traps with a layer of light brown sugar, packing it firmly to give them depth.

4. To make the rough, combine 1 cup of shredded coconut and 6 drops of green food coloring in a small covered container and shake it well. Sprinkle the coconut around the edges of the cake, avoiding the fairway.

5. For each tree, use a chopstick to poke a hole in the bottom of a spearmint candy leaf, insert a pretzel stick, and plant it in the cake as you see fit.

6. For a neat putting green, cut a 3-inch circular hole in a piece of paper or cardboard, then lay the stencil on the fairway and fill the circle with green decorating sugar.

7. To make the flag, wrap a 3-inch strip of fruit leather around a pretzel stick, pressing together the ends. Trim it into a pennant and set it on the green.

8. Finally, add a mini jawbreaker (or push a white Tic Tac or jelly bean into the turf) for a golf ball. Fore!
source..familyfun.com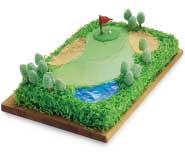 RECIPE INGREDIENTS:
9-by-12-by-2-inch cake, store-bought or homemade from scratch or a mix
Pastel icing the color of dad's favorite shirt
Cardboard shirt box (ask at the drycleaner's), lined with waxed paper
White paper for making a shirt collar and two cuffs
Colorful frosting for the tie
1. Bake a cake in a 9-by-12-inch cake pan, remove from the pan, cool, and place on waxed paper.

2. Start by lining a 9-by-12-inch cardboard shirt box with tissue paper. Cover with a larger piece of waxed paper and flip the cake over and set it bottom-up in the box.

3. Frost with a pastel-shirt colored icing. Cut a collar and two cuffs out of white paper. The collar is a strip, rolled into a ring and taped, with a small V cut out of the center. The cuffs are rectangles with candy cufflinks.

4. Add a colorful frosting tie below the point where the collar will be placed. Just before serving, trim away the waxed paper and add the collar and cuffs.

source...familyfun.com
Hey!!! I'm same here, but i think i'm gonna make him a paper tie with pictures and sayings. my little sister is gonna love doing that with me... well later and good luck!
How about a giant chocolate chip cookie? Spread your cookie dough in a pizza pan, then when thoroughly cooled after baking, you could write on it with spray can frosting "Happy Father's Day". The kids can help with the mixing of ingredients with your help.
How about t-shirts? A lot of people like to make shirts with handprints, but instead I use my boys artwork. You can buy markers, crayons, and paints made for decorating fabric and have them draw right on the shirt, or you can scan some artwork and print it out on special t-shirt paper for your printer (you just iron it on).

You can also make a photo calendar - no need to wait for January! Just start with the current month. For each month youc an either have the kids draw a picture representing something about that month (e.g. a halloween picture in October, a picture of them with their dad for fahter's day in June etc.) or have them dress up for each month and take a picture (get them in swimwear for summer, dig out the halloween costumes for october, put on santa's hats for december, wear something red for february valentine's day, you get the idea).

One other idea is to get some sort of container (a jar, box, whatever) and have the kids fill it with slips of paper that complete the sentence "I love my daddy because..." Then their dad can keep it at work or and whenever he needs a pick-me-up he can take out a slip of paper and read it.
How about making a coupon booK?
they can each make their own coupons for Dad (such as walking the dog, mowing the lawn,washing the car, or one for a hug or 'bring a glass of iced tea' for the young girl) They can each make 5, say, and decorate their own and think of their own things they can do that Dad would like (one my Dad used to always ask for, "get along with your sister for a whole day")!
One year when my girls were smaller, I bought a t-shirt and fabric paints and each girl placed their hand print on the shirt and I wrote their name under each print. This was 7 yrs ago and my hubby still wears it!

Sheila In Texas
Questions
Here are questions related to
Father's Day Craft Ideas
.
Fathers Day Craft
I am looking for a good Father's Day craft for our fathers in our church. On Father's Day we honor our fathers with a small craft made by our preteens. I need help. We did the necktie cards last year.
By busdrivr from Clemmons, NC
---
Most Recent Answer

By kidosmom
05/11/2011
This is an easy craft. You need a projector, white paper and black paper and chalk.

You will have the student sit in front of the projector and it will put their image on the wall. Tape the black paper up and use the chalk to outline the face, hair.... and then they cut it out. They will place it on the white paper, turn it over so the chalk doesn't show and it can be framed. we did this with my son's class in 3rd grade and we still have his.
Answer This Question
Add your voice to the conversation. Click here to answer this question.
Related Guides
Related Posts