Solutions: Homemade Spring Wreaths
Read and rate the best solutions below by giving them a "thumbs up".
Great wreath project that can be varied for every season. This is a great thing to make with the kids.
Approximate Time: 1-2 hours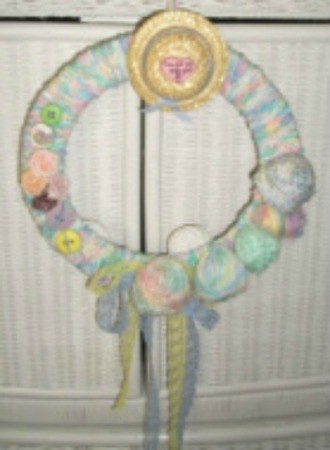 Supplies:
1 each 10 inch and 12 inch bowls to determine the diameter of your wreath
cardboard puzzle lid or any clean cardboard piece large enough
pen
scissors
yarn of your choice
1 size J crochet hook
embellishments
scrap balls of yarn
dual temp glue gun on cool
buttons
scrap lace and ribbon in at least two colors to compliment the yarn
Optional: Popsicle sticks and tape
Steps:
With the bowls on the cardboard, trace and cut for your circle. If you want larger circles, use larger bowls but the width of the circle should be at least two inches. If your cardboard isn't super sturdy, simply tape or glue some Popsicle sticks to the back.
With the choice of yarn, make a chain about 20 yards long (I measure from my nose to the fingertips and that is just about perfect). If you end up with too much or too little, don't worry. If you have too much just cut and glue to the back. If you have too little, just insert your hook into the end of the chain and keep going. You can work in the tail when you are ready to wrap.
With the yarn chain in a ball, begin in the back and glue to the cardboard. Begin wrapping around it, gluing to the back every 4 or 5 wraps.
When you are finished, secure on the back. With the back to you, begin the same process with the ribbons.
With the front to you, glue on the buttons, embellishments, and small balls of yarn. As you can see, I added a small garden hat, and you can "doll this up" as you see fit.
When you are finished, hang up for the world to see!
Now that you know how to do this, here are some tips for the other seasons.
For summer, I do Americana and you could put little flags, miniature fire crackers, and the like.

For fall, it's leaf colored yarn with pumpkin and leaf table scatter from the dollar stores.

For winter, it's all about the holidays. One year I made this with red and gold yarn then put on all plaid red and gold ribbon and big red and gold buttons. It looked really cute.
This is a great thing to make with the kids. It's about 1-2 hours.
So, there you are. Have some fun and let share your creation with us!

If you would like to see my new website, please visit me at miss-elaine-yus.com
By Sandi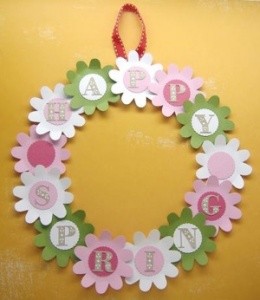 This pretty, handcrafted flower wreath is made from cardboard and cardstock.
Approximate Time: 45 minutes
Supplies:
cardstock; green, pink [light and dark], white
cardboard
Alpha stickers
ribbon
scissors
glue
finished size: 8 inch diameter
Instructions:
Cut out the circle with circle cutter or scissors from cardboard. Inside and out.
Use a template to cut flowers from green, light pink, and white cardstock.
Punch or cut out 1 inch circle shapes from white, and light/dark pink cardstock. Using the glue, stick the circles to the center of flowers.
Stick the flowers on the cardboard ring. Alternating colors as you go. Slightly curl up the edges of petals.
Affix "Happy Spring" stickers on the flower centers.
Put a piece of ribbon on the back to hang it.
By Maricel from Fairfax, VA
This cute wreath is covered with foam flowers and pink pom-poms for a quick and easy spring craft. It can be made as simple or as elaborate as the child's patience allows.
Approximate Time: 10 minutes
Supplies:
3-inch Wicker Wreath
1-inch and 2-inch Foam Flowers
1/4-inch Mini Pom-Poms
Glue Stick
Instructions:
Decide how many flowers are wanted on the wreath.
Take a pom-pom and smear some glue on the back. Stick the pom-pom in the middle of a foam flower. Repeat process for each flower. Give a few minutes for the glue to dry if possible.
Apply lots of glue to the back of each foam flower. Press the flower carefully onto the wreath. Repeat process with each flower. Let dry.
You can stop the craft right here or make it even fancier by twisting a ribbon around the wreath and tying it in a bow at the bottom.
For fancier flowers, glue a pom-pom onto a small foam flower. Then glue the small foam flower on a big foam flower of a different color. Glue the flowers to the wreath and your done.
Note:
Use the easy pre-cut flowers from a craft store, or have the flower shapes already cut out. Do not try to have young children cut out the foam shapes themselves. The foam is much too thick and the task could result in injury.
By Aysha from Boise, Idaho
Share Your Feedback:
Once you try any of the above solutions, be sure to come back and give a "thumbs up" to the solution that worked the best for you. Do you have a better solution? Click "Share a Solution" above!
Questions
Do you have a question related to this page?
Photos
Here are photos related to this page. Rate the photos that you like the best.
Click here
share a photo.
Wreath for a touch of spring to match my country blue hallway. I took a heart shaped straw wreath, approximately 10 inches in size. I added some greenery and put them on with straight pins.
READ MORE