This little wooden bear has a magnet to be used for displaying a child's drawings. Made of wood, but this pattern could also be used with craft foam.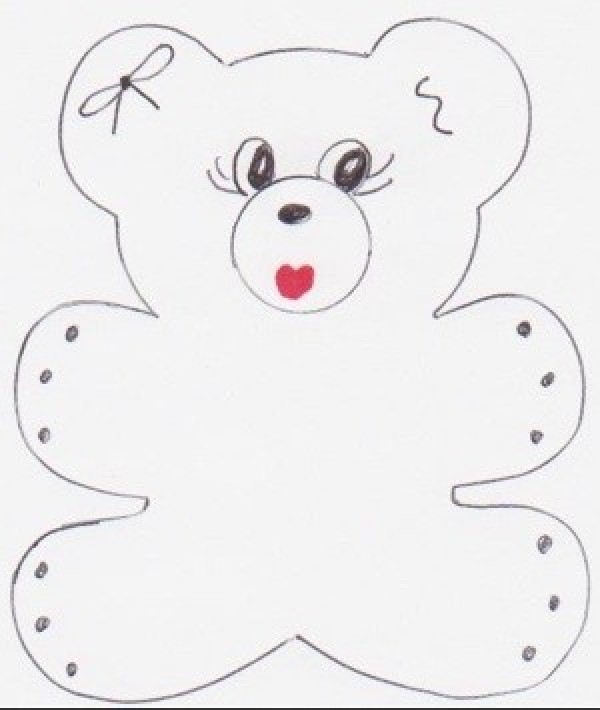 Tools and Materials:
scroll saw
black Sharpie
acrylic paints: red, white, and brown
scrap of ribbon
round craft magnet
Directions:
Trace pattern onto light cardboard, transfer to 1/4 inch plywood and cut with scroll saw.
Dilute brown paint: 1 part paint to 4 parts water. Dip bear into paint covering all sides. Let excess drain and wipe gently with a soft cloth.

Using the picture at the top of this page as a guide, draw the features with the black Sharpie. Use the Sharpie also to personalize with "See what ______ Did" or "See What ___ Made".

Glue a round craft magnet to the center back of the bear, and glue a small bow to the ear.
Use the red paint for the mouth and the white for the dot in the eye.
Use it to hold the child's artwork on the refrigerator. This is a craft that a child can help make.
An adult should cut the bear from the wood. Note: If you don't have a scroll saw, you could make this with a piece of art foam instead.
Use a toothpick dipped in the white paint to put the dot in the eyes.
By Harlean from Hot Springs, AR
The instructions are also in a PDF file for which you may need Acrobat Reader to view. Download Acrobat Reader
Click Here to download the Teddy Magnet for Fridge Instructions in PDF format.