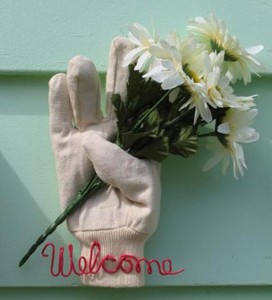 A welcome glove to greet visitors.
Approximate Time: One half hour or less
Supplies:
New garden glove
Sprig of artificial flowers or greenery
Soft covered wire
Needle nose pliers
Hot glue gun
Needle and thread
Polyester stuffing
Instructions:
Fill the glove with the polyester stuffing, making sure the fingers are well filled so they will remain upright.
Bend the thumb across the palm of the glove and secure from behind with needle and thread.
Using needle nose pliers, bend the wire so as to read "Welcome" the small letters being about 3/4 inch tall.
Center the sign and tack it to the bottom of the cuff in three places, using thread that matches the wire.
Make a thread loop at the back of the glove for hanging.
Stick the sprig of flowers through the thumb and hang the decoration near your door.
By Preserver from Winnipeg MB
I am looking for craft ideas to make with gloves, I have over 2 dozen that someone gave me. They are men's cotton/canvas gloves. Any ideas?

Terry in TX
January 6, 2005
0

found this helpful
Got an idea for you. Have you thought about donating them to a shelter of some sort? I bet this time of year they would love them. Or another idea is,,, if you have children or grandchildren, they love this idea..let them draw faces on the gloves with permenant markers, then turn the glove upside down, sprinkle a little seed in the finger tips, put soil in them, then a little more seed in the hand part, and more soil. Tie it off with yarn, and put a dall rod in bottom of it and stick it in the garden, it will bloom if kept damp! Small seeds such as rose moss really looks cute when they start to bloom. Sandy in Kansas
January 8, 2005
0

found this helpful
A pair if those gloves could be part of Next Year's Halloween Costume.
You could use them as oven mitts.
You could dye them and hang one of more on a wall full of artificial flowers.
You could hang one on a kitchen closet door with several screwdrivers and pliers in them.
By guest (Guest Post)
January 20, 2005
0

found this helpful
If you have any leftover wool (anything but baby wool, too thin) make some pompoms out of them leaving a long strand attached at the end. Then thread a darning needle with the long strand and seew them onto the palm and finger areas so it's quite fuzzy. Makes a wonderful duster or car washing mitt! Pick and choose your colors or all one color, doesn't matter but mixed is nicer.
February 8, 2005
0

found this helpful
Stuff the glove with cotton batting or old cut up knee highs or panty hose. Tie off the cuff with string or ribbon bow. Then hot glue 3 fingers down with hot glue,leaving index finger straight. Now tie a string around that finger as a reminder. Hot glue a small note pad to the palm of the glove.Add a pencil on a string to the thumb and hang it in the garden area, to have to write down suppiles as you think of them.You can sew a soda pop tab on the back to use to hang it or a loop of twine.
Also you can make hand puppets with them.
By guest (Guest Post)
April 10, 2005
0

found this helpful
Make an interactive cat toy. They sell these things for big bucks in pet catalogs. Try sewing long dangling kitty balls, pompoms, and strands of ribbon to the ends of the fingers. You can wear this and play with your cat.
By guest (Guest Post)
October 24, 2007
0

found this helpful
Make a Thanksgiving turkey. Make the fingers the turkey feathers, a pine cone the body, cut a red felt gobler and glue on pine cone along with some wiggle eyes and a felt beak. Lightly stuff the fingers first, can have kids paint the fingers/feathers. I gathered the wrist with a rubberband and spread the cuff over the pine cone. Use your imagination if you do it well enough you could take it as a hostess gift to whomever is cooking the turkiey dinner!
June 18, 2008
0

found this helpful
Why would you want to use them for crafts. Aren't they just fun to wear and touch stuff with?
Can anyone offer suggestions on decorating some rubber kitchen sink gloves? I would like to decorate with Malibu feathers and other things (similar to the gloves the BBC channel program English Cleaning women use). They would be gag gifts. Any ideas on materials and how to attach them? I would love to add a "diamond" to the ring finger. Thanks for any help.

Janet from Brant Rock, MA
By guest (Guest Post)
August 30, 2008
0

found this helpful
Hi, I've made these and had some problems. So when I showed my hubby, he told me to use rubber cement as it allows the rubber to adhere better. If it does get wet, it will stay on and it also allows for movement of the gloves. Here in the states we have dollar stores that you can get craft items cheap. I don't know about the UK. Hope this helps. d
August 31, 2008
0

found this helpful
just found these & remembered your post !
By guest (Guest Post)
September 1, 2008
0

found this helpful
Thanks Melody. That link is perfect.
September 3, 2008
0

found this helpful
I made a pair of gloves similar to what you're asking. I bought a "princess" set of jewelry in the toy aisle of the dollar store and rubber-glued the bracelet and ring on. (I also glued on fake fingernails! Just stuff the end w/ a cottonball)
By guest (Guest Post)
October 19, 2008
0

found this helpful
You are welcome! Do you have a pic of your gloves? I would like to see them!
October 19, 2008
0

found this helpful
You're welcome! Do you have a pic of your gloves? I would like to see them!
<b>Editor's Note</b> The link that you posted was not visible.
At one time I had the directions to make a turkey centerpiece using two or three sets of knitted gloves. You use small gloves. I believe you stuffed the fingers to form the tails of this turkey centerpiece. Using three different colors of gloves made for a colorful turkey. Any help you could give me would be appreciated. Thanks!

Mylene H.
By guest (Guest Post)
November 29, 2004
0

found this helpful
I know this is too late for this year but I just found this site today. This may be what you're looking for:
http://www.alma gloveturkey.html
I found it with Google, my favorite search engine, by searching on "thanksgiving centerpiece gloves"