For the favors we are getting small vases, without a ruffle around the rim, etching each with "Love is Always in Bloom", and then putting two red roses in each. Then as a finishing touch we are adding a couple drops of blue food coloring, to make the water super bright blue. Also I have to mention that our colors are red, white and blue.
The vases are about $1 each at craft stores and the etching serum is about $6-8 for a big bottle. We are having a small wedding, only 30 couples, so even if we gave every single person a vase, which we are not, it would still be under $100.
By Julie
Read 1 Comment
I am an artist, but not very wedding savvy. I am getting married in about a month. What is a party favor I can make that is creative and one that guests would be excited to get?
By arttist from IL
July 22, 2010
0

found this helpful
Stamping & scrapbooking stores sell "matchbook covers" that you decorate and fold up with a Hershey treasure, kiss, etc., They are easy, cheap and fun!
Related Content
(article continues below)
July 22, 2010
0

found this helpful
Perhaps a tiny terra cotta pot with a packet of flower seeds and another of soil (use craft store envelopes to subdivide.) Add a hand-written note like "As our love grows, so will these seeds," you get the idea (research quote websites). Wrap in cellophane or tulle. Best wishes!
July 23, 2010
0

found this helpful
There is a person in this same ThriftyFun newsletter, just below you, looking to sell some pretty heart candle holders. Contact her by clicking on her name (jessica) from Columbus, Ohio. You should also check out etsy. There are lots of artists who make handmade wedding things, that way you'd be supporting another artist. And congrats on your wedding!
July 23, 2010
0

found this helpful
I bought incense in bulk, in a neutral scent of "linen", bunched them together with a ribbon and added a small "thank you" medallion. They stood straight up in the metal container we used for the favors and comment/advice cards. They actually looked really good, and smelled fresh and clean! My point was finding something everyone can use without picking a gender, that's where things get expensive. The picture is really small, but you get the idea. Congratulations!
July 23, 2010
0

found this helpful
How about a magnet printed on the computer but adhered to the business card magnets, with a nice poem and your new address and phone number? Since you're an artist the design should come easy for you.
July 23, 2010
0

found this helpful
Or you could buy miniature bottles and do a "message in a bottle" thing by putting your appreciation to the guests on a paper along with your new address and phone number. This would be cute with a nice ribbon attached to the bottle. Best wishes.
What are some cute homemade wedding favors?

Magda Gonzalez from Sardis, MS
December 7, 2006
0

found this helpful
I like bird seed netted throws for the bride and groom as they are leaving. Bird seed is much better for the birds who help with making your clean up easy. Instead of the tradition rice that is thrown. I think a lot of churches require you use bird seed instead of rice. Or they may make you clean up the rice if you do use it.
Just use some small hole netting in a color that is in the wedding.
You can make your own alter bows too for in the chapel.
Just a few ideas...
~Wendola~
By guest (Guest Post)
Flag
December 7, 2006
0

found this helpful
For our daughter's wedding with a Christmas theme, I made about 260 4 inch stockings and added 1 kiss and 1 hugg type of Hershey kisses and a candy cane. We had a note saying that Kari and Matt were sending them huggs and kisses.
December 7, 2006
0

found this helpful
We gave Christmas ornaments. I like this idea because the guests know what to do with it. Each year that they decorate the tree they think of us. I made them myself. I took a plain ball and decorated it with a picture of us along with a verse(printed on the computer). I cut it out with pretty siccors, and punced the hole with a heart shape. I bought a bag of those fake wedding rings, and attacted them with ribbon. It was also a great night with my girl friends making them.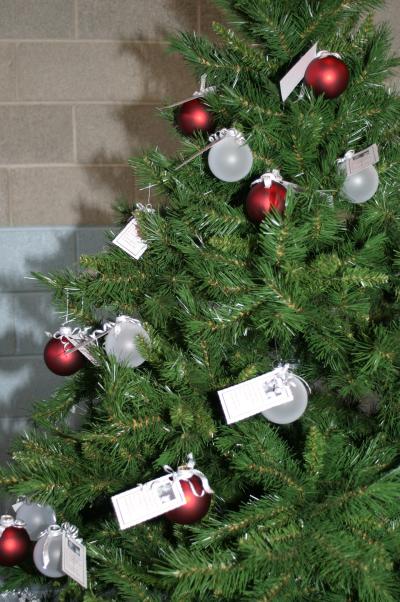 December 7, 2006
0

found this helpful
A friend of mine had friends over to help her put together little plastic bags with candies. They each had a Hershey's Hug, a Hershey's Kiss, and a Dove Promise candy in them. They were then tied shut with ribbon and a had a tag attached that read, "True love begins with a Hug, a Promise and a Kiss."
Alicia.
December 8, 2006
0

found this helpful
At a friend's wedding, they bought small white boxes and placed some cookies in it, tied with a ribbon and tag with bride and groom's names, etc. Each guest got one as they entered the hall. Since they were not at the table settings, no one could grab a few and leave other guests empty handed. Everyone had something to take home and eat later, and no one had to spend the evening filling up plates of cookies on the food tables. And best of all, no guests were able to load up plates of cookies to take home to the friends for the holidays, leaving the rest of the guests, who arrived later, without any.
By guest (Guest Post)
Flag
December 11, 2006
0

found this helpful
YOU WILL NEED PLASTIC COLORED SPOONS TO MATCH YOUR WEDDING PARTY.PUT HERSHEY KISSES COVER THEM WITH THAT MESH LIKE LINING IN A MATCHING COLOR.ATTACH A CARD THAT SAYS HEARTS FULL OF LOVE,SPOONS FULL OF KISSES,THANK YOU FOR COMING FROM THE MR AND MRS.
Read More Answers
I am getting married in June. I would like to make pinwheel lollipops as my favors, but I'm not sure how much one 12oz. pack makes.
By Bridgette M from Oakland, CA