I recently broke the bill of my friend's favorite baseball hat. Does anyone know where or how I can fix it? Thanks.
By Crystal from Sauk Rapids, MN
Ad
---
Recent Answers
Here are the recent answer to this question.

By rugbymetal05/22/2011
I have been repairing frayed bills for years with Elmer's Glue. This only works if the hats are slightly frayed. I do not have a good answer if they are severely torn. Basically, if the bill of the hat is frayed, you can put Elmer's Glue along the frayed parts and let it set up and dry overnight. Use your fingers to smooth the frayed pieces in line with the bill. The threads should harden in line with the plastic underneath. If you have excessive fraying, you can clean it up carefully by holding it over a sink (for safety's sake) and using a lighter to carefully singe down the fibers, and then apply the Elmer's Glue generously along the edge. You may have to repeat this process every few months.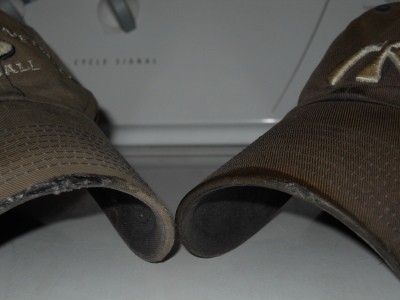 By mcw [80]01/27/2010
Call up a shoe repair shop and see if it can be repaired. My son had an Army ball cap which was his favorite. The stitching on the bill came loose and was falling off, and he had it repaired at a shoe repair shop.
Archives
Thrifty Fun has been around so long that many of our pages have been reset several times. Archives are older versions of the page and the feedback that was provided then.
I own a treasured Callaway baseball cap I've had for years, but recently made the mistake of washing it in the washing machine. Hence the frayed bill. Is there any business of sorts that can repair my frayed bill? Any new "Callaway" caps have a less of desired look to them. Please respond.
Thank you,
Smokey24 from Walnut Creek, CA
---
RE: Repairing a Baseball Cap
My son had an old Army baseball cap that frayed very badly. I took it to a shoe repair shop, and got it repaired. (07/31/2008)
By MCW
Answer This Question
Add your voice to the conversation. Click here to answer this question.