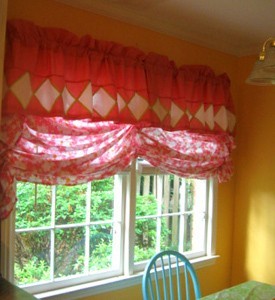 I've always had an unconventional way of decorating and this is just one of many examples.

This kitchen window treatment is actually a bed sheet topped with a valance. Table-cloths, shower curtains, and bed-sheets can all be used to create unique window treatments and doorway draping.

There's no sewing involved. Just a staple gun and an imagination!
By April from Albany, Ga
Ad
---
Feedback Forum
Feedback about this article is posted here. Want to contribute? Click above to post feedback.

By Lisa S. [2]05/24/2013
I never use the top flat sheet on my bed so when I buy sheet sets or a "bed in a bag" I always use the top sheet for a matching curtain.

By Corinne07/06/2009
How-to! I must know how :)

By Cathy [11]07/02/2009
Very impressive!

By Becky [1]07/02/2009
They look great!

By Jacquelyn Valentine [13]07/02/2009
I love this idea! My friend made her curtains from her mom and grandmother's old aprons. They were very cute, quaint and such a conversation piece!

By debbie clapper [13]07/02/2009
I used cloth napkins to make my dining room toppers. I just put 3 diagonally on the rod and pined a matching button in the middle.

By diane07/01/2009
Great idea! I've made valances out of dust ruffles for our bedroom. Never thought of using sheets in a kitchen window. Love the look! Thanks!

By donita [24]06/30/2009
This is so neat, never would of thought of this. I'm sure gonna try some on my windows. Thanks for the great info, do you have any ideas on blinds? I've seen them shades that pull up, they are pretty neat, thanks.
Post Feedback
Add your voice to the conversation. Click here to share feedback.