Took the dog outside for a late night walk and noticed the moon coming up. When I got outside with my camera, it seemed to be nestled into cedar tree branches. The sky had a deep blue appearance which set off the golden color of the moon.
By Ann F.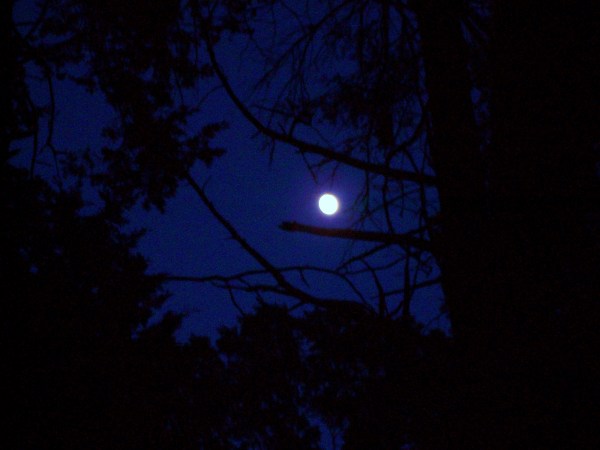 October 26, 2011
0

found this helpful
You've just put one breathtakingly beautiful picture in my head. Thanks. JPJ
Have you tried taking a picture of the moon after dark before? I've tried dozens of times but simply don't have, nor can I afford, accessories for my camera to be able to take a good clear photo of the moon after dark without the weird light streaks occurring :-(
But about a week ago there was a full moon and it was hovering behind a pine tree so decided to give it a try to see what would happen! It turned out awesome, in my humble opinion, because the tree branches were just enough diffusion for filtering :-)

By Deeli
Answers:
Scenery: Full Moon Through A Tree
Fantastic Photo. With all the "moon" song titles out there, I'll bet there's one that would fit this picture perfectly. Must give it some thought. Thank you for sharing with us.
(10/08/2010)

By Songwriter
Scenery: Full Moon Through A Tree
This a picture I took of the moon a couple of weeks ago. I used a tripod so the camera could not move, and with the telephoto lens, twilight setting and no flash, this is what I came up with. Best photo of the moon I have taken so far. Deeli, even the smaller digital cameras have more than a few settings. Check the owners manual, or just play around with the camera until you get the desired results. I did use a better camera for this, but I have had the less expensive ones too that could take nice pictures. Oh! I forgot to mention that I also enhanced the photo in Corel. Lots more detail showed up after I did that. (10/08/2010)
By Lsdy Harper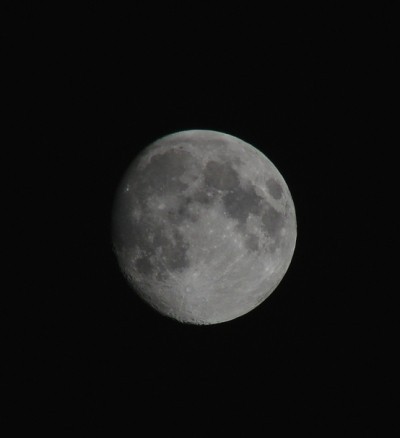 Scenery: Full Moon Through A Tree
Lsdy Harper, your detailed photo is awesome, and thank you so very much for your input, but that's not the effect I am trying for. I want the moon glow in the distant sky without the light distortion. Believe me, I know how to use my camera (having studied all 176 pages of the manual to learn how to use it, LOL) and I cannot afford a tripod nor the special lens filters. So 'through the tree branches from a distance' with what I do have to work with turned out pretty darn well. :-) (10/09/2010)

By Deeli
Scenery: Full Moon Through A Tree
Deeli, I only wish I could see this pic with my eyes rather than through your descriptions. I'm giving you a thumbs up, 'cause I know from the description, it's beautiful. (10/10/2010)

By JustPlainJo
Scenery: Full Moon Through A Tree
I love your pics. They are so very beautiful! A thumbs up for you. Gem (10/11/2010)

By maphisx7