Levii is about 7 months old and is part Siamese.
I got him from a family, whose home I visited, whilst picking up my daughter's step children. He was somewhat ill and seriously mistreated. I offered the lady (if that's what you can call her) 50 pounds for him and told her that if she sold him to me then I'd not go to the RSPCA. (I did though.) I then nursed him back to health.
He plays with anything small and chaseable... usually destroying anything which gets in his way. So far I have lost two vases, several cups, some ornaments, lots of cigarettes and too much to list!
His character is loveable when bed time comes around and in the evenings. The rest of the time he's a live wire, vocally intelligent which is probably due to the Siamese part of him (he asks for food and water and lets me know when the litter tray needs attention.) He is supposed to have pedigree breeding on his fathers side but it's not proveable. All of which is totally unimportant cause he's my baby and that's what counts.
=======================
This is Paul's cat, my friend. All the words have been written by him. I wanted to enter him as he is the most striking cat I have ever seen. (Notice the M he has on his forehead too?) Isn't he beautiful? I hope i will meet him myself soon.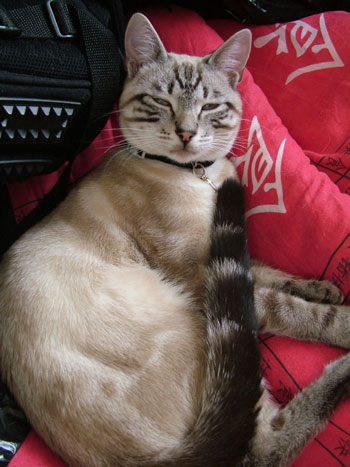 By Monique from Somerset UK