I'm almost ashamed to admit it but I have not been a frugal person most of my life. Up until 5 years ago, my husband and I both had great jobs and brought home more money than we really needed, however, we weren't really happy.
Our first step toward the life we have now was that we decided that my husband would quit his government job and start his own business, from desk job to manual labor overnight. We still have family members and friends that don't understand that decision. But Steve, my husband, has been so much happier without the stress, cubical, or back-stabbing environment that permeates so many office environments any more.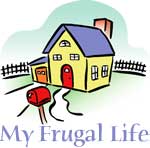 The next few steps were not ones of our own, but ones we dealt with. We suddenly found ourselves with two teenage girls living with us full-time. Then I found out I was expecting. As I made most of the money for the family, and money was much tighter, it was a concern. A few weeks after finding out I was expecting, I was laid off with only 6 weeks severance and no insurance. Now we were solely dependent upon Steve's salary. In 3 short years, we went from two people bringing home over 100K a year, to a family of 4-1/2 living off of about 1/3 of that. Talk about a quick lesson in humility.
Knowing I was unlikely to be hired while pregnant, I set about finding ways to help stretch the money coming in as far as possible and I was amazed at what I was capable of doing. Almost all of our clothes over the last few years have been free (from Freecylce or Craigslist) or I've bought at resale shops on their "sale" days. The only thing I've bought my son is diapers. His bed, clothing, toys, everything is second hand; and he couldn't be happier.
I've also became acquainted with bartering. When our microwave went out, I managed to barter for an extra one someone had. When our lawnmower broke, I managed to get us another one. I also found that a lot of the items my husband was removing from houses during his work were being sought by people on the lists I belonged to . . . so I started selling them instead of letting him throw them away. I found out about items I could recycle for cash or other items.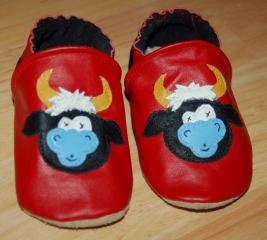 The really odd thing is that we have managed to pay all our bills and acclimate ourselves to this new way of life. By the time my son was born Steve and I decided it was better to continue to live this "frugal life" and let me stay home with my son than for him to be raised by others. As someone who has sewn off and on most of my life, I started taking in a little sewing here and there for some extra income once Will was old enough to have a set schedule. Not much, as I didn't want to infringe upon my time with my son. Everyone that would stop by the house would remark upon my son's shoes, which I made. On a whim, I put out an ad on Craigslist offering the pattern for sell and showing several pairs of my son's shoes. They were a hit.
So now not only do I have a frugal life, I have a small and frugal company of my own. I trace my patterns on free leftover newspaper ends I get from our local newspaper or copy them on a free copier I got off Craigslist on free paper that I swapped old ink cartridges for at Office Depot. Then I mail them off in FREE misprinted envelopes I get free from a local publishing house. If someone orders actual shoes, I make them from recycled leather I buy at resale shops on their sale days on a sewing machine that I bartered some clothing for with thread I received off of Freecycle. My business isn't big, because it isn't the most important thing in my life. It's more a byproduct of my frugal life.
mistymq from Buda, TX
Do you have a frugal story to share with the ThriftyFun community? Submit your essay here: http://www.thriftyfun.com/post_myfrugallife.ldml