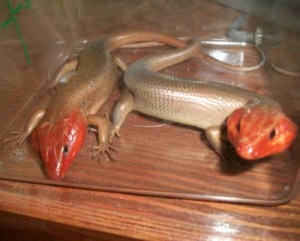 These pictures are of 2 red-headed (with greyish bodies) lizards that our Grand-Doggie found in north Florida when we were visiting our oldest daughter recently. When Sadie Belle finds something she is not familiar with, she will not hush until you go to see what it is she's found.
We believe the lizards were "courting", so they were easy to catch together long enough to take several photographs before we set them free to go on their "merry way." They had lovely sleek bodies which almost looked like scales, but were not scales at all. Pretty and shiny, and most definitely red-heads.
None of us had ever seen this type of lizard before. They are very interesting.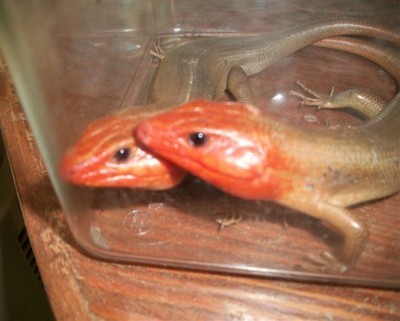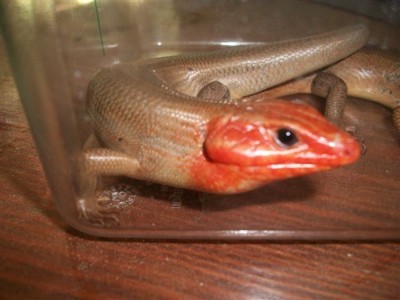 Editor's Note: If anyone can identify these lizards, please let us know in the feedback.
Ad
---
Feedback Forum
Feedback about this article is posted here. Want to contribute? Click above to post feedback.

By megjd06/30/2013
I have been in NW Florida for almost three years. I have a male and female living under a cement block in a rock garden right outside my front door. They have been here for at least two years. I see them mostly in the spring.

By air701105/29/2013
I have a large male in the back yard in northern KY. It is good to know what it is.

By Samantha M.04/29/2012
We found some lizards like that in Indiana.


By snoopydoobiedog02/14/2012
Just wanted to let you know that the two Broadheaded Skinks you have captured are both males. The females do not have the red face. Instead of breaking up a courtship as you thought, you most likely interrupted either a territory or mate dispute :) and I am very glad to hear that you turned them free after taking the photos. I have uploaded a male and female together which I took.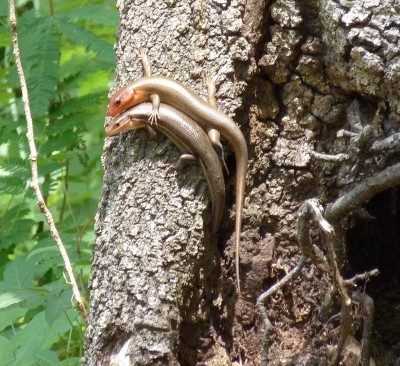 By brando thomas05/16/2010
I caught one that looks just like that. I saw my cat with it and took it from him. The red heads are male, and I think females have blue heads.

By Loretta [18]05/03/2010
"Eumeces laticeps" is the formal name for this species. I too find that it is the broad headed skink. I love to try and check, and double check things, rather than just parrot what I heard someone say, or think it is because I saw one once. They do appear to be in full arousal, so it is good that they were returned to "work things out".

By Clyde [1]05/03/2010
Very striking with those red heads. I've never seen
anything like them before. I think I would have
been afraid to do anything with them. I'm not
really afraid of the small green chameleons, but
these things look kinda fierce.

Interesting, I must admit.
Songwriter

By Lee05/02/2010
I've lived in Florida off and on a few times in my life, but I've never run across anything that looks even remotely like these two. Since you've determined they are both males, it makes sense they were probably fighting over a female who
was off lurking on the sidelines somewhere watching.

Too bad you didn't capture her as well just long enough to get her picture too. That would have really taken the cake. You might try submitting the photos to National Geographic or a Nature magazine. They are really very good.

Thanks for sharing them here.
Lee

By Dee [3]05/01/2010
I think they were just embarrassed that they got caught. ;)

By Marsha [1]04/30/2010
Most definitely, these are Broadheaded Skinks and they are often
found in the Carolinas. Great pics of them too.
Thanks for taking the time to share.
MisMachado

By meloney04/29/2010
They are very pretty. I bet they are both males.

By Julia [136]04/29/2010
Thank you Readingiggits.

You'd think I'd have seen them before since I've lived in Florida for all my 75+ years except for very short periods in other states (GA, NC and MI). Even more interesting now that we have your information about them. I think we have about every other type of lizard in Florida with the immigration of the wild iguanas which are all around us here in south Florida as well as the beautiful Cuban Anoles which are the prettiest shade of green, and look very much like the iguanas in size and body type.

We've seen the common small green chameleons, and the brownish ones which have an almost knobby -like skin resulting in the old folks calling them "Rusty Bobs". This red-headed dude is brand new to me...so I looked up all the information I could find about "skinks". They are definitely Broadheaded Skinks, but contrary to what we interpreted as acts of "Courtship", I think now they were 2 males fighting. Nowhere did anything I read mention a female having a red head...only the male, and only when agitated. So, I'm pretty certain now that they had to be both males in a highly agitated state as they would certainly have been if in the middle of a big fight.

We've never seen the Gray Fossil Site Symposium, but I'm going to find out more about that since we enjoy Animal Planet and The Discovery Channel. Anything about Nature and Animals. The new Nature Series on the Discovery Channel narrated by Oprah Winfrey is one of the best we've ever seen.

Thank you so much. Julia in Boca Raton, FL

By Nan Corpe [6]04/29/2010
I live in central FL and I haven't seen this color lizard yet. Some lizards can make pets very sick. I'm not sure if this is one of them. Cats and dogs will eat them sometimes. I have seen my cat with a lizard in her mouth. She stays on my front porch, but there are many lizards here. They eat bugs, so we consider them friends.

By lisa [3]04/29/2010
Broad-headed Skinks. Very common in the southeastern US.

There was an excellent program on skink ancestors at last week's Gray Fossil Site Symposium presented by Jim Mead and Blaine Schubert. Research suggests that the skink fossils found at the Gray Fossil Site may be of the same genus as the Broad-headed skinks you photographed.
Post Feedback
Add your voice to the conversation. Click here to share feedback.