October 27, 2008
0

found this helpful
Very thoughtful gift.
October 27, 2008
0

found this helpful
Great, thanks for the idea. I'm going to make one for Christmas for my niece.
October 27, 2008
0

found this helpful
Wow, how cool is that! Yes, make some more. Different themes might be cool, too!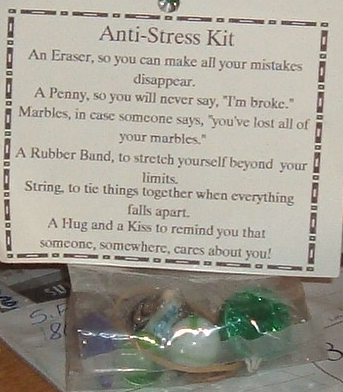 October 28, 2008
0

found this helpful
Thank you for the nice things you have said, I appreciate you taking the time to write to me.
Monique :)
October 28, 2008
0

found this helpful
The gift is a great idea. May I ask a question though? If your relative has left school in the UK at 16, how can they train to be a veterinary surgeon? My cousin is training in the uk also and she had to do A levels and go to university. I'm curious because my son would love to be a vet, he is in his final year at school age 16 but didn't think he could be a vet as he isn't very academic. His local animal practice said he could be an assistant but not a vet. Thanks in advance.
October 28, 2008
0

found this helpful
Great idea! Don't just give this type of gift to a gal but to guys as well. When my son went to Iowa State a few years ago, I sent a kit with him that had scissors, a few buttons, safety pins, assorted needles, threads and a needle threader. He turned out to be the 'go to' guy on his whole floor because he was the only one with that type of kit. He didn't do any mending for anyone else but he did lend his supplies and kept his own gear in good condition as well.
Another thing that I sent that your niece might appreciate when she is ready to live on campus at school is a kit with a hot water bottle, ice pack, asprin, bandages of different sizes, triple antibiotic ointment, mole skin, and whatever you might have on your first aid shelf at home that they might use at school. Their emergencies usually occur in the middle of the night after a game of broom ball or something else real "educational" when the first aid station is closed down.
November 1, 2008
0

found this helpful
One of these should be given to every kid who goes out on their own - college, own apartment, etc. It would help even more is somebody showed them how to use the stuff before they left home! I can't tell you how many people can not even sew on a button. It horrifies me. I had to sew on badges for a little girl in our Girl Scout troop because her mom can not sew. What? Make Home Ec mandatory - these are life skills people! I am getting carpal tunnel helping friends sew. I can not tell you how often I sew for my own family. I would be lost without this skill. It truly is a dying art - how sad.
November 4, 2008
0

found this helpful
One of my favorite jars to re-use, is a peanut butter jar. One chooses the size of the jar according to one's needs. What I like, is that the jars are plastic, see-through, and so, relatively unbreakable, and the opening is wide; easy to get a hand into. The larger jars are great for just abour anything, but I very much like the mending kit idea.
November 7, 2008
0

found this helpful
This is a neat idea...I'll be keeping this for further reference!
July 7, 2010
0

found this helpful
You have given me tons of ideas of things to put in jars as gifts!
I really hate using store wrapping paper and I am going to make a care package jar for my daughter also for Christmas with tons of cute toys in it!
Thank you so much for sharing!
Robyn
April 20, 2013
0

found this helpful
What a clever and thoughtful idea, very creative, it was one of those head slapping, why didn't I think of that moments. Thank you for this great post.