Clean and Green Bathrooms
There's two ways to add green to your cleaning routine, save money and save the planet. Get rid of those harsh and expensive chemical cleaners and look at a whole new way of cleaning the house. Start with what's probably the first room that comes to mind, the bathroom. Bathroom cleaners are expensive at nearly $5 a bottle or more. With one product for tub and tile, another for toilets, drain cleaner, shower head cleaner, and air freshener, you're looking at $30 or more for cleaning products in one room of your home. (Not to mention a cabinet full of cleaners.) Try mixing up your own batches of cheap, enviro-friendly cleaners that are light on the wallet.
Tile, Tub, and Sink
Ingredients: baking soda, vinegar
Cost: $1.50
What to do: Vinegar is your replacement for products like Mr. Clean. At $1 a bottle, it can't be beat and it cleans most anything. Dilute it with water at a 1/2 cup to 1 gallon mix (stronger if necessary.) If film is present in the tub rub the vinegar directly onto the film before scouring it with a sponge covered in baking soda. Rinse the sponge and use it to rinse away the surface.
Toilet
Ingredients: baking soda and vinegar
Cost: $1.50
What to do: Shake the baking soda inside the toilet bowl to cover it. Then, spray vinegar from a spray bottle onto the baking soda and wipe or scour with a toilet brush.
Drains
Ingredients: baking soda, vinegar, water
Cost: $1
What to do: Use often to keep drains clear before they clog. Pour 1/2 cup baking soda into the drain. Follow it with 1 cup of vinegar. Allow it to sit and foam for several minutes before flushing it with 1 gallon of boiling water.
Lime Stains
Ingredients: vinegar, paper towels
Cost: $1
What to do: Soak the paper towels with vinegar. Then, wad the towels and lay them on top of the stain or wrap them around the faucet which is stained. After an hour remove the towels and rinse the area.
Clogged Shower Heads - only use on metal shower heads
Ingredients: You guessed it! Vinegar
Cost: $1
What to do: Mix 1/2 cup vinegar into 1 quart of water. Remove the shower head from its fixture and place it and the mixture into a kitchen pot. Boil for 15 minutes. Compared to expensive CLR Cleaner, this is a deal!
Hard Water Rust Stains
Ingredients: vinegar, lemon juice
Cost: $2
What to do: Drip the vinegar or lemon juice directly onto the stain (use a towel to apply it directly if necessary.) Let it stand or hold it there until the stain disappears before rinsing the area.
You've probably guessed that vinegar is a key ingredient in cleaning most everything - my grandmother's been telling me this for years. Clear the clutter of your cleaning supplies and replace it with a bottle of vinegar, baking soda, and a few other kitchen ingredients and you'll have an environmentally friendly, hard working collection of cleaning products all for under $5 total.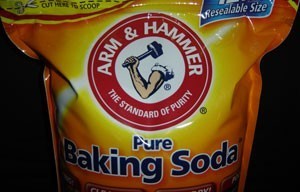 Add your voice! Click below to comment. ThriftyFun is powered by your wisdom!
Add your voice! Click below to comment. ThriftyFun is powered by your wisdom!
Related Content
In This Guide
Categories
Guides
More
Categories