My Frugal Life: ThriftyFun Tips
I want to share what I do in a normal day, which I have learned or adapted from this site, and also the Frugal Life Blog, which I read all the time.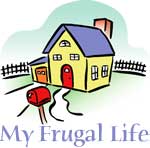 Here are the things I have learned, which have saved me lot of money, and helped me to lead a more frugal life, which brings a lot of happiness to me for some reason.
Salt sprinkled on the floor and under sheets will kill fleas and get rid of them on the carpet and out of your bed and couches etc.
Nonstick spray kills kitchen ants and I am going to buy a can for the bathroom.
Listerine is a safer hand sanitizer than the alcohol stuff you buy at the store. I keep it in a spray bottle in the bathroom and kitchen.
Vinegar is great to clean with, it disinfects.
It is good to carry wasp spray if you are going to be alone in a dark alley, it travels further than mace. (eww)
Wipe the dogs down with a wet cloth to keep their skin happy, every so often. Brush them everyday. Sometimes I will put a little apple cider vinegar in the water. I wet the rag to wipe their coat down to their skin with, so that they have the benefit of having that on them.
Wet food is better than dry food for cats. If they don't get enough moisture, they will get crystals in their urine and have problems.
It is good to supplement a pet's diet with chicken, I cook it, every so often, since the normal priced food has just by products for the most part in it.
Honey makes a good rooting starter.
Using a large plastic black round trash container and putting a wood top on it makes a table that can be hidden with a table cloth and this stores all sorts of things in it, before I was using boxes. I stored the Christmas Tree in one of these this year. I don't always put the toppers on them, but I could if I wanted to.
A two dollar carpet remnant at the dollar store is the same as one of those cardboard scratchers if you invert it, and turn the carpet side down. They like to stick their claws in the rough carpet back and they get a lot of use out of it. They also like the carpet side too. I either lay it down upside down or roll it and tie it against something for them to scratch on.
A box of baking soda in the bottom of the cat litter box makes the litter last longer.
Rubbing a dog down with a dryer sheet helps it not get scared of the thunder if the problem is static. Don't get bit doing this, though. LOL
Marigolds and chamomile make cats not dig in the garden.
Plastic over the windows, rather than blankets saves electricity.
Lice: Washing with Joy or Dawn and then rinsing with vinegar helps kill the lice, and then lice combing every day for two or three weeks does the trick most of the time. They are so easy to spread from child to child.

It is easy to find them if you put conditioner or oil on their hair and look for them, also this works for fleas on animals. I use this for kittens that are too young for flea product and also they like the be wiped down with aloe baby wipes as they like the smell and it keeps them clean especially when bottlefeeding.

A small amount of warm water in a bottle, will ease colic or help a gas bubble to emerge one way or the other. It is amazing how it works but it does. Works on teenagers and adults too.
I like to hide a small finger bowl or shot glass half full of vanilla or nutmeg. It makes the room smell good. Sometimes I just light a match and let it burn for a few seconds and then blow it out and let the smoke clear the air. It is amazing how that works.
Looking up magazines I like online saves me having to get a subscription for them.
Mopping the floor with apple cider vinegar and a wet mop gets buildup to leave and disinfects the floor. I use this to mop the floor with all the time.
I have saved money countless times by asking people on this site what they think of a certain product. If they say it is a waste of money, usually they are right.
I, in turn, put on this site things that work for me, as a way of giving back to others for helping me with their tips.
Teenagers and snacking: Keep oatmeal, potatoes ,etc; whole foods that are good for their growing bodies and not chips and cokes, although these fun foods are fine in moderation.
I got a four hundred dollar ferret cage, used, free from freecycle.org and I learned of it from ThriftyFun.com I have since recycled tons of clothes, etc. and given it to people in need.
This is a fun free way to learn and great entertainment too, I love reading about people's pets and their lives!

Also, can someone please tell me why these silly bands are so popular? The kids have gone crazy over them.

While I am thinking of rubber bands, a rubber band on a pen or pencil will keep it from rolling off the desk.
Do you have a frugal story to share with the ThriftyFun community? Submit your essay here: http://www.thriftyfun.com/post_myfrugallife.ldml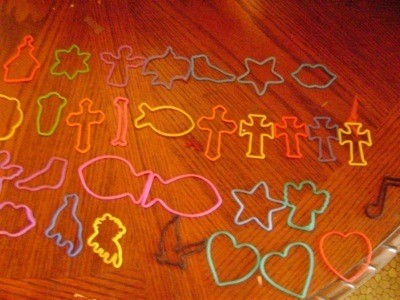 Add your voice! Click below to comment. ThriftyFun is powered by your wisdom!
Add your voice! Click below to comment. ThriftyFun is powered by your wisdom!
Related Content