I live in a old trailer that doesn't have heat. We have space heaters but can only run one at time or it throws the breaker. It's only really cold about 2 months out of the year here but is there anything else I can do to help warm the place up? Thanks for any help.

Tina from Florida
By tia
Ad
---
Recent Answers
Here are the recent answer to this question.

By Kelly Penny [4]12/30/2009
I also live in Florida. We have plastic on the windows, the kit at walmart is 9.00 and you use the hairdryer to shrink it to the window. Undo the vent for dryer and we put a knee high stocking on the end. We keep our trailer cool and wear more clothes to keep warm. Also we boil spices on the stove, and it keeps it warm as well as making it smell good.

By Cathy [8]12/30/2009
Two trailers near us burned to the ground this year right before Christmas. One fire was due to a kerosene heater and the other to faulty electrical wiring. Please have your wiring checked before you do anything! Also, heat rises. Our friends had the roof of their trailer insulated and shingled and they said it helped tremendously with the heating bill.

By Michelle P [3]12/23/2008
We lived in a trailor here in Ohio for several years and one of the best ways and cheapest ways we found to heat up a room and still do, after we had made sure to have either plastic or heavy curtains/even blankets as curtains on our windows. Was to use 3 or 4 wick candles from Wal Mart or where ever you can find them at the cheapest price. PLEASE make sure to only use this idea if you are going to be home. In a small room we would use 1 candle but in a larger room we would use 2-3 candles. At $5 dollars a piece and lots of burning hours it is a cheap source of heat. I also heard if you put a terra cotta pot upside down above the candle the pot will hold the heat and make like a small heater. I am not sure how you might make this but someone out there might know of a way. God Bless, Good Luck and stay warm and safe!!!

By badwater [242]12/06/2008
Put up skirting around the base of your trailer, all the way around it, not leaving any spaces, cracks, etc. This made all the difference in the world on our modular home, after moving in, in October, several years ago. Our electric bill was much lower after we did this.

By Tommy11/25/2008
A small kerosene heater would work and there are many on ebay.

By Diane (Guest Post)11/22/2008
Window plastic will help, but try covering the entire window frame; that's usually where the air leaks are.
Your oven is probably propane, so it won't blow the circuits. Baking or stovetop cooking will warm up the house, too, and is an energy-efficient way to heat the house because you're killing two birds with one stone.
If you have an electric clothes dryer, you can buy a vent that will allow you to blow the hot air back into the house. They cost about $5 at your local hardware store.


By mklema92658 (Guest Post)11/22/2008
Don't forget the option of battery operated socks!

By k lewis (Guest Post)11/22/2008
In addition to putting plastic up over your windows, go to your local thrift store or church sale and see if you can find heavy insulated drapes for your big windows and sliding glass doors if you have them. It definitely helps keep the warmth inside. Also, make sure you're blocking the drafts from your doors. Good luck!
By Sandi/Poor But Proud [429]11/22/2008
Watch out for steam in the rooms. This will create mold. Definitely seal and cover the windows. If there is a crawl space, have someone check the belly board. This is the central support under your floors that holds what is left of your insulation. If the spaces are open, most likely critters have eaten away at some of it.

Yes, check the wiring. If it's old, you are not safe. Electric blankets help at night, and cost pennies per night to run. If you are heating with space heaters, make sure they are blower and not radiant. That kind are fire hazards, and inefficient.
I kept a 3 room quanset house in Fairbanks, AK warm all winter with just two heaters. They were the kind that warm and recycle oil, that are tip proof (turn off when tipped), and are very efficient. Good luck!

The photo I enclosed is for a Honeywell, and is only 49.00 on line, but there are other brands you can get at walmart for about 39.00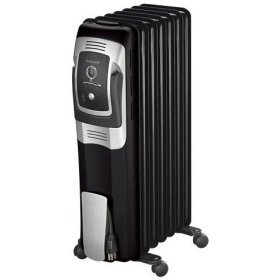 By Peggy (Guest Post)11/21/2008
If you have a oven you can turn your oven on and open the door if you only want to heat certain rooms close off rooms you don't want to heat, if you have a hall you can put a blanket up over the entrance to keep heat from going there.

By Paula Jo Carr Mebane, NC (Guest Post)11/21/2008
We too live in a 16 x 80 mobile home near the NC mountains.

I boil water in the kitchen. The steam helps to heat the center of the house and I have steam vaporizer's running in each end in the bedrooms.

Our electric bill is no more then $18 a week ($72 a month) and the whole house is electric PLUS we have an outside yard light & a shed with our freezer in it. Good luck!

By Janet [7]11/21/2008
In Louisiana, a lot of people had window a.c. units that could also provide heat.They were a little more expensive then just a plain a.c. unit. I don't know if this will help, but I thought I would mention it.

By (Guest Post)11/19/2008
Caulk around windows. Place plastic on your windows to keep drafts out and place a fleece blanket (or material), over that(or any warm blanket or material). Kerosene heaters are an option.


By Judi [17]11/19/2008
You could cover the crawl space if it's open. I've seen bales of stray lined up along the edges to keep out drafts. Also put plastic over the windows. Obviously close doors to rooms not being used.

By Heather Krucker [10]11/19/2008
I just reread your request and is sounds like you need to get an electrician. Plugging in two heaters shouldn't throw the breaker. Wires have to be checked and possibly you might only need a higher amp circuit breaker.



By Heather Krucker [10]11/19/2008
We live in Florida too...the rooms with the most windows are our coldest. Cover them well. We only use the heat at night and then I keep the house closed up for the rest of the day and it stays cozy.
Answer This Question
Add your voice to the conversation. Click here to answer this question.