Walmart Paint-a-Mug Kit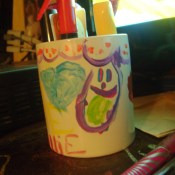 My daughter received a kit from Walmart where you paint a mug. Here is a picture of what she painted. It is so cute. I see that it is a great craft kit.
I am thinking of doing one myself and, of course, as gifts for others.
By Robyn Fed. from Tri-Cities, TN
Feedback
Post Feedback
Add your voice to the conversation.