I have a silk wedding dress. How should I get the wrinkles out? Has anyone done this before?
By Vanessa from Halifax, NS
Ad
---
By Edna Raisor 35 03/31/20110 people found this helpful
I was surprised when I took my daughters wedding dress to the cleaners. They told me it could be washed in the washing machine. Now, I'm sure you need to look at the material of your dress to make sure it can be washed. I used cold water and then hung her dress to dry. It turned out beautiful!Her dress was a heavy satin fabric with lots of appliques on the bodice and train. That hint from the cleaners saved me quite a bit of money. I'm really not sure if it would help take the wrinkles out of lace though.
By Joan 13 1,482 03/31/20110 people found this helpful
If you are going to wash a wedding dress you have to be sure it isn't going to have to be ironed, because depending on the fabric that could be a lot of work. I might add the style of the dress could be a lot of work too. My opinion is that for something that important it would be worth it to take it to a professional.
Archives
Thrifty Fun has been around so long that many of our pages have been reset several times. Archives are older versions of the page and the comments that were provided then.
Can anyone tell me how I can safely and effectively get the wrinkles out of this myself? It's satin peau (I think I spelled that correctly). Also, some of the petals on the flowers are bent, I need to straighten these. My wedding is in just a couple weeks. The gown is too long to hang in the shower, would an iron ruin it?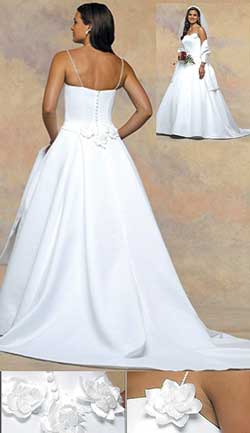 Shelley from CO
---
RE: Wrinkles on My Wedding Dress
My dress was wrinkled pretty badly too. I had a travel size steamer, didn't do me any good whatsoever. I ended up ironing it. Just use a low setting and put a thin towel between the iron and the dress. It should be completely fine. If you're not sure, contact a professional seamstress first. (05/11/2006)
By Shannon
RE: Wrinkles on My Wedding Dress
Try ironing on a low setting. If that doesn't work, a dry cleaner or tailor can do a "press only", without cleaning it. (05/11/2006)
RE: Wrinkles on My Wedding Dress
I heard it is bad to use a hand held steamer, that they drip on the dress, thus making water stains. (05/11/2006)
By Glinda
RE: Wrinkles on My Wedding Dress
Most people don't know this, but satin is a weave not a fabric. You can have a silk satin, which is pure silk fiber in a satin weave. This is what most people call "silk". What is referred to as "satin" is actually polyester in a satin weave! Most irons have a polyester setting.
I design bridal gowns for a living and often iron gowns. I have even ironed silk though I wouldn't recommend it. For satin, use a lower setting and take your time. I recommend ironing the dress inside out so that if you do mess up it's inside the dress. If the dress has a fair amount of shine to it and you don't want to chance losing the shine, either iron inside out or place a towel on the dress and iron through the towel. (06/13/2007)
By Crystal
RE: Wrinkles on My Wedding Dress
My dress had a silk organza overlay that wrinkled terribly. We had good success using a steamer filled with purified water. (06/06/2008)
By sigma28
I have a wedding gown that is mostly lace. It is very wrinkled, it was bunched up and stored. I have a sister that wants to use it. How do I get the wrinkles out of the lace? I am looking for home remedies. Also if we need to do any cleaning, I would appreciate any tips you may have.
By Helfer from Elmwood Park, IL
---
RE: Wrinkles on My Wedding Dress
Steam would be my best guess. Do you have a steamer? Hang it near a hot shower if nothing else would help. I traveled to Vegas with my dress and my girlfriends little steamer did miracles as mine was all lace. It was beautiful. Good luck to you both! (12/27/2010)
By msburny
RE: Wrinkles on My Wedding Dress
Wedding dresses are expensive. Spring for a professional cleaning and pressing. It will still be way cheaper than a new dress. Also, always have a garment cleaned before storing it. (12/29/2010)
By lindal
RE: Wrinkles on My Wedding Dress
For cleaning, pros use Orvus available on the internet. (12/29/2010)
By muttmom