Craft: Plastic Bag Holder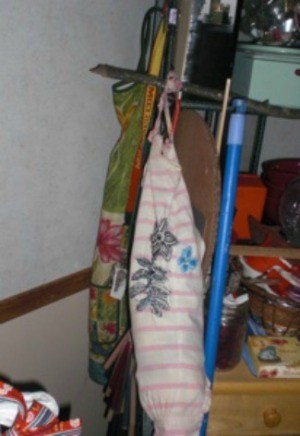 Make a plastic shopping bag holder from a shirt sleeve. This one was my mom's (gee! she would be so proud of me!)
From other items of her clothing, I cut designs and stitched them on. I used part of the blouse for the hanger cord and attached it with 2 mini fabric yoyo's. (Near the bottom you can see it is a sleeve).
Now we have even more fond memories in the kitchen of mom. Thanks Mom!
By melody_yesterday from Otterville, MO
Feedback
Read feedback for this post below. Click here to post feedback.

By
11/30/2009
We did a similar thing with a pants leg from a pair of jeans that lost their bottom around the pockets. We actually split the pants in half, used a rope through the belt loops to sinch the top together and hang it by. Used a thick rubber band around the bottom. We load the bags through the hole in the top side where half the zipper is and we pull bags out through the bottom one at a time as needed. The rubber band gives a little bit which makes the bags come out fairly well.

By
10/01/2009
Hi Loretta,

I use cotton dolls and add material to them. I sent in the "bag lady" directions awhile back. These are so welcome by everyone!

By
09/29/2009
I made this earlier this summer & forgot about it being a simple craft! Thanks for reminding me! It was my mom's old blouse. I used other items of hers & cut applique' & hand stitched it on. Another piece of the blouse for the hang cord & 2 mini fabric yoyos holding the cord.

Post Feedback
Add your voice to the conversation.
Related Guides
Related Posts