Feedback: Discontinued Wallpaper Forum
Norwall Border ZW74507
Norwall Border. I'm looking for Norwall border, similar to ZW74507 but it seems like an older addition where the animals spots are red and not brown and the blue background is darker. Please, if anyone can help me... Thanks.
Efrat efrat.toury (at) comverse.com (09/21/2007)
By moderator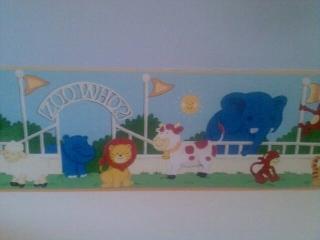 Home Trends Wallpaper Border
Looking for 2 rolls of wallpaper border; by Home Trends; which is no longer available. This came in 5 yards per spool,5 inches in height with burgandy border. Bears are on this with houses, baskets, hearts on top by the burgandy border (friends gather here). I am in Tunkhannock Pa as I'm requesting trying to finish a room for my sister who has uterine stage IV cancer . This would mean a lot to her to have this completed before her end. I believe she bought this at a wal-mart or target. I have looked everywhere and have run out of places to look. Thanks for any help.
Cherie from Arlington, Texas
2cweavers (at) sbcglobal.net (09/21/2007)
By moderator
Seabrook Sunny Tuscany #ST50307.
I am searching for the discontinued wallpaper Seabrook Sunny Tuscany #ST50307.
Margaret from McKinney, TX
margaret_reynolds AT Yahoo.com (09/21/2007)
By moderator
---
Discontinued Wallpaper Forum
We get a lot of requests from readers looking for wallpaper that has been discontinued or is just hard to find. Feel free to submit your request for wallpaper in the feedback forum below.
Here are some good resources for finding Wallpaper. Please try here before posting:
Discontinued wallpaper and borders starting at $3.99
For New Wallpaper and Borders try:
DecorateStore.com - over 500,000 wallpaper, borders and murals. All new trends & brand names.
American Blinds, Wallpaper & More
Also Cheryl, a reader recommends checking out www.decoratetoday.com. They carry a lot of brand names and should be able to help you find that paper that you need. They have a personal assistant that will answer your emails if you write to them.
Posting Email Addresses:
If you want to post your email address, we recommend posting it like this... name (at) domain (dot) com so that spammers don't dredge your email address from this webpage.
Responding to Requests:
If you have some information about where a person can get a particular kind of wallpaper or have some for sale yourself, feel free to post that information below.
---
RE: Discontinued Wallpaper Forum
Hi, I'm looking for 2-5 double rolls of a fruit pattern - "The Art of Cheri Blum, Vol. II" Page 136, pattern BL20001 or BL20001X. I have Run 7, but will take what I can get. Thanks. johnacraft AT johnacraft (dot) com (02/18/2009)
By John
RE: Discontinued Wallpaper Forum
England UK! I am looking for Regency Stripe vinyl ready pasted wallpaper by Crown Sapphire pattern number 85479, predominately red stripe with narrower green and gold/beige stripes, it's got a moire effect embossing on it. It's quite old now, but I am desperate to get some more of this terrific timeless pattern. I hope someone can help, e-mail please to coatcheckcop at yahoo dot com. I hope to hear from someone, naturally I will pay postage costs from all over the world. (the paper was originally made at the Crown factory in Lancashire) (07/20/2009)
By coatcheckcop
Need Waverly Rustic Life Toile Hunter Green
Looking for 1 or 2 rolls of Waverly Rustic Life Toile wallpaper in Hunter Green/White background. (08/23/2009)
By BNordin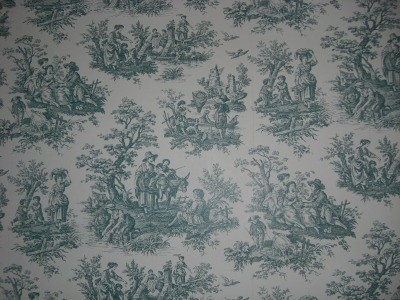 RE: Discontinued Wallpaper Forum
I'm looking for discontinued wallpaper border made by Teamworks. It's BA4553 chalkboard border that's green with football plays. Help! (11/27/2009)
By pcjames4
RE: Discontinued Wallpaper Forum
I am looking for one roll or partial roll of Mirage design # 912-85783 wallpaper. If you have some, please E-mail me at bcostello at metrocast dot net. (04/17/2010)
By bcostello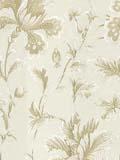 RE: Discontinued Wallpaper Forum
Does anyone have (or know where I could find) the following pattern #BA129922 from the book, 'BAMBINO 2005'? If so, please let me know! I'm looking for one double roll! Thanks.
Steve Email: SPB60515 (at) yahoo (dot) com (06/09/2010)
By spbetz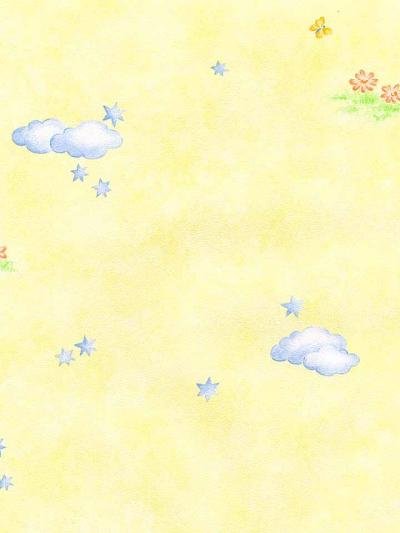 RE: Discontinued Wallpaper Forum
I am looking for a very old (maybe 20 years) wallpaper. I would like to have all I can get. The background is cream (rather than white). I think it was made by Penn Wall. Possibly named "Country Stencil" Please help! (07/14/2010)
By julinesse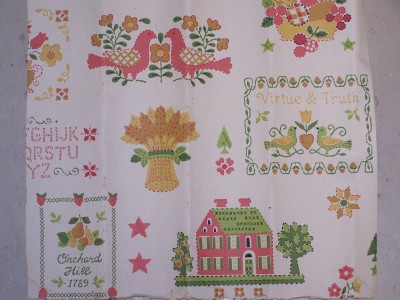 RE: Discontinued Wallpaper Forum
My mother, who passed away 16 years ago. She had applied this wallpaper in the bathroom of a lake cabin we have. It's the only remaining sign of her presence in this house and I'd like to keep that memory alive. As you can see, it's peeling badly and I'd rather replace it than try to repair it. Any help in finding this pattern would be greatly appreciated. (07/28/2010)
By mbongiov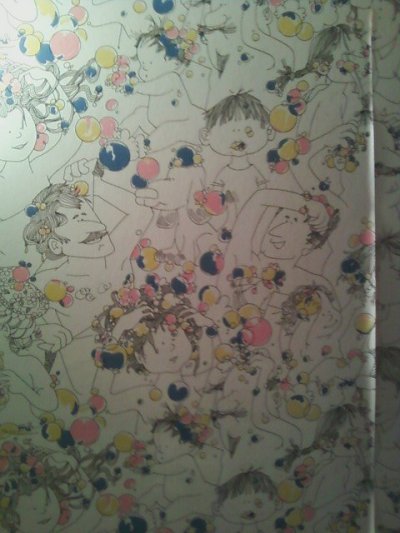 RE: Discontinued Wallpaper Forum
Can anyone tell me how to find a discontinued wallpaper from the J. Chesterfield book "Fresco," pattern #FE 6910? I found it on one website, but am reluctant to order from there because the website is so unprofessional. I chose this a few years ago for my entryway and staircase, but couldn't afford the project till now. So disappointing! Thanks. (08/21/2010)
By MamaBun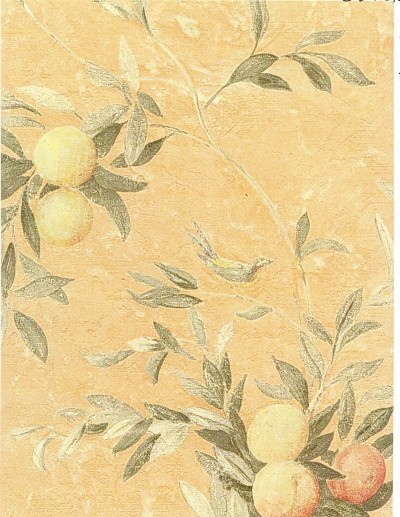 RE: Discontinued Wallpaper Forum
Help! I'm desperate to find at least one roll of this gold vinyl wallpaper made by Vymura from the late 1970/80s. No idea of the name, but here's what it looks like: (11/13/2010)
By bulbneck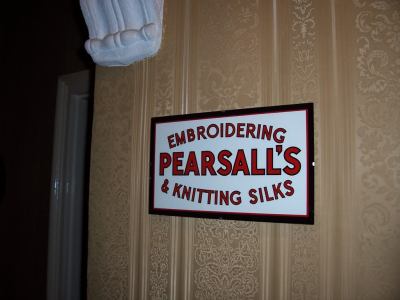 RE: Discontinued Wallpaper Forum
I am looking for 5 double rolls of Ralph Lauren Highland Manor pattern # LCW40570W. (01/30/2011)
By suest
Add your voice to the conversation.