Can I Use a Plastic Coffee Container for a Birdhouse?
Could an empty 2 pound plastic coffee container be used to make a bird house? How could I do it?
Judy R. from LeRoy, NY
By birdwatcher
Answers: Can I Use a Plastic Coffee Container for a Birdhouse?
Read answers for this question below.
here is another pic. The front came from a thrift store but could be easily made with a jigsaw and a dremel for the detail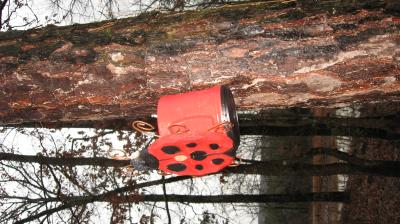 Here's my ladybug birdhouse. The only mistake I made was putting the hole too high. I will fix it, make it about two inches from the bottom of the can so the babies can hop out easily. I like to be able to pop open the bottom and use that for clean out.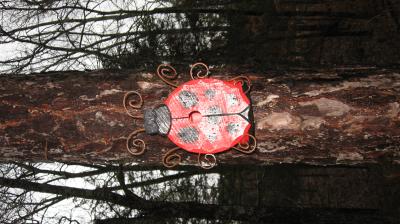 A paint called Gripper is one of the greatest inventions on the planet. Glidden makes it. Put gripper on anything and you create a surface you can paint on. Lisa
Instead of painting the plastic containers, I use an indoor-safe paint stripper to remove the "labels". Just brush on a thin coat, wait a few minutes and then wipe off with paper towel, followed by a hot soapy wash.
On a related topic: Is there some kind of paint that will stick to those clear plastic instant coffee jars? I thought of decorating them with contact paper, but the problem there is; how to apply the contact paper evenly around the curves at the top of the jar.
Yes, Yes. I paint them put hole in the lid hang up under our carport and we have Carolina wrens every year nest in them.
Answer This Question
Add your voice to the conversation. Click here to answer this question.
Related Guides
Related Posts