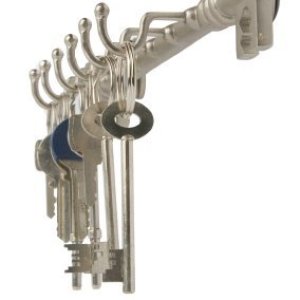 Lost and unidentifiable keys can be very frustrating. We can all use some sort of organizational solution for the various keys we have about the house. This is a guide about organizing keys.
Ad
---
Solutions: Organizing Keys
Read and rate the best solutions below by giving them a "thumbs up".
I use bright colored nail polish to identify my keys on my key ring. I have a lot of keys, but only certain ones that I use daily.
For instance: My car has one of those black things that you use to lock and unlock it with, plus the car key has a big black top. So I painted the top portion of my gas cap key (I started locking it when gas started going sky high) black to go with them.
My front door key, the one that locks the door knob, I painted hot pink. The one that locks the dead bolt on the front door is painted half pink and half bright blue. Not front and back but the lower half of the top portion pink, then the top half blue. This way the keys are easily visible on my cluttered ring and the knob and deadbolt keys are also easily distinguishable from each other.
By doing this it's made searching for the right key with an arm full of bags so much easier. Plus finding the gas cap key is a lot easier too.
I had thought about putting just a dab of polish on each key but in my jumble of keys, it wouldn't be easily seen. This way the colors are very easily seen.
By Cricketnc from Parkton, NC
My hubby and I have two similar cars, and we have both sets of car keys on our key chains. He worked for a company that gave him a car to use, and he was first in line to buy it after so many miles.
This resulted in our having two cars and key chains with key fobs that looked the same. I solved the problem by using pink fingernail polish to put a mark on "MY" key fob on both key chains. Now I never mistake my car key for his and vice versa.
By Lynn from Bridgeville, PA
For remembering what keys go with what, use the best invention ever, nail polish. Color code the keys red for house, pink for garden shed, etc. Then place them in plastic baggies or on key chains that are color coded as well. The bagged ones can go into the drawer and the key rings can be hung up.
By cj from Minot, ND
Give a "thumbs up" to the solution that worked the best! Do you have a better solution? Click here to share it!
Questions
Here are questions related to Organizing Keys.
I'm looking for a good way to organize my keys. Preferably something that I can mount out of reach of children.
Ad
---
---
Most Recent Answer

By Cyinda [214]02/07/2008
Hot glue (or better yet use a tupe of that X-2000 glue) a magnet to your key chain... This way you can stick you keys to the upper part of your fridge OR if you have a metal door, you can attach them to the door! ... But who can beat a simple row of "cup-hooks", or a row of brads nailed in to a piece of wood or directly into the wall by the front door! ... I've also seen a key/necklace rack made totally out of 1 piece of bent wire... Hooks in a row were formed... Tricky to make, but very cool indeed! ... I've also seen a small "medicine" cabinet made to hold massive amounts of keys... The magnet thing might work here too...

I, myself prefer small "S"-hooks... You can buy them or make them yourself out of florist or copper wire.... Hang them from a metal grid... or whatever... & never forget the ol' pegboard... you can't beat it for hanging up all KINDS of things!

! made my son a Magnetic Bulletin Board out of an Oil Drip Pan (from the auto parts store) this was fairly big... But, you can just buy a steel cookie sheet at the dollar store, & this will work just fine as a a smaller version for keys... They even sell magnetic clips at the dollar store that could go on it too! ... My son's was for hanging proofs for photos, so I covered it with 2 layers of black landscape fabric, after first spraying it with an aerosol spray-adhesive, But you could cover yours with fabric to match your decor!
Archives
Thrifty Fun has been around so long that many of our pages have been reset several times. Archives are older versions of the page and the feedback that was provided then.
If you carry a lot of keys, put a drop of bright pink or red nail polish on the key you use the most, so that you can spot it quickly.

By Momof1 from Wilkesboro, NC
---
RE: Mark Keys with Nail Polish
What a bright idea. (09/28/2007)
By Sandra
RE: Mark Keys with Nail Polish
If additional I.D. is needed I put a tiny piece of tape on the key and write on each key what it is used for. This works well when there are a number of vehicles. Thanks! (04/21/2010)
By Sue
To distinguish keys on a keyring that are similar, paint each with a different color of fingernail polish.
By rda1 from Pleasant Grove, UT
---
RE: Painting Keys for Easy Identification
For choosing the right key in the dark, my husband filed grooves into some keys which were very similar to others on our keyrings. I used to work at a hardware store which actually cut keys in a great selection of colours too. Very handy and bright! (12/04/2007)
By jojo