Cassie and Allie Cat
Cassie and Allie Cat are are 6 and 7 and are tortoise shell and calico female cats.
Allie showed up at door in rainstorm and Cassie we got after our other calico cat was put to sleep.
They both like to lie in sun mostly and sleep. Both are quite friendly, but Allie cat was probably abused as a kitten and tends to bite if petted too much. But we love her anyways and believe God sent her to us to take care of.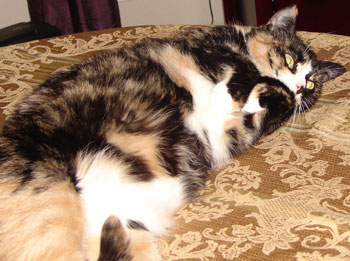 Alley Cat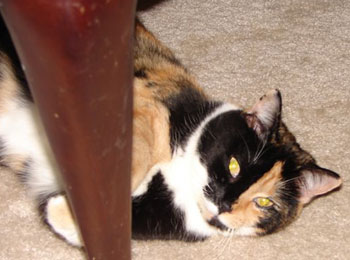 Cassie
By Sherri from Granbury TX
Feedback
Read feedback for this post below. Click here to post feedback.

By Iowagirlga (Guest Post)
05/02/2006
From one Crazy Cat Lady to another :) Your cats are beautiful! I love their coloring. I have a grey manx! Iowagirlga

By Angellfire (Guest Post)
05/01/2006
Where would we cat lovers be without our kitties?
We had one calico who lived to 22, our first cat.
We got a second younger one cause we loved the calico so much. Well our calico, mama lived to 22, and we just burried our tortie, Mitzi. I firmly believe
animal spirits pass to the same other dimension we go to. They hated each other. Now we have two cats left who hate each other. Mama, our calico, started the hating and as we brought each new kitty home, they did the same to the next. OH WELL, we love them to pieces. One of our vets told us the calicos and torties do not hesitate to show their feelings.

By
05/01/2006
Such pretty kitty-cats! Love the torties. I had an
Allie Mae who was a tortie and she was a kick!
She would try to attack mailman thru the glass
storm door causing him to jump each time. I had
to put a sign on her bedroom door (yes she was spoiled and adored) that said Enter at Own Risk.
She only loved her peeps and few others she liked
the rest she "tolerated".Not a day goes by that I don't miss my little girl. Thank you for sharing your cuties.
Post Feedback
Add your voice to the conversation.