A Birthday Greeting Sheet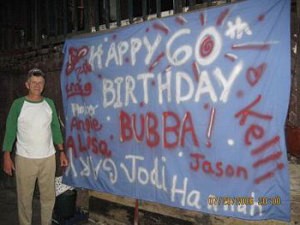 A few years ago, my children who were in their late teens decided to spray paint a bedsheet as a birthday card and hang it outside. It is a creative way to say Happy Birthday to someone and it is a keepsake. You can use any color sheet and any size sheet.
We hang the sheet on the side of the garage or between two trees or even a swing set and have different colors of spray paint. When the guests arrive, they spray paint their greeting onto the sheet; we also have permanent marker pens for people who don't like to use spray paint.
The guest of honor celebrating their birthday is taken outside before the gifts are opened and looks at the Birthday Greeting Sheet.
It is a unique idea and a lot of fun for the guests and the guest of honor. This is fun for children as well as adults.
By WandaJo from Collierville, TN
By WandaJo
Feedback
Read feedback for this post below. Click here to post feedback.

By
08/07/2008
Wow what a fun idea!
this would be great for a childs sleepover! have all the girls write on the sheets fitted and top and pillowcase diffrent things lots of colors and than the Birthday child has a forever keepsake!

By GrammySheila (Guest Post)
08/20/2006
Wandajo,
When my daughter turned 16 (13 years ago! :( ), I did this then took it to the road that her high school was on. It was tradition that if someone attending that high school had a birthday you could hang signs along the road outside the high school. I took her "Birthday sheet" and hung it from the sign that introduced their high school! EVERY kid going to school that day saw the sheet, stopped her in the halls and wished her a happy sweet 16!

Thanks for that beautiful memory!

By
08/14/2006
WandaJo...What a wonderful keepsake! It would be great for any occasion! Thanks so much for the idea. My niece is getting married this next spring and this would be a lot of fun...
Hugs
Jennifer CA

By Firefly1985 (Guest Post)
08/14/2006
I like this idea. I think I will have the kids help make a generic birthday greeting and then re-use it for everyone's birthdays. Much cheaper than using a store bought cloth banner.
Post Feedback
Add your voice to the conversation.
Related Guides
Related Posts