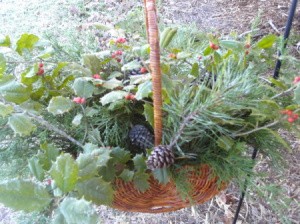 You can create an attractive, inexpensive holiday display using items that nature provides.
You can create something simple and almost free for Thanksgiving by placing a jar filled with autumn flowers inside of a wicker basket. Add pine cones, acorns, pecans, or other items you can find on a nature walk to the basket. Add a seasonal bow.
For Christmas, or as a winter display, fill the jar with evergreens and winter berry stems. Use pinecones and other items of your choice to fill the basket. Add a bow and you've got an attractive display for the holiday.
Depending on the style of basket you choose, you can use this as a table top display on your porch or hang it on a Shepherd's pole near the front door or walkway.
By VeronicaHB from Asheboro, NC