I am trying to clean some plastic outdoor chairs. I have tried all kinds of cleaners to get the dirt off. They sit out in the weather all year long. I tried power washing and it takes off a small strip at a time. I would appreciate any help. Thanks for all of your earlier suggestions, but I am hoping for some additional thoughts.
By Bill C.
June 10, 2011
0

found this helpful
There's a product once sold at Family Dollar Stores called Thunder Blast. It removes grime, grease and only needs to be sprayed on and wiped down with a wet cloth after leaving on less than a minute. You can buy this product over the internet, but must get it by the case. This product cleans great and on vinyl siding as well. If you don't want to pay that much money at once, you can still get a product called awesome at Family Dollar and also cleans film, grease, etc but the waiting period is longer and you add water to the solution for as strong as you need it and costs a couple bucks.
I would also recommend ammonia as the next best cleaner as it really gets in the crevices and grooves of my vinyl flooring and brightens it up. Just wet the outdoor furniture down and pour ammonia on it and use a scrub brush if the furniture is vinyl upholstery and rinse off with lots of clean water.
June 10, 2011
0

found this helpful
I spray my chairs with water. Then I put clorox in a spray bottle and spray them down good. I get a scrub pad and scrub them good and it gets all the winter crud off. Rinse again with the water hose, dry and you are good as new.
June 10, 2011
0

found this helpful
Try the Dollar Store brand of Scrubbing Bubbles bathroom cleaner and a scrub brush. Does a great job on just about everything!
June 10, 2011
0

found this helpful
Bill, if your still trying to clean the same chairs as your May post and nothing has worked buy the "Krylon"paint. : )
June 12, 2011
0

found this helpful
If you can find it, Mean Green. I know Dollar General stores carry it.
It works great.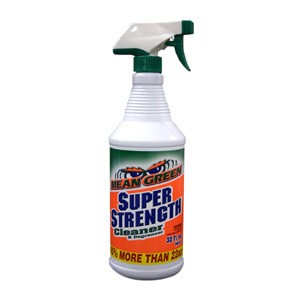 June 18, 2011
0

found this helpful
I use a Mr. Clean eraser, works wonders!