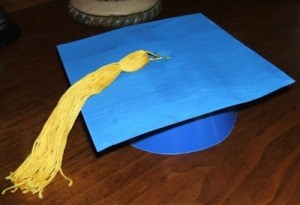 Since it is graduation time, these are great to make for graduation parties! They are easy enough for kids to do.
Approximate Time: less than 1 hour
Supplies:
plastic bowl
8 inch x 8 inch piece of matching card stock or poster board
covered button to match hat (optional)
gold or yellow embroidery floss
ruler
glue
scissors
Instructions:
Use scissors to cut rim off of bowl. Turn the bowl upside down and glue the square of card stock or poster board onto the bottom of the bowl. (If you can't find matching card stock, use white poster board and acrylic paint to match bowl, as I did.)
To make the tassel, cut two 4-inch strands from the embroider floss. Use one piece to thread through one looped end of the floss. Use the other piece to tie around the perimeter of the floss to pinch it together about one inch below the top (refer to photo). Tie off.
Cut open loops on the other end. Glue tassel string to top center of hat and glue button over the tassel string. (If you do not have a matching covered button, push a long piece of floss through a hole punched in the top and tape on the inside of hat to hold in place.)
By Rachel's Mom from Wilkesboro, NC