Organized Christmas Cards List
First label a piece of paper with Christmas and the year, list people you are sending cards to. When received cards come in put check by their name on your list. This way you can see who you sent and received cards from. You can add new names later. Save list for next year by stapling it to the month of November on your calendar. When November comes you will be ready to write out and send your cards. Then start a new list with the cards you write out to save for the next year. You can also do this with e-cards.
By Christine
Feedback
Read feedback for this post below. Click here to post feedback.

By
12/17/2010
I also write on one piece of paper the names of all the people that I mail Christmas cards to and I then
write the dates that I receive cards from them.
Next year when I send out my cards I do them in the order that I received them. I also buy next year's Christmas cards after this Christmas and store them in a Christmas Box with my list.
That way I have everything all in one place and start working on my cards after Halloween.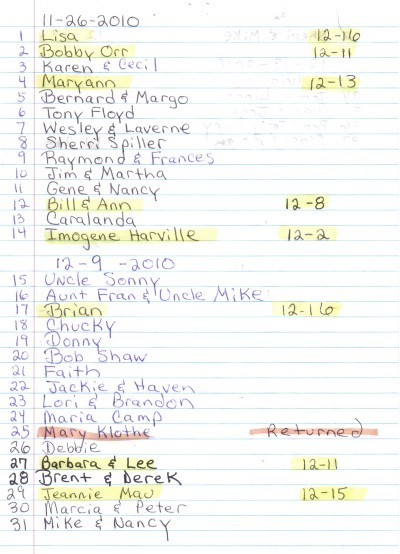 By
09/08/2005
I have a small Roll-O-Dex with the cards in it... I tape the labels from the cards onto the card under their name and with a red or green marker, I color the top edge of the card making finding just the Christmas addresses I need easy.

By
04/16/2005
I clip the return address labels on Christmas card envelopes to check the sender has the same address in my permanent address book. If there has been a move within the preceding year, I then tape the new label right over their old one.

By Sandie
Post Feedback
Add your voice to the conversation.
Related Guides
Related Posts