Garden Glove Bag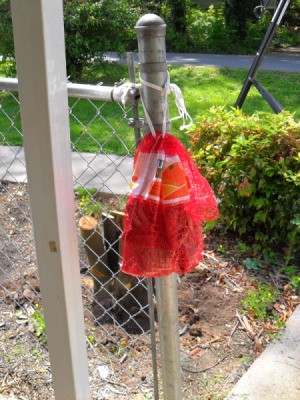 DH has been working on a shed for our back yard. He is making it from repurposed fence lumber. I was watching him work today since I'm not allowed to play with his power toys. I noticed 2 or 3 pairs of garden gloves just lying about waiting to be lost. I came into the kitchen and retrieved a mesh bag from our last purchase of oranges. I snooped around in my sewing stash and came up with a pair of white shoe strings, strung them through the mesh with a small safety pin and voila! a hanging bag for gloves. It cost practically no money or time. At minimum wage, maybe it would have cost 11 cents.
By Marty from Knoxville, TN
Feedback
Read feedback for this post below. Click here to post feedback.

By
04/18/2012
I use garden gloves a lot especially when picking up litter with the reach extender. Being right handed, I have accumulated a bunch of left handed gloves because over time I wear holes in the right hand glove. Last week, I decided to turn a left hand glove inside out and immediately, I had a right hand glove. I cut all the loose strings off and have used it several times and it works great.
Post Feedback
Add your voice to the conversation.
Related Guides
Related Posts