Liberty Belle (Tortie)
Liberty Belle is a 5 year old Tortie. She was a birthday gift to myself on that depressing 9/11 day five years ago.She loves to run sideways all hunched up and "Halloween" us.
This is a picture of Liberty on her throne celebrating her birthday.
By Linda Jonson from Oceanside. Ca.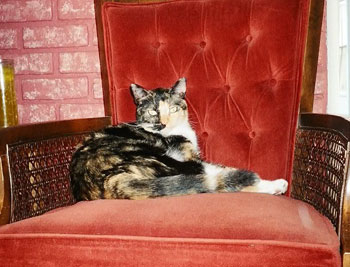 Feedback
Read feedback for this post below. Click here to post feedback.

By
09/06/2006
Liberty Belle is truly regal! What a gorgeous photo and love that pose. As for the running sideways and
"Halloween" well I once was owned by a Tortie
Allie Mae and she was always doing stuff like that.
Her favorite trick was attacking the mailman we had
one repairman RUN out of house as she hissed at him.

By
09/06/2006
That is one sporty cat! Run sideways?! I'd love to see that. Give her a big hug from Miss Kitty's mom.
Post Feedback
Add your voice to the conversation.