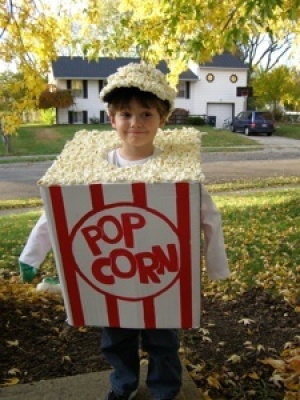 I took a box, painted it white. Then I painted red stripes, leaving a spot to make the circle (I used a pan lid to make the circle). I cut holes out for his head and arms (cut the flaps off the open end of the box where the legs come out). I painted in the words POPCORN, popped some popcorn and hot glued it to the top of the box (while I watched TV) and to a cheap baseball cap. Waaalaaa! He won MANY costume contests with it.
By Michele from Marysville, Ohio
Ad
---
Feedback Forum
Feedback about this article is posted here. Want to contribute? Click above to post feedback.

By SL Edens [1]11/15/2009
Now that is cute, cute, cute!

By cathy11/13/2009
That is adorable. Very original and cheap. Nice job.

By Stacey Silva [51]11/13/2009
That is absolutely awesome! I love it!

By Cyinda [214]11/11/2009
I have to say that this is the very best & most original Halloween costume I've ever seen!

By Jeannie11/11/2009
That is so adorable!
Post Feedback
Add your voice to the conversation. Click here to share feedback.