My husband decided to move in his mother, 2 sisters, niece and nephew in with me while he is in Iraq for a year. I only have a son at the moment. Can anyone tell me how much it will cost to feed 7 people! My husband thinks $400 will cover it and people I have talked to laugh at this amount. Please give me advice, I am going crazy with stress here.

Thanks,
Lorraine
By lorraine
Ad
---
Recent Answers
Here are the recent answer to this question.

By happy.now [2]04/19/2015
First of all let me thank-you for letting your husband serve our country. Also you are a great lady for letting your hubby give you only 400.00 to feed that many people. First not everybody lives near a farm of any kind. I live in southwest Louisiana and where I live there are zero discount grocery stores. We have a Sams in the next town and the prices are high along with Wal-mart.

Our Wal-mart will write reduced on something for ten cents or hide it in the back so you can not match prices. I have seen it for years and told a manager. He pleased me a couple of times but who wants to bother a manager who is told to do that. You can shop at the Dollar Tree as they buy sellouts and so does Big Lots.

On a trip to AL several years ago, they had a giant Dollar Tree and lots of fresh veggies and a dozen med to large eggs. Lots of bread items and frozen veggies. I spoke with the manager there and she told me it went by what the buyers in the area had to sell. Farmers Markets are high here also. You can buy pots, soil and veggies to plant. The Dollar tree sells seeds and sometimes Wal-Mart sells bulbs and sm veggies for a good price.

I could not live without my freezer as I freeze everything. You can look online for recipes to make your meats go farther. Use sites like ThriftyFun.com and ideas like twenty ways with ground meat. Just search online and if you don't have a computer around you can go to a public library during the day and use their online tools. Our library for some reason will let you check out fancy baking pans. The reason why I say to go during the day is because they usually have out loud reading programs so if you have a talker it does not matter. You can check out books with lots of info to help you with your budget and recipes. They also have dvds and cds with cooking for less ideas.

Watch the weekly sales and stock up and maybe Wal-Mart will match some items they have in excess. I sub rice for pasta sometimes. Also watch the Sunday ads and you can check online for sale ads. I buy some stuff at Walgreens and CVS when its on sale. When you have any veggies left over freeze them in a large Ziploc bag and keep adding to it. When it is full make a soup. I save my broth and freeze them. I even freeze any left over meat and put it all in a soup. I hate when people ask me for recipes because I just sub with lots of things in recipes with whatever I have.

I have a couple fruit trees and juice anything we don't finish eating. I live in town and I only wish I could have chickens. You can stretch eggs in a casserole for dinner. I hope I have helped you and I said a prayer for you. If you would like to write me please feel free. I do not check my email everyday but will look for your email. happy.now AT suddenlink.net

By Lavera10/29/2013
I won't criticise your situation because everyone has one but I will tell you, I have six kids plus me. We go through $1054.00 a month and still run out at the end of the month. None of us are over weight.

By Danielle Irby [1]05/01/2009
Well we live in Idaho and I do have a $450 monthly budget for our family of 7. It is a work to keep it down but doable. No we don't eat out but we have a few nice meals. We eat beans and rice PB& J. Cheese sticks apples fresh veggies, etc. I do buy milk now that the prices are down at costco again. Also I buy the rice beans and those items in bulk. I do not but what I "THINK" we will need. I buy what we need. Bread at the discount bakery. I shop the dented can store, or what ever you call it. I will say that my husband is a hunter and fisherman so that helps.... We grow bell peppers to freeze and a few other things but no big garden. I live in town so I avoid the store if I do not have a list. That is ,for me, the biggest budget breaker around... don't shop even for needs frequently....you will be surprised how many "little things" add up. I go about every other week.

Oh and by the way we do not eat white flour or things like that. It's oatmeal for breakfast around here. I want to remain healthy in the eating cheaply process. Just curious but maybe you could start with 500 and see how much you can save out of that.

By Tina (Guest Post)12/02/2008
Congratulations and Good Luck. You are going to need more than $400 bucks but, I will give you simple tips to stretch your food when things are tight. Buy produce from the farm every state has one near by. Buy items that are use most often like soap, toilet paper, toothpaste, in bulk it will last at least 2 months or more.

Pasta meals, rice meals, potatoes, casseroles, are the best dishes to fix when food is running low. Sweets make your own cakes and cookies even pudding & donuts all these thing include flour which is cheap. If, you are in the country get about 4 chickens and a roaster you will never have to buy eggs.

Start growing your own food & herbs. Buy knock off brands here in NJ we have ALDI honey peanut butter and jelly taste the same as any other, pasta is pasta and this chain carries meat. When I feed my family it is a balance meal. Meat, starch and veges. I make my own pizza. I use pasta sauce, mozzarella, and any topping. You can buy pizza pan at Kmart and the dough you can make or buy like you do biscuits. I hope all of this helps.

By Kristina (Guest Post)04/19/2008
I have a family of 7. 2 adults and 5 children 12, 10, 9, 7, and 3. My husband and I are slightly overweight a little, my 12 yr old, 8 yr old and 3 yr old daughters are tall, but of avg. weight. My 10 yr old daughter and 7 yr old son are tall and very thin. If I am very careful, I can cut back to $150 a week. Thats with WIC for some of the milk, cereal, juice, cheese, eggs, and penut butter. I still have to buy those things, but WIC helps a little for children under 5. When I'm not being so careful, I can easily spend over $700 in a month. Hope that helps.
You didn't specify the ages of the neice and nephew, or son but if any of them are under 5, You may qualify for WIC, which stands for Women, Infants, and Children. Food Stamps may also be available to you.

By Tourmaline (Guest Post)02/07/2008
Lorraine-
First of all, I want to say, I support your husband for his service to our country and I support you for sticking with him. If I were in this situation, I would do the same thing because I love my husband. People these days do not seem to understand exactly what it takes to love a spouse. It takes sacrifice and dedication to get through it all.

I too have a family of seven. I happened upon this forum looking for something to tell me how much we should be spending on food every month. We live in a town where there are two grocery stores, both of which charge an arm and a leg for their merchandise. If I want better prices, I have to drive for 30 minutes to get to the closest big town. In two weeks, we plan on moving to the country and we won't have the advantage of shopping at the local expensive stores, but we will still have to drive 30 minutes to the big city.

My advice is, use that $400 and spend it at a discount grocery store. We have a WinCo foods store in the big city which not only offers the cheapest prices in the area, but also has a large bulf foods section which can save shoppers even more money. I may seem ghetto buying produce bags full of food, but it is amazing how much money you can save.

Some people say to cut out the meat and sweets, but don't. People need the protein found in meats, so serve some with every dinner (even if it is only ground beef mixed in the main course). Sometimes people just need a little sweet pick-me-up. It doesn't have to be much, and I would suggest to bake them yourself because it will save money and be healthier in the long run. Just remember to limit the amount each person has (a good way to do this is once they are all done cooking, put them into individual containers, one for each member in the household. When their sweets are gone, they just don't get anymore).

If you can, try to purchase all non-perishable foods once a month, but be sure to save enough money for things that cannot be boxed or frozen, like dairy. Almost everything can be frozen. I buy butter, bread, and cheese and freeze them. If you don't have a large freezer, look for a used one that will get the job done (and if you don't have the money for it, ask your inlaws to help you out. That is the least they can do for you).

When things get really tighe, remember that somewhere out there, there is a light at the end of the tunnel. It may be far off and not visible, but it is there nontheless. It is not the end of the world if your family doesn't get to eat a five course meal three times a day. Honestly speaking, America is the fattest country in the world and we could probably all go for weeks without eating (not that I am suggesting to starve your family, that would be wrong). When things get tight in our house, I skip a meal here and there. I don't skip enough meals to cause me nutritional harm, but I make sure my family gets fed which is my main goal.

If you ever come back to this forum, I hope this helps you out a little bit. For those of you who were like me and Lorraine, I hope this helps out.
Tourmaline

By mama2eight (Guest Post)09/13/2007
$400 a month? Ha. I spend at least $1200 month on groceries for 10.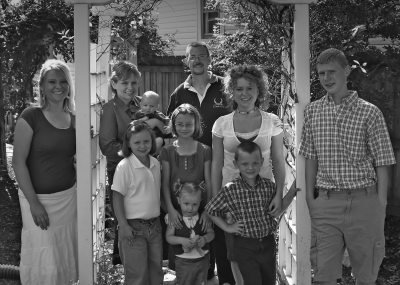 By (Guest Post)07/12/2007
i feel so sorry for you.your husband ran out on you for a year and dumped his family and his families financial burdan on you..dont let it go to your head that he said he only wants you cuz he trusts you.he only wants you cuz he sees you as a sucker..either he starts suporting his family as good as he supports his troops .or just move out on all of them and find a husband who wants to put his family 1st.and be an at hom husband and dad.married men with kids should leave all that army stuff for the single young men.

By Carol Churchill [18]04/02/2007
What about Water, Electricity, Cleaning materials? Apart from the financial impact, this situation seems like a LOT OF EXTRA WORK!!! And are your in-laws going to help with that??
May I suggest that you put sliced bread on the table at every meal, with only ONE spread, like butter/margerine and if anyone is really and truly hungry they can fill up on bread. Do not allow seconds of meat. Maybe you could even butter the sliced bread yourself to ensure that the spread is used frugally.
Well, Good Luck and you are in my prayers.

By Laura [3]04/02/2007
Lorraine,
My husband and I agreed to take in four adolescents, who were relatives of mine, 20 years ago, for 3 months one summer. We were paid 400.00 a month for groceries. After the first month, I had to ask for more money because of their demands, which were over the set budget we had agreed on. We could have managed had they been satisfied with what I offered to feed them, but they were used to the more expensive pre-made, frozen and convenience foods... and that was 20 years ago! These days it would be even harder. However, the groceries and money were not the only issue. I felt like I was going through a "transitional shock." Going from a household of 2, to a household of 6, overnight, was a major change. In your situation, I imagine it would be even more difficult because of the age ranges of the three generations! Where is the fairness here? It's my opinion that they are all expecting way too much of you. If you think you're stressed now, it's nothing compared to the stress later if they move in. I wish you well. If you'd like to email me, feel free by using the contact feature above my post. Good luck.

By mike (Guest Post)04/02/2007
dude the guys going to iraq and he wants to know his moms going to be ok, who better to trust than his wife? give him a break and stop ragging on the guy thats risking his neck for others.

By LORRAINE (Guest Post)04/25/2005
Hi,
This is Lorraine again.The reason my husband wanted to move in his mother is because she is recovering from colon cancer and is living on disability. She will not come without the rest of the family and the oldest daughter does not drive (panic attacks) so they rely on the youngest daughter who has the children. The youngest is going through a separation and does not look after the family so my husband wants his mother looked after. I realize it will be difficult but he said he will be less worried in Iraq if she is with me. He is a country boy from Georgia and they all stick together. The responses were great, thank you all! I learned a lot and will use the information you gave me. I would be happy if anyone wanted to keep in touch. E-mail me at rainnken @ hotmail.com (remove spaces) Thanks, Lorraine

By Julie [7]04/24/2005
I think you can do it.

I have no experience of feeding this amount of people but have fed myslef and DH cheaply for a number of years!

I think buying in bulk is a good idea, and cooking thrifty but tasty food like soups, stews, chiles and casseroles and filling up on lifes basics....bread (as quoted above) rice and pasta.

Everyone will pitch in and help, and while it might take some getting used to you'll be surrounded by people to play with!

( I also say Fair Play and Good Luck!)

All the best!

x



By EMMALEE FAUSZ (Guest Post)04/22/2005
IS IT POSSIBLE THAT YOU CAN GET A JOB TO SUPPLEMENT THE INCOME AND LET RELATIVES TO CARE FOR BABY . JUST A THOUGHT. PLEASE LET ALL OF US OTHER WOMEN OUT HERE KNOW HOW YOU MAKE OUT AS WE ARE CURIOUS TO YOUR DILEMA IN CASE WE ARE EVER ASKED TO MAKE THIS KIND OF SACREFICE. MAYBE YOU COULD ASK THE CHAPLIN. GOOD LUCK,ILL BE PRAYING FOR YOU.

By ronsan (Guest Post)04/22/2005
This is an interesting proposition, to say the least, but to answer your question, it can be done. It goes without saying that you are severely limited in your resources, but if you have no other choice (especially if this is a tradition of your husband's culture), then you may not have a choice so here are some guidelines of what I would do if I were in your shoes:
1. Plan your grocery shopping very, very carefully and when funds start getting thin, the meals do, too.
2. Spend your monthly grocery money by weeks only. This will be especially difficult in 5-week months. However, if you spend only 1/4 or 1/5 of your monthly allotment, then you aren't going to be out of resources mid-way through the month.
3. If you are doing the grocery shopping and the cooking, then it is up to you solely what you serve, especially if the in-laws are not providing any funds. Eliminate all desserts from your menues and other non-essentials as well as convenience foods. If you want a special treat for your son, then go to a retail site where you can purchase only enough for him right then.
4. Eliminate all cookies, cakes, sweets in any fashion.
5. Plan your weekly menues so that you are not serving meat more than twice a week, and even then treat the meat as a condiment rather than a staple item. For example, if a casserole calls for 1-lb browned hamburger, then fudge it down to only 1/2 to 3/4 of a lb. Keep the rest frozen for another meal.
6. Always, always brown your ground beef the moment you get it home, drain it and freeze it.. That way, it will be more convenient for you to use and you eliminate the risk of someone taking the extra ground beef to make a hamburger for themselves.
7. Do not buy undue amounts of fresh fruit. Watch for bananas you can buy in bulk because they might be close to over-ripening, and then keep these in the fruit bowl. What is not eaten immediately can be mashed and frozen for later use.
8. Always keep carrot and celery sticks prepped and in the refrigerator for snacking. Most people can tolerate these but they won't eat as much of them as if they were cookies or cake.
9. Switch to non-fat dry milk and reconstitute instead of buying fresh milk.
10. Eliminate coffee, soda and tea. When you want coffee or tea or soda, go out and buy it for yourself to consume right then.
11. Do not keep more than a couple pounds of flour or sugar in your kitchen at any time because your in-laws may use up your staples at a rate fasting than you can afford if they get into the baking mood.
12. Find a day-old bread store in your area and make sure you religiously use it. Never buy any snacks, just the bread. No muffins or snack cakes, either.
13. Buy only generic canned veggies and no canned fruit.
14. DO BUY and use a good multi-vitamin for yourself and your son.
15. Instead of milk or other beverage with meals, always serve water.
16. Incorporate any and all leftovers into a meal within 48 hours of preparation.
17. Portion size is up to you as the cook and the person handling the groceries. Dish up plates at the stove, and do not put any remaining "seconds" on the table. If you plan carefully, you will find serving portions exactly equal to the number of plates you have to fix.
18. Eliminate keeping boxs of crackers in the house or anything else that could be used for snac king.
19. Ask neighbors or friends who are gardeners if they would keep you in mind when they harvest and find they have an overstock.
20. Make sure your menu offerings are palatible, sufficient in quantity for who you are feeding (but with no leftovers or planned seconds), and don't worry about if they are interesting enough. Eliminate all baked goods such as yeast rolls, cakes, pies, or meal extras such as fancy salads, desserts such as jello or ice cream, etc. Economize as much as you are able, and then let the chips fall where they may. Your "guests" should not be dictating to you what you will be serving. If your husband feels you should be offering more variety, then he needs to fork over more $$$ so you can!

By Kim. (Guest Post)04/21/2005
One suggestion I can offer is to only serve meat as part of the meal (for instance cassaroles, spagetti with meat sauce, you get the idea). I live near Nashville, TN and I feed a family of three including cleaning and hygene products for $150 a month by going to save a lot and NOT eating at restaurants unless it is a special occasion. If it is a really special occasion, we even eat a place that doesn't ask "want fries with that?" >wink< It is easier to feed many people on a small amount of money if you make it a challenge and set a reward for yourself if you succeed. If I succeed, I get an extra hour of crochet time. Works for me! Good Luck!!

By Ann4 (Guest Post)04/21/2005
I agree with some of the above comments about the food bill not being the biggest concern (I would rather be in the war than live with my in-laws!!). But... you MIGHT be able to feed them on $400 if that does not include shampoo, toothpaste, etc. Also, you will have to shop multiple places. I use Costco for milk, bread, cheese, waffles, meats, etc. The grocery store for BOGO items that I have coupons for and Super Walmart for things like bagels, cream cheese, cereals, pretzels, soups, etc. You will have to use small portions of meat and serve things like peanut butter sandwiches and pretzels for lunches. The budget is extremely tight. I feed 6 for this amount but I feel lucky to be a stay at home mom and don't mind pinching pennies. I would really resent doing all this unless the family really helps you out alot!! Don't feel bad if you can't stay within this budget. It is extremely tight and depending on where you live it may not be possible.

By pamela tucker [1]04/21/2005
Perhaps his mother or sisters can convice him that it is going to cost more.

By Karen (Guest Post)04/21/2005
Check out "Saving Dinner" by Leanne Ely. She has a plan for cooking and allegedly saving a lot of money; I am only one person in my family so I couldn't give you an estimate! Also, once a month cooking...larger quantities. Definitely either ask your in-laws to share the costs OR ask your husband for more per month. Good luck. K.

By CHML (Guest Post)04/21/2005
Things will only get worse.
Call a lawyer.

By Sharon (Guest Post)04/21/2005
Lorraine,

Part of the cost depends on where you live. Most military bases are in expensive places - as far as cost of living. I have a family of 7. Myself, husband, 3 teenage boys and a younger boy and girl. I can feed them for about $675 a month for about 3 months and then I need a boost of $100 for stuff you buy rarely but run out of every few months. That doesn't include money to eat out occasionaly. Pizza etc. It gets awful hard to keep fixing meals every day. Sometimes you just want to run to the nearest fast food place. I would think that the extra people would be contributing to the grocery bill. What about laundry products and personal grooming products? Are you paying for all that too? Good luck

By Jo Bodey [1]04/21/2005
What did it cost your husband's family in groceries before they moved in? What did it cost you, your husband and your son in groceries before they moved in? Subtract one third of your own budget as your husband isn't there at the moment - add on your in law's costs and that should give you a realistic amount.

I don't see grocery costs as the real problem here though. There are so many gaps in your request. For example - why did he decide to move his family in with you - for your sake or their's? Did he decide alone or was it a joint decision - did you agree? What are the arrangements for housekeeping? Are you expected to buy all food and prepare all meals? Have you asked your husband's mother this question? If she thinks $400 is a reasonable amount have you asked her to take over the housekeeping and buy the groceries for 7 people with $400?

This question is less about grocery costs and more about communication, or the lack of it. I think you need a good friend to discuss this with to help you cope with the situation and be your ally as you seem to be 'outnumbered' in your own home.

Regards

Jo

By Lea (Guest Post)04/21/2005
Lorraine,
I have a family of 4 and it runs 400 a month for us.Also I grew up in a large family and can tell you that for 7 people it'll run about 6oo a month.

By Katie [4]04/21/2005
If you are very, very thrifty, you can do it on that. I know this isn't what you asked, but I think your dh is waaaay out of line in asking you to do this (have his family move in with you). Unless there is a serious financial need in your family, I think you need to arrange to either get them out or get out yourself. To tell the truth, I'm a little shocked that he would do such a thing to you.

By Patti (Guest Post)04/21/2005
If you are extremely thrifty, cook almost everything from scratch, and serve meat/poulty only about three times a week, I would estimate about $500 a month. But that doesn't really allow for paper goods, cleaning products, etc. And if you work outside the home, chances are you simply won't have time to be as thrifty as needed.

Now, on to the "real" issue. Is it possible your husband may be trying to control you while he's away? Moving in the entire family of inlaws seems cruel, unless there is a reason based on reality. Did your husband support the whole family while he was here?

Surely these people will contribute to the family budget. I would insist on it!


By Lara Warwick04/21/2005
I spend $200 every two weeks to feed myself, my husband, a 5yr old, a 4yr old, and a 2yr old. I would imagine that it would cost a lot more to feed 6 adults and your son. Tell your husband to ask his reletives to buy their own food or help you out with the cost. Good Luck to you!!

By Georgia girl (Guest Post)04/21/2005
Lorraine, I would tell him more regardless if $400 is enough or not! That can be your "mental health money" for taking in his whole family like that:) Good luck to you. It's hard enough for your husband to be gone much less having to do it with in-laws!!

By Crystal (Guest Post)04/21/2005
I think it will cost way more than that to feed seven people. Our house is me, my husband, a four year old, and a new baby. And we spend about $400 a month on food, that does includ baby formula though, so subtract $100. We spend $300 on three people, I don't think I would be able to feed seven people with $400, but maybe I just splurge alot on food. I guess if you are extremely thrifty you could make it.

By Shauna (Guest Post)04/21/2005
Lorraine - Tell your husband that he is right - it should cost right around $400 (every two weeks) to feed the extra mouths.
Answer This Question
Add your voice to the conversation. Click here to answer this question.