Dolce (Domestic Shorthair)
Dolce (Domestic Shorthair)
Dolce is a 1 year old Domestic Shorthair. She was a rescue kitty from the local Humane Society, 2 months ago.
She likes to EAT, EAT, EAT! She is not as playful as our other kitty, but she is so cuddly and sweet. We all love her. She is a fabulous addition to our growing family.
By Annie from Mpls., MN
Feedback
Read feedback for this post below. Click here to post feedback.

By
02/15/2008
Whoa! Your Dolce is the long-lost twin of my Bingo! It's amazing how similar they look. Thanks for sharing your picture.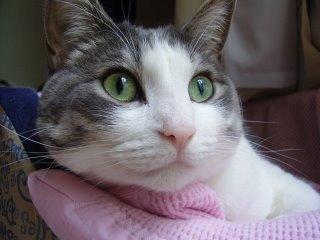 By (Guest Post)
02/12/2008
Dolce is beautiful! I'm a kitty person and have a cat named Rasta (my Thrifty Fun site name) He is a healthy 16 year old. Still goes tearing through the house for his daily exercise. He is very lovey as well.
Have lots of fun with Dolce.

By
02/12/2008
She sure is a pretty girl - and a lucky one, too! I know she has made a wonderful companion for you and your family. Thanks for sharing Dolce with us and God bless you.

By bev (Guest Post)
02/12/2008
She is a beautiful cat. Looking at the picture it makes a person question what is Doyce thinking?
Post Feedback
Add your voice to the conversation.