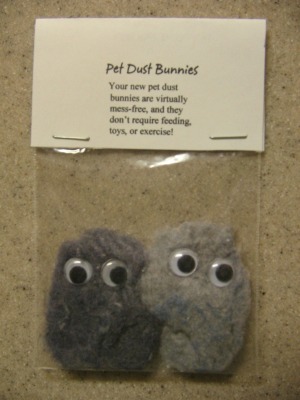 Here's a fun, very easy craft idea - might be something you'd like to put in Easter baskets this year as a gag gift, lol. Simply take some dryer lint and shape it however you want (kinda small). Then do the same with a second piece of dryer lint.
Hot glue some google eyes somewhere on both of them, stick them in a small zip baggie (which you can get at craft stores) and add a topper labeled "Pet Dust Bunnies". (I just printed the words on regular white cardstock.)
Underneath "Pet Dust Bunnies", type the following words: "Your new pet dust bunnies are virtually mess-free, and they don't require food, toys, or exercise!"
Fold the card over the top of the zip bag and give to someone special! Guaranteed conversation starter!
By Stacey from Orem, UT
March 16, 2006
0

found this helpful
Awwwwwwww, what a cute idea! And something to do with all that dryer lint instead of garbage. Thanx for the idea. Good idea for people who can't have real pets, LOL
March 16, 2006
0

found this helpful
Too cute and very funny :)
March 16, 2006
0

found this helpful
This is great, it is gonna make a great gag gift for my mom sister and some close friends.
That is the cuties & most frugal idea I have ever seen ,other than using dust bunnies for compost
great idea. used it for a young group of 4h kids and made some up for the local animal shelter.
Related Content
(article continues below)
March 20, 2006
0

found this helpful
You are definitely a funny lady and we would love to meet you to see if you have other weird ideas. Thanks to you our nearest and dearest are soon to receive some "different" presents.
March 21, 2006
0

found this helpful
hi can you used these for dusting? hehe cute little guys.my dusty tables will them them.
February 19, 2011
0

found this helpful
Love this. But, when sowing seeds put it under your seed not too thick to retain moisture. I use it with pumpkin seed.