Craft Project: Glow-in-the-Dark Slime
The perfect Halloween craft for kids, glow-in-the-dark slime! Also makes a great Halloween party favor for kids. Free gift tag printable.
Approximate Time: 20 minutes
Supplies:
1 - 4 oz bottle of clear or blue gel Elmer's glue
1 cup warm water
2-3 Tbsp. glow-in-the-dark paint
neon green food coloring
2 tsp. borax
1/3 cup warm water

Optional:
2 - small mason jars
black bakers twine
free printable labels
2 inch circle craft punch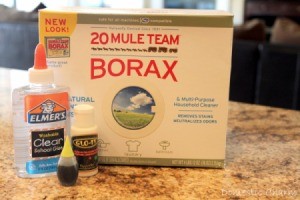 Instructions:
First mix together the Elmer's glue and the 1 cup of warm water.
Stir in the paint and food coloring.
In a separate small bowl mix together the 1/3 cup warm water and 2 teaspoons of borax. Stir until the borax is dissolved.
Now add about 2 tablespoons of the borax solution to the glue solution. You WILL NOT use all of the borax solution. The more borax you add the stiffer the slime will be. So if you want the slim to be more runny, then add less borax solution.
You can add more green food coloring while stirring these solutions together to get your desired color of slime! It should start sticking together and you've got green glow-in-the-dark slime!
Print out labels and cut them with the 2 inch circle craft punch. Glue or tape them to the package that you have chosen to put them in.
This recipe can make 2 small half jar fulls of slime or your could package a smaller amount of slime into favor baggies.
By Domestic Charm from AZ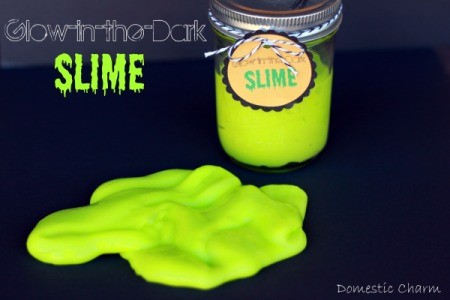 Feedback
Post Feedback
Add your voice to the conversation.
Related Guides
Related Posts