Cleaning Bath Tub Jets
I moved into a home that has a Whirlpool bathtub. When I operate the jets, a black substance comes out. What could it be and how do I clean it? I ran the tub for an hour and still have the substance.
By Electus from Jacksonville, FL
Answers: Cleaning Bath Tub Jets
Read answers for this question below.
After reading this article, I decided to try Ahh-some for my jetted tub and I was amazed how well it worked. I followed the instructions and was amazed how much black soot floating in my tub. I can't believe that I was soaking in such filthy water! I also like the fact that it is a bio cleaner since I have several small children at home. I don't have to worry about them inadvertently consuming it.
The flaking you see coming out of the jets is from the use of bleach and dishwasher detergent. Bleach kills and leaves behind the "gunk" in the pipes; cascade just delays the flaking. The pipes need to be flushed with a product that scrapes the gunk off the sides of the pipes and jets. The Ahh-Some Bio Cleaner for Jetted is one product that works great and keeps the pipes clean.

You have to clean the pipes in a jetted tub just as much as you clean the toilet otherwise algae & mold start to grow in the pipes, the cycle begins all over.

Use a product that was meant to clean and not some cheap way of killing bacteria. It's a bit more complicated than what is told on these forums. Learn to enjoy your time in the bath, not fight the gunk!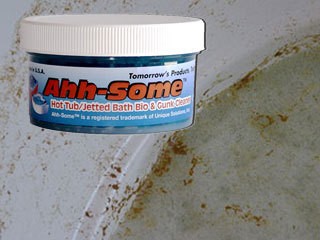 Fill the tub with enough water to cover the jets adequately, so the water won't splash everywhere when you turn it on. Then, put 1/2 gallon of bleach into the water, turn it on, and run for 20 minutes. That should do it!
Answer This Question
Add your voice to the conversation. Click here to answer this question.
Related Guides
Related Posts